Free Fire Tricks – Free Fire is one of four hottest Battle Royale action-adventure games besides Fortnite, Apex Legends, and PUBG. In a Free Fire battle of 50 players, players fight, kill enemies, and try to survive till the end. And only one last man standing still at the end of the game is the winner.
To become a pro player and win more games, you need to improve your skills and have essential tricks. This instruction of Gurugamer.com is going to give you the top ten Free Fire tips and tricks by pro players. Check it out!
Know Your Character Well
The first tip of a pro player is knowing your character well. There are 15 characters with different strengths and skills. You should know them well to get the best uses of their strengths and promote their abilities. The tip is using Miguel's character with the specialty of the crazy slayer that gives him EPs for each kill and provides him with the power of Kia and Kelly. Miguel, with Kelly and Kia's strengths, is the ultimate combo to become a pro. Understand Your Weapons
Another pro tip for Free Fire player is knowing your weapon well, like the distance covered and shooting capacity, damage capacity of guns and bullets, etc. There are six major groups of firearms in Free Fire: SMG, Shotgun, Assault Rifle, Sniper Gun, Pistol, and other weapons like pan, bat, grenade, crossbow, and parang. You should be aware of some basic features of your forte weapons, including power, clip size, range, accuracy, rate of fire. One of the most amazing Free Fire pro tips is putting a pan in your back. It can protect you from firing from enemies behind.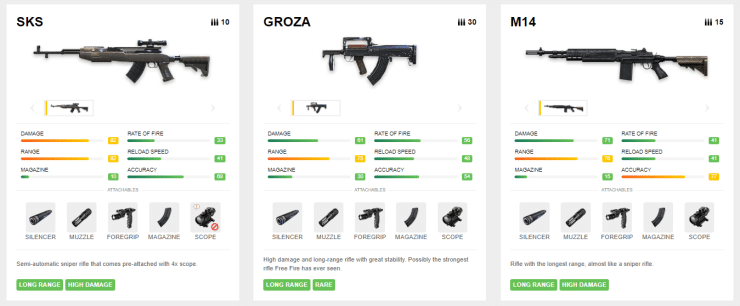 Choosing a proper weapon will make you more professional and stronger in this game. Understanding your gun is more helpful than a Free Fire headshot trick. You can cause more damage to enemies and clear more opponents when making full use of your guns.
Pro Free Fire Tricks: 
Proper Tactics for Certain Games
To become the last man standing on the map, you should have an appropriate plan for each game. Killing Spree is suitable for squad mode when you are in a team and have to do daily tasks, Elite Pass missions, or veteran missions. In Squad or Duo mode in rank games, you should fire and hide, try to survive with your teammates till the end of the battle to earn ranking more points. Evading and enduring are the best tips for every mode. Don't feel ashamed when evading for surviving if you cannot alone fight against a team of four or three. Your aim is standing still at last. So, have a proper tactic one of the essential Free Fire tricks. Best Free Fire Tricks: Weapon First
After landing from the parachute, you need to run around and find armor and weapon first in case you can be killed by enemies. It's the rule for any battle royale game like PlayerUnknown's Battlegrounds or Fortnite Battle Royale. Don't try to find other supplies. You need a gun in your hand to defend yourself when you meet other players by chance.
Then, run to find an armor. It would be lucky if you can find high-level armor and helmet to protect your body from firing. Then, you can go and find other supplies like a bag, more than ten med-kits, a pan, more than one scope, for your two guns. Keep Your Eyes on the Safe Zone
One of the best Free Fire tips is checking the mini-map to check where and when the safe zone shrinks to dash for this zone. Make sure that you are in the white round when the zone starts to shrink. If you are out of the white color round, you will get injuries. A pro player should know when to enter the safe zone and stand until the end of the game.
Free Fire Tricks: Trees Vs. Vehicles
Vehicle helps you move around the map and sometimes kill an enemy from behind. But when the game is coming to an end, you will meet heroic and pro players. And the vehicle is so noisy that it would attract others' attention and firing. Driving in the smaller safe zone makes you be a firing target in the small area. The tip is run on your foot and hide behind trees. Save Your Life with Glue Ball
One of the best Free Fire tricks to win a fight is using glueball, a real lifesaver when you are in an open area. When you are fired at heavily and get no trees or houses to hide, glueball would be an effective temporary shield. It gives you enough time to heal and make a good decision of whether evading or firing back.
Free Fire Tricks for Airdrop Loot
When you see the light emitted from an airdrop, don't rush to it right away. Wait and check the surrounding area carefully. Sometimes, enemies may lie in ambush around and wait for you to come. Then, the airdrop will become a bait. However, if there is no enemy around, quickly loot the weapons and supplies in the airdrop and run away. You can also lie in wait for other players to make some kills. Get a Proper Weapon Combo
Other Free Fire tips and tricks for free fire guild are having a correct weapon combo and using the right gun in a current shooting range. If you want to master any Garena games, you should know this tip.
When you fight in a close range, you should use an SMG or shotgun. Assault Rifles are the best choices for middle and long-range at which SMG and shotgun can't cause damage. Sniper Rifle is the best weapon for distance range. When you are running, keep a machine gun on your hand to get ready for any war. When enemies are running and jumping, use Assault Rifles to hit them. Moreover, one of many secret Free Fire tricks for weapons is applying skins for guns. The skin does not only make your guns look better but it also increases the capacity of the weapons. It sounds unrealistic and illogic but it's true in this game. If you can't afford these skins, you can use Free Fire diamond tricks and generators to get unlimited gems. Check out how to get unlimited Free Fire diamonds here.
Keep Check the Mini-Maps
You should keep an eye on the mini-maps to check the movements of your teammates, the safe zone, dangerous area, and position of vehicles on the island. Looking at the map, you also know where the fire at you comes from to hide and fire back. The tip is to check the enemy's movement on the mini-maps captured by UAV. These are the top ten Free Fire tricks and tips recommended by pro players. Try them now and get ready to level up as a pro in Free Fire. It would be more exciting and fun when winning the game without using cheat tools or Free Fire hacking tricks. 
To update the latest game news and other useful Free Fire tricks and tips for players, let's visit our website Gurugamer.com. We'll give you lots of exciting mobile game news as well as interesting stories related to gaming.