Free Fire OB26 Advanced Server has opened yesterday for testers to test out the new features in the next update in Free Fire. In the advanced server, there is a new character called Shirou and a new pet called Dreski. Moreover, there will be a new shotgun weapon called Mag-7. Are you curious about this new weapon in Free Fire? Here are the details of the new Mag-7 shotgun. Mag-7 Shotgun Free Fire details
The Mag-7 is the newest shotgun introduced in the Free Fire OB26 advanced server. But looking at the stat of this weapon, it is very different from other shotguns that are in the game now.
The Mag-7 has a better range than all other shotguns. Still, it is not very effective when the target is more than 5 meters away because it is a close-range weapon.
The Mag-7 can be equipped with a lot of different attachments such as a muzzle, silencer, and foregrip. The silencer is quite useless because this is a close combat weapon but the muzzle makes this weapon a little bit more versatile. The foregrip will be helpful to keep the weapon stable if the target is far away.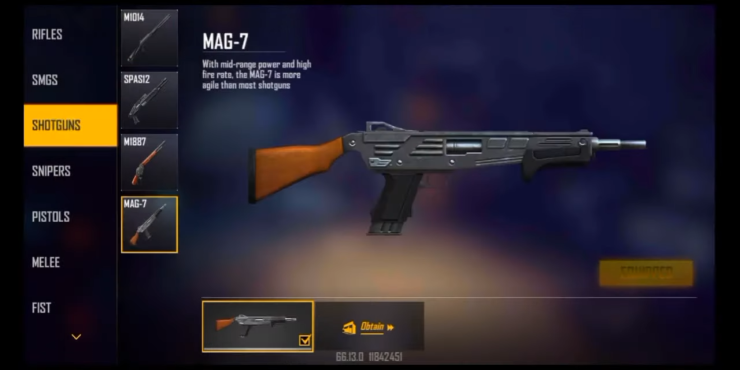 Also, the rate of fire of the Mag-7 is very high. Come with the high rate of fire is a big magazine with 8 to 12 bullets.
What do you think about this new Mag-7 shotgun in Free Fire? Will it be able to beat other shotguns or will it be useless?
Also check out: Free Fire Advance Server Login: How To Join OB26 Advanced Server?