Garena Free Fire has established itself as one of the most popular Battle Royale games on the mobile platform. It features exciting gameplay, full of action, allowing players to display their skills with others on the virtual battlegrounds. Though Free Fire is an online game, survivors still seem to be intrigued by the prospect of playing it without the Internet. So, can we play Free Fire offline? Read on as we unveil this mystery and give you the answer you have been searching for!
Table of Contents
About Garena Free Fire
Garena Free Fire is a Battle Royale game. developed by 111 Dots Studio and published by Garena for both Android and iOS platforms. The game first went live on September 30th, 2017, and has since taken the world by storm. Free Fire has been the most downloaded mobile game in two consecutive years, 2019 and 2020. It won the "Best Popular Vote Game" award by the Google Play Store in 2019. In 2020, Free Fire has also crowned the eSports Mobile Game of the Year title at the eSports Awards. 2020 was an incredible year for Garena Free Fire. The game won multiple awards and set new records in the eSports scene. Garena makes sure that survivors always have something to do in the game. It whips out consistent content updates, bringing refreshing changes as well as items. And let's not forget the major collaborations with big names like Cristiano Ronaldo, or currently ongoing - One Punch Man.
Is Free Fire Offline?
You may be wondering whether Garena Free Fire is an offline game or not. And for that matter, we could see why you have such questions. While Free Fire is a Battle Royale game, it can still function without any actual players. The system could just add in bots to replace real players. Actually, this is quite a common scenario. We're sure that you have bumped into at least a few bots in the game every now and then. However, bots can not replace real players entirely. That would make the game super easy and boring. The truth is Garena Free Fire is an online game. You will join 49 other players on the virtual battlegrounds, fighting to be the last one standing. The game only brings in bots when there aren't enough players to start a match. On top of that, certain features of Free Fire require an Internet connection. For example, your progress will be uploaded to the Server, instead of saving on your device. So, how to play Free Fire without Internet?
Can We Play Free Fire Offline?
Well, the whole How to play FF offline thing started when a YouTuber posted a video on the matter back in June 2020. The YouTuber goes by the name of Techno Gold made a guide on enabling the so-called "offline mode" for the game. So, according to him, survivors can still play Free Fire with a weak Internet connection, or even without one.
Alledged Steps for Playing Free Fire Offline
The guide went a little something like this:
#1 Open Garena Free Fire and check for new updates. If you find any pending, update the game first before advancing into the next step.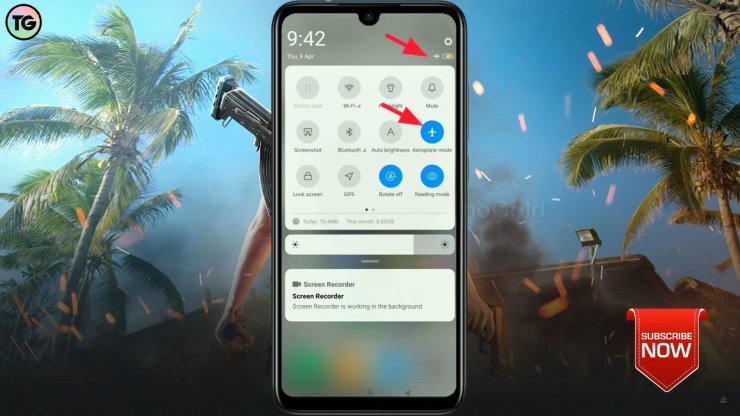 #2 Turn on the "Aeroplane mode" on your device, then dial  *#*#4636#*#*. Remember to insert a SIM card first. #3 You should be directed to a page that looks similar to the picture below. Click on "More", go to the "Enable Data Connection" option, turn it on, and head back to your home screen. #4 On this page, click on "Phone Information 1", then enable the "Mobile Radio Power" option. #5 Re-launch the Free Fire and enjoy the game without the Internet!
Real or Fake?
For those who believe in the prospect of play Garena Free Fire offline, we're sorry to inform you that it's impossible. This method is completely fake! It does not allow players to enjoy the game without an Internet connection. Instead, these steps just turn on Internet while in Airplane mode. In other words, there's no solution to the question of "how to play Free Fire offline without SIM card".
Free Fire Offline Game Download
Once again, we're sorry to inform you that there isn't an official offline version of the game. We would have to wait a little longer before Garena releases that feature. For the meaning time, we suggest you stick with the original game. Do not install any APK file from third-parties. They may steal your personal information, plant malware, viruses, and more to your device. In conclusion, the answer to can we play Free Fire offline is no! Garena Free Fire is an online game, and certain features require an Internet connection to function. All the videos showing otherwise are fake. For more information, tips, and tricks regarding mobile gaming, visit our website at GuruGamer.com.