Kamisato Ayaka is a new character in Genshin Impact 2.0 and one of the earliest characters from Inazuma. Here are details why and how you can upgrade Genshin Impact Kamisato Ayaka.
Why Should You Enhance Kamisato Ayaka?
Kamisato Ayaka is a powerful Cryo character. From many leaks, this character has many skills and talents that make her very useful in Genshin Impact 2.0. Firstly, she can travel in and on the water for a long time. Her element skill lets her freeze the water surface and stand on the ice. Besides, hold the sprinting button to move in the water.
Kamisato Ayaka has the highest Charged Attack multipliers among sword characters in this game. Her charged attack power equals 326.91% of the normal attack. Besides, her unique gameplay made Ayaka a brave swordswoman for melee fights. Then, you can use her to counter many giant bosses with nimble movements. Therefore, she will be very useful when dealing with new bosses in Inazuma. Her consecutive normal attack and accurate charged attack cause great DMG to enemies. Then, you use the elemental skill and burst to blow enemies up. Kamisato Ayaka teams up well with Xingqui or Mona to freeze enemies with the Frozen reaction.
The elemental burst of Ayaka is one of the most powerful attacks in Genshin Impact. Therefore, she can play as a DPS in your team. Her elemental burst adds up to a 4104.56% DMG bonus at level nine. In addition, thanks to the Blizzard Strayer Set, you can easily build this character. She can be an ideal DPS character to deal with new bosses in Inazuma, including the new Pyro Hypostasis.
Genshin Impact Kamisato Ayaka Best Build
Ayaka is a sword user. She has a powerful Cryo elemental skill called Kamisato Art: Hyouka and an insane elemental burst called Kamisato Art: Soumetsu. Here are all about her skills.
Kamisato Art: Hyouka is the elemental skill of Kamisato Ayaka. She will summon blooming ice on the ground to blow up enemies in the AoE and cause Cryo DMG to them.
Kamisato Art: Soumetsu is her elemental burst. Ayaka will create a cold whirlwind with sharp ice knives. It will cause Cryo DMG enemies in the AoE.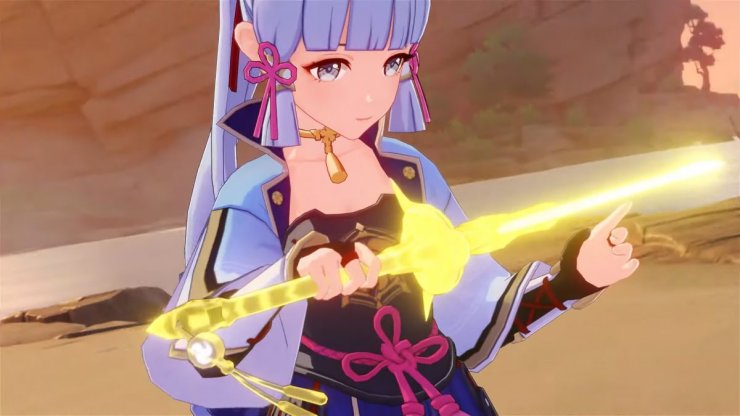 With her dangerous elemental skill and bursts, Ayaka can play as the main DPS. Here are the best weapons and artifacts for Kamisato Ayaka in Genshin Impact.
#1. Best Weapons
The best sword for Ayaka is Primordial Jade Cutter. Alternatively, you can also use The Black Sword, Festering Desire, or Iron Sting instead. The Primordial Jade Cutter helps increase her HP by 20% which is very important for tankers in close combat. Besides, it also gives this character ATK Bonus based on the  Max HP of the sword user. #2. Best Artifacts
As introduced, Blizzard Strayer set is the best artifact to build this character. 2-Piece set will provide her Cryo DMG Bonus +15%. But you should use a 4-Piece set to increase the CRIT Rate by 20%. If you don't have enough four pieces of this set, you can use two pieces of the Gladiator's Finale set. This set helps increase her ATK by 18%. It also increases her attack ability. #3. Best Team Build
Mona and Xinqui are the two best supporters of Ayaka's team. Her Cryo elemental skill and burst will combine with the Hydro elemental skills of Mona and Xingqui to freeze opponents. Besides, you should recruit Diona or Kazuha to this team. They can play as a sub-DPS to help Ayaka clear opponents quickly.
Those are the best weapons, artifacts, and characters to build Ayaka as the main DPS. Besides, you need to collect more EXP books and talent and ascension materials to boost her ability and level.
>>> Also Read: First Look At The Immovable God And The Eternal Euthymia In Genshin Impact 2.0 Trailer