Genshin Impact will introduce a new character Kazuha will new skills and gameplay. This 5-star character will be a powerful sub-DPS in your party. Check out the best build for Genshin Impact Kazuha here.
Table of Contents
Genshin Impact Kazuha Details
Kazuha is a new 5-star Anemo character with a sword fight in Genshin Impact. He was introduced in the live stream program about the upcoming update 1.6 of Genshin Impact. Kazuha is a member of The Crux, an armed fleet based in Liyue Harbor managed by Beidou. This character will arrive on June 30th. He has three main active skills and three passive talents. He will be a melee fighter and powerful sub-DPS in your team. Kazuha's Skills
The new sword fighter Kazuha in Genshin Impact has three main attack skills:
Garyu Bladework is the normal attack that lets him perform 5 consecutive strikes with his sword. The charged attack lets him perform faster strikes but it also consumes stamina. with the plugged Garyu Bladework attack, he creates a wind swirl when he is in the mid-air during Chiharafuyu. Chiharafuyu is the elemental skill of Kazuha that creates a rush of wind to pull enemies in the AoE towards him before throwing them into the air.
Manyou no Ittou is the elemental burst of Kazuha. It will make a burst of Anemo elements to cause AoE Anemo DMG. Kazuha's Talents
Genshin Impact Kazuha has three passive talents which are useful to make this sub-DPS more powerful and beneficial. Here are all his talents.
Cloud Strider is the first talent to obtain automatically when you get this character. It helps reduce stamina consumption by 20% when he is sprinting. Weathering Blade will be unlocked after the first ascension. It causes elemental absorption and boosts the extra DMG by 200% when Kazuha's elemental skill contact with pyro, cryo, hydro, and electro elements.
Windsong Poetics will be unlocked after ascension 4. He helps boost allies' elemental DMG upon triggering swirl. These talents make this character be a strong sub-DPS. He can support the main DPS of Pyro, Cryo, Hydro, and Electro by boosting their DMG.
>>> Suggested post: Genshin Impact Inazuma - 9 Things About The New Nation Of Electro Archon
Best Build For Genshin Impact Kazuha
Players need to collect ascension materials, talent materials, weapons, and artifacts to make Kazuha more powerful and effective.
#1. Kazuha's materials
As Kazuha comes from a new nation, he may also need some new ascension material. Sea Ganodermais a new plant growing in the new land, according to some leaks. It can be one of the new materials to ascend this character. Besides, the Vayuda Turquoise series are essential materials to ascend all Anemo characters. the Vayuda Turquoise Slivers, Fragments, and Chunks can be purchased or mined in the wild. But the Vayuda Turquoise gems are only dropped by Anemo Hypostasis or crafted from Vayuda Turquoise Chunks. In addition, the new boss Maguu Kenki also drops many important ascension and talents materials for this new character. Marionette Core is rumored as a boss drop that you need to ascend Kazuha.
#2. Kazuha's best weapons and artifacts
If you want to build Kazuha to be a powerful Anemo character, equip a Skyward Blade, Favonius Sword, or Iron Sting for him. The Viridescent Venerer 4-Piece Set is the best artifact for DMG boost.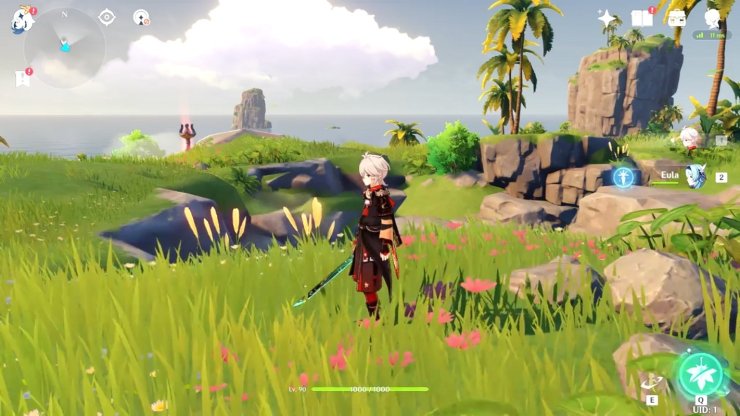 Besides, the recommended weapons for Kazuha's Anemo Hybrid are Aquila Favonia, Primordial Jade Cutter, and Prototype Rancour. In addition, the two best artifacts for this build are Viridescent Venerer 2-Piece Set and Gladiator's Finale 2-Piece Set.
#3. Kazuha's Best Team Build
Kazuha is a powerful sub-DPS in your team. Based on his talents, Kazuha can support the main DPS of Electro, Pyro, Cryo, and Hydro. Therefore, you can recruit and Pyro DPS to your team. Hu Tao is the best choice for this role because Anemo and Pyro is a powerful combination.
Besides, Bennett is the best healer to choose for Kazuha's best team build. This Pyro character will provide healing and extra DMG for his allies. Xingqiu is the last character in this team. He will cooperate with Hu Tao to provide elemental reaction and bonus DMG control.
Above is everything about the new character Kazuha in Genshin Impact that we know so far. Do come back Gurugamer.com for more news on Genshin Impact.
>>> Related post: Genshin Impact Waverider Boat: All About New Boat Travel