This summer is a busy time for Genshin Impact players when they constantly have to update new features and characters in the game if they don't want to lag behind. Don't you worry as GuruGamer would bring the latest information to your table and today we will talk about Genshin Impact Sayu, a new character in update 2.0. Check out the release date, ability details, and best build guide for her.
Table of Contents
1. Genshin Impact Sayu Release Date
According to some Genshin Impact Sayu leaks, Sayu will arrive in the game on August 10th, 2021. Like Kazuha, Ayaka, and Yoimiya in Genshin Impact 2.0, Sayu is also a character from Inazuma. She has some other titles, such as Mujina Ninja and Shiyuumatsu-Ban's Resident Ninja.
Sayu has the Anemo Vision. Although she has a small body shape, Sayu uses a big Claymore skillfully. This four-star character is an effective supporter in your team who can team up with the new Pyro character Yoimiya in the current update.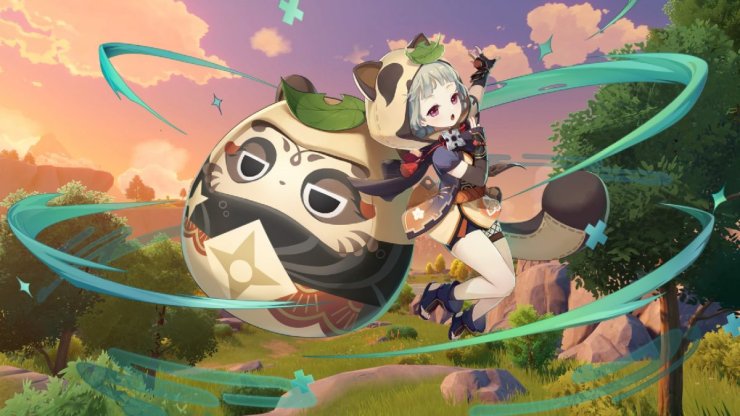 2. All Genshin Impact Sayu Skills
Sayu's skills and talents haven't been unveiled. However, you can check out some elemental skills and bursts of this character from many videos and leaks.
Sayu Basic Skills
Her normal attack is Shuumatsuban Ninja Blade. She performs four consecutive strikes with her claymore. Her charged attack will consume stamina to perform continuous slashes. The plunging attack will cause DMG to enemies in the path of the attack. Yoohoo Art: Fuuin Dash is her elemental skill. She will curl up and turn into a windwheel rolling around to crush enemies. Finally, she will release a Fuuin Dash kick.
The elemental burst of Sayu is Yoohoo Art: Mujina Flurry. When you tap on the elemental burst button, Sayu will summon a pet to cause Anemo DMG. Besides, it can help Sayu and her allies restore HP when they stand by Sayu's pet. Sayu Passive Talents
Apart from that, Genshin Impact Sayu also has three passive talents that help buff her abilities.
Yoohoo Art: Silencer's Secret is the first passive talent that you will unlock after the first ascension. It helps protect all party members from Freezing attacks of enemies when Sayu is in the team.
Someone More Capable is the second passive talent of Sayu. You can unlock it after the 4th ascension. It restores 300HP for Sayu and her allies when she uses the elemental skill.
No Work Today! - It's a pre-equipped talent that is given automatically for Sayu after you unlock her. The Elemental Burst AoE will be increased significantly. 3. Best Build For Sayu In Genshin Impact
With these skills and talents, Sayu is one of the best healers and supporters in Genshin Impact 2.0. Here are the most recommended weapons, artifacts, and teammates to build her.
Sayu's Best Weapons
Skyward Pride is the best weapon for this Anemo healer. It helps increase all the DMG she caused by 8%. Moreover, the DMG of her normal and charged attacks also increase a lot during the phase of her elemental bursts.
You can also use a Favonius Greatsword or a Prototype Archaic for her if you don't have that 5-star claymore. These two 4-star blades are also effective when you build her supporting role. They increase the CRIT Rates and ATK DMG of this supporter in your team. Sayu's Best Artifacts
To increase the Anemo DMG for Sayu, a healer, you can use 2 pieces of the Viridescent Venerer Set for her. If you have 4 pieces of this set to build her, it can increase the Spread DMG by 60%. Besides, it also reduces the RES of enemies hits by 40% based on the elements. Sayu's Best Team Build
As Sayu plays the role of a supporter or healer, you need to match this Anemo character with some DPS and sub-DPS. Keep in mind that the Anemo element can increase the AoE of the Pyro element and spread the burning effect. It's highly recommended to put Sayu in a Pyro team.
Recommendations For DPS role: Yoimiya, Klee, and Hu Tao. These Pyro characters have mind-blowing elemental bursts that cause huge flames to burn enemies. Sayu's wind swirls can increase the AoE of their burst.
Recommendations For Sub-DPS role: Ayaka, Ganyu, Chongyun, Rosaria. These Genshin Impact Cryo characters often release frost air to cause DMG and freeze enemies when they combine with Hydro characters or combat in the rain. The wind swirls of Sayu can increase the area of this frost air to freeze more enemies. 4. Genshin Impact Sayu Ascension Materials
Apart from weapons and artifacts, you also need to collect some materials to ascend Sayu. Here are three main materials for Sayu's Ascension.
Maguu Kenki Drops: Maguu Kenki is a new boss in Inazuma. You also met him in the Golden Apple Archipelago in the previous update and many other challenges. He will drop an ascension material called Marionette Core.
Crystal Marrow: It's a new material spawning in the new nation Inazuma. You should collect it while traversing this country.
Vayuda Stone Series: The Vayuda Turquoise Slivers, Fragments, Chunks, and Gemstones are also necessary for Sayu's ascension. You need all materials in this series to ascend Anemo characters. These materials are dropped by Anemo Hypostasis but this boss is hard to defeat.
Those are all things you need to know about Genshin Impact Sayu. Collect all important materials and artifacts to level up this character.
>>> Also Read: Genshin Impact Kamisato Ayaka Best Build & Reasons To Pull For Her