While 2020 seems not to be nice with many people, it turns out to be a fruitful year for the gaming industry as half of the world had to spend months at home for social distance amid the health pandemic. Recently, Sensor Tower, a trusted mobile app data intelligence agency, has published the list of the world's highest-grossing mobile games in 2020 with PUBG Mobile to top them all for generating $2.6B so far. Keep on reading to see the full list. 5 highest-grossing mobile games in 2020
Thanks to its popularity across the world, it's not a big surprise to know that PUBG Mobile is the highest-grossing mobile game in the world in 2020. By earning a whopping $2.6B this year, PUBG Mobile outdid the runner-up Honor Of Kings which is only $100M lesser. It was such a quantum leap to these titles as their 2020 revenue is almost double those in 2019. For the unversed, PUBG Mobile only earned $1.3B and Honor of Kings got $1.5B in total last year.
The most interesting thing to note is that both titles come from the same company - the Chinese biggest game developer and publisher Tencent Games.
Also read: PUBG Mobile: All Versions Available Around The World So Far
Apart from PUBG Mobile and Honor of Kings, there are also three other mobile games to get into the billion-dollar club including Pokemon Go, Coin Master, and Roblox. While Pokemon Go generated $1.1B within a year, the others end up at the same revenue of $1.1B. Check out the graph below for more details: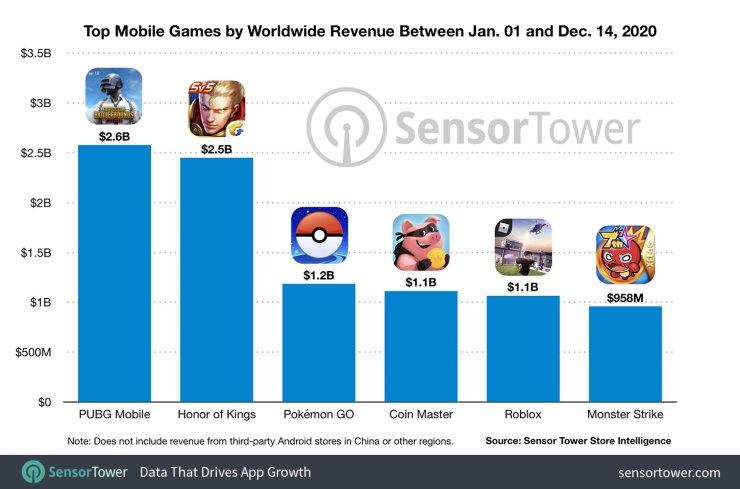 An open door for Monster Strike
As there are a few days left for 2020 to come to an end, the chance is still open to Monster Strike as the game has collected up to $958M so far. In fact, it has been doing good since the release in 2014 and always gets into the annual highest-grossing mobile games.
Above is the list of all the highest-grossing mobile games in 2020. It can be seen that despite the ban of PUBG Mobile in a few countries like India or Pakistan, the game has been on the right track and win triumph.
Apart from the news about the highest-grossing mobile games in 2020, visit our website Gurugamer.com for more interesting news about games and entertaiment!
Also read: Monster Truck In Free Fire: Everything You Need To Know