Do you know that lots of mobile games are recommended for gamers beyond 18 years old? Grand Theft Auto: Vice City is one of such games. Here is the list of mobile games not for gamers below 18.
Grand Theft Auto: Vice City
GTA: Vice City has received positive reviews from the critics due to its sound, graphics, gameplay, and a vast open-world since the release date. It is known as the first game developed by Rockstar after GTA III came to the public in 2001. GTA: Vice City revolves around Tommy Vercetti, a reformed criminal. However, he has started a new risky adventure to set up his own empire. It is one of a few games Rockstar has decided to bring on the mobile platform and keep all of the most outstanding details that make the success for GTA: Vice City. This game has received lots of praise from the critics and becomes the best-selling video game of the year 2002. GTA: Vice City is labeled as one of the mobile games for gamers above 18 on Google Play.
Gangstar Vegas
Gangstar Vegas is an open-world action-adventure video game published by Gameloft. This game brings the same experience as what GTA offers gamers on mobile devices. Gangstar Vegas allows gamers to play in a vast open-world and do actions as in GTA, for example, fighting on streets, handling gangsters in modern Las Vegas. Gangstar Vegas includes more than 80 missions that promise to satisfy gamers on the mobile platform. As one of Gameloft's products, Gangstar Vegas must be designed with graphics quality and gameplay. Although it was published in 2013, this game has remained its attraction for many years. Like GTA: Vice City, it is a game for gamers above 18 on Google Play.
The Walking Dead
The Walking Dead, also known as The Walking Dead: A Telltale Games Series and The Walking Dead: The Telltale Series, is a series of mobile games that are based on The Walking Dead by Robert Kirkman. This series is developed and published by Telltale Games affiliated with Skybound Entertainment. Different from the version on TV, gamers have a chance to enter a world full of zombies in a separated and standalone adventure. All factors from actions, smashing to horror are established perfectly in this series and it's easy to comprehend why it is considered as a game for gamers above 18 on Android devices.
Gangstar New Orleans
Published by Gameloft in 2017, Gangstar New Orleans is the sequel of Gangstar Vegas and a part of the Gangstar franchise. It must be a great improvement compared to its predecessor. As suggested in its name, Gangstar New Orleans takes gamers to New Orleans and start a series of adventure missions. It is allegedly designed with the best graphics quality in the series but its storage is surprisingly light. Gamers can download this game on Google Play and Apple App Store.
GTA San Andreas
GTA San Andreas was published by Rockstar in 2004. 14 years since its release, San Andreas has been one of the most-loved and most-played GTA versions. The adventure of CJ and accomplices is recognized as one of the best American dreams Rockstar has introduced to fans.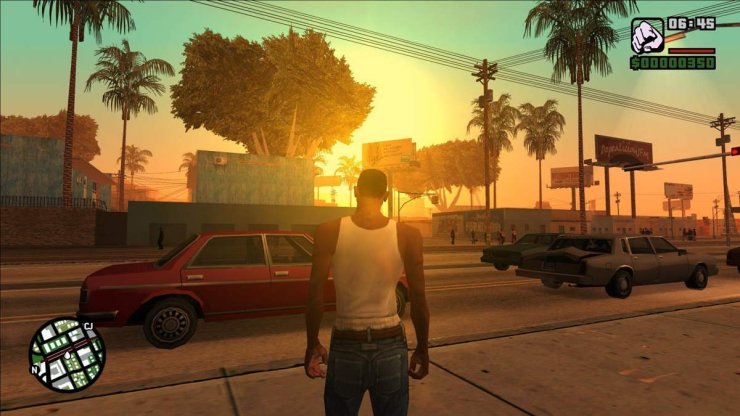 The game plot revolves around only one African American character named Carl Johnson. The main character left gangsters in his hometown Los Santos (a fantasy city based on Los Angeles) to start again with a clean slate in Liberty City (based on New York City). However, after knowing his mother was killed in a horrific bloody crime, Carl decides to come back and hunt a murderer.
GTA San Andreas is another GTA version that is successfully brought to the mobile platform. The outstanding mobile game occupies a high spot in the whole GTA series. Like GTA: Vice City, it is labeled for only gamers above 18 on Google Play.