In PUBG Mobile, it is very likely that you might have encountered various players with strange PUBG Name symbols and characters in their names, like Ninjà, ĐàŔk Š0ūŁ or Sㄚ 么 乙 ツ
In this guide, we will list out some of the best ways to get your username customized with Pubg invisible name. There are rules for making PUBG username symbols, as usual, the game would show an error message called "invalid character error" while modifying your ID with PUBG nickname symbols. Below is a step by step guide so that you could get everything in order. Firstly, you would need to get a PUBG Name Symbols' rename card. There are various ways to get them – you can outright buy one in the shop for 120 UC or complete the progressive missions to get two of them for free. If you already have a card, this step can be skipped. Next, we would cover the method to add Pubg name space symbol, as part of PUBG username symbols. The first step is to select and activate the rename card so that the name change menu appears. To get the blank space, you need to use the character Ī, which can be inserted by holding the I key on the keyboard of your smartphone. With this method of modifying name symbols, a S A M username would be SĪAĪM.
Finally, we will be covering the main topic of this article: how to add name symbols in PUBG.
First method: Use the PUBG Name Symbols Generator
This is probably the easiest one to do – you can just go to this PUBG Name Symbols Generator site, generate your own name symbols then copy/paste them into the rename field. There are various popular names in here so that you could pick - along with various tips and tricks for creating the most meaningful name possible.
Second method: You can usually just get those PUBG Name symbols from the names of top players on the leaderboards.
A lot of people have special characters in their PUBG username symbols. It might be a good idea to copy their names and make them your own. A well-made handle could be part of your signature appeal if you ever decided to go pro. Firstly, you would need to get to the Ranking section of PUBG and check out the profiles of people with names that you like. Afterward, you need to copy their names or the special characters that you want, then paste them into the PUBG mobile name symbols rename card.
Third method: This process involves using a third-party application named Text Font Generator
First, you need to download this application named Text Font Generator from the Google Store. It is free to install and rather easy to use. If you are using IOS, there should be alternates as well.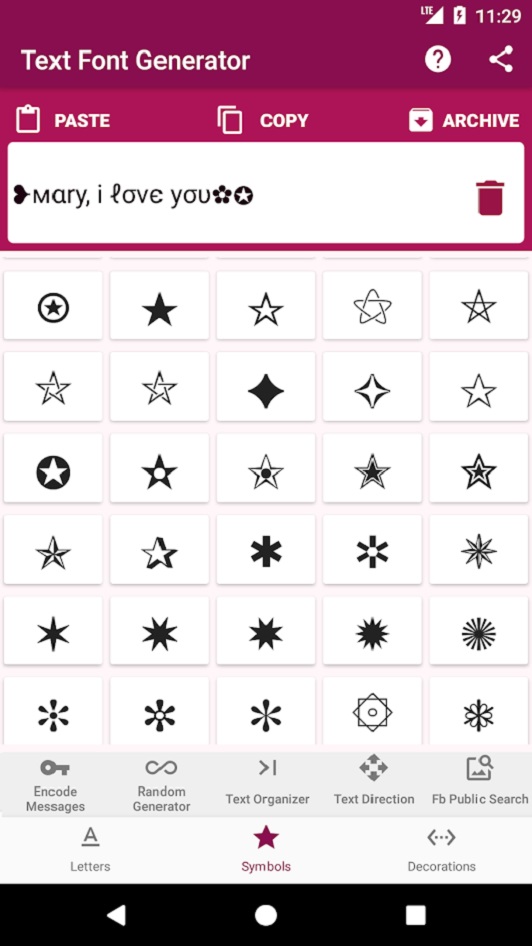 Run the app then navigate to Symbol Section. In this part, you would be able to find various special PUBG name symbols to pick from. Copy the needed symbol and use it when changing your name. Another thing that you need to take note of is that not all PUBG Mobile name symbols are supported by the game – sometimes you have to do trials and errors. Which means that you would have to insert each and every symbol to see if they work or not.
Fourth method: Use characters from various other languages
As PUBG Mobile is available in various regions around the world, the game has to supports all the different languages involved. You can either get Japanese and Chinese symbol for PUBG or something else to modify your PUBG Mobile nickname symbols, as they are often very striking and unique. To add those, you would have to get your keyboard upgraded with more language packs. To accomplish this, go to Keyboard & Languages -> Add a language. The phone would automatically download the pack. Once it is added to your keyboard, you can activate the rename card. The final step is to switch to the other language then experiment randomly to find a PUBG name symbols character you like – and input them in.
Interested in more of our posts similar to how to add symbols in pubg name? Please check out the PUBG Mobile tag on Gurugamer.