Minecraft is one of the most popular video games of all time. However, playing the same game over and over again can be pretty boring. If you want to try out something new, here are the top 5 games similar to Minecraft on Android in 2022.
1. Terraria
While Terraria is often called the 2D version of Minecraft, in reality, the game is much more than that. In addition to its Sandbox nature, there are many more options that could be explored such as terraforming, building, and decorating. While there is no creative mode built into the game at the start, it could easily be modded in. Terraria includes multiplayer with up to seven other players, over 20 biomes to explore, various NPCs to seek out, and more. The RPG elements in Terraria are a lot more robust than Minecraft, as it is progression-based. The player character would get stronger with each level, unlocking access to new equipment that they can use to defeat even more powerful enemies.
2. Oceanhorn
Oceanhorn is a top-down open-world RPG that lets you explore the islands of Uncharted Seas, a world filled with dangers, puzzles and secrets. Fight monsters, learn magic and discover ancient treasures to aid you in your journey. Your main task is to unravel the mysteries of the ancient kingdom of the island and the sea monster Oceanhorn.
Oceanhorn
The story of Oceanhorn is immersive, the controls are great and the graphics are awesome.  You can easily get 10-20 hours of gameplay if you try to 100% everything in the game.
3. Stardew Valley
Stardew Valley is a life/farming sim that can easily create hundreds of gameplay hours for players who are interested in the usual farming games. Things start off rather simple, with you growing some crops and raising a chicken – but soon enough you would be controlling fields and massive ranches while exploring a mysterious dungeon.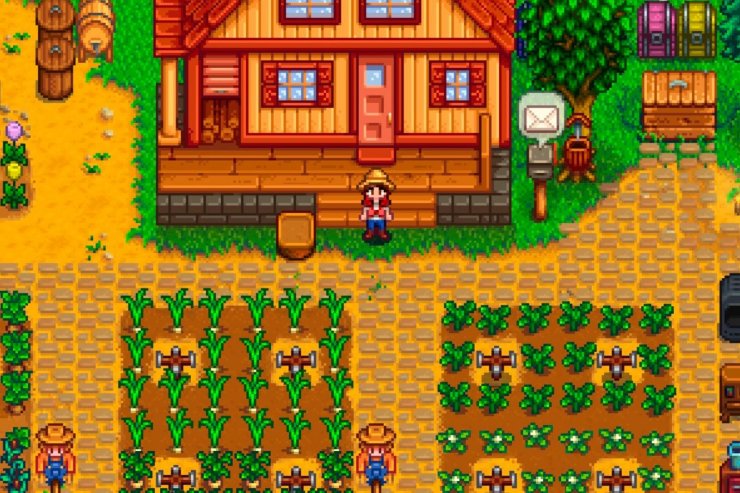 Stardew gives you massive hours for your money: it is probably the most efficient purchase on this list.
4. Roblox
While Roblox is rather dated and its blocky graphics and character models might not be the favorite of anyone, it is still a very amusing sandbox experience. Aimed at young players, Roblox enables people to create their own unique worlds, explore them and share them with other players. You can either access premade worlds in-game for free or make your own using Roblox Studio, a world editor that comes with the game. Using the tool is very easy – it is more Mario Maker than Minecraft, as you can still create without any prior experience in coding. If you are in need of support, there are various tutorials available on either the wiki or YouTube. You can play Roblox for free.
5. Don't Starve
Don't Starve is a survival game in a world full of science and magic. You would step into the shoes of Wilson, who was trapped in this world by a demon and has to find his own way home. To survive, Wilson must exploit the environment and its inhabitants. Start with nothing and craft, hunt, research, farm and fight to survive. The best part of this game is that its map are all randomly generated. No single playthrough is the same. Play your way as you unravel the mysteries of this strange land.
>>> Read more: Top 4 Real Time Strategy Games On Android In 2022