If you're familiar with the GTA franchise, you already may know what it's about. It's full of exciting missions, adrenaline-packed adventures and a lot of guns. The entertainment value of this game, however, lies in the features that are beyond the main or side missions. This is especially true for the fifth in the series, online GTA. The multiplayer option broadens the possibilities and adds a whole another level of fun to the game. As an online player in a GTA game, you can explore the city while engaging with other players. You can also personalize your protagonist and buy buildings to create a one-of-a-kind experience. In this article, we will focus on one of these unique options that make Grand Theft Auto Online stand out from the rest. We're talking about the mini games in Grand Theft Auto 5, of course.
How Do You Access the Mini games in GTA 5?
Minigames can be found in residences, pubs, stores, and restaurants. And you can buy these buildings within the game. Once you buy an arcade building, you can add your own arcade games to it. They are very fun to play as they're all adaptations of other well-known arcade games or genres. At the moment there are more custom modes to discover in Grand Theft Auto V than ever before. Online players are developing new modes and maps for the enjoyment of others.
In order to access the custom Grand Theft Auto mini-game, go to the official Rockstar games website. Then follow these simple steps:
Click on the "Social club" tab;
Then click on the "Games" tab;
Find the GTA5 and click on it;
Look through the plethora of modes and click on the minigame you like;
Scroll down and click on "Add game";
Restart.
And that's it!
The Best Rockstar Minigames
Since the game has first published, there have been numerous custom modes created by skilled players. And so it has become virtually impossible to pick the best one from a vast ocean of custom modes. It is still worth giving credit to some of the original minigames though, created with love by Rockstar itself. Here are some of our favorites:
Let's Get Ready to Bumble
They Crawled from Uranus
Bomb Jack
Golf
However, we still highly recommend you choosing one of the mini ones — the creative power of passionate players is simply unmatched. That especially holds true for the long-awaited casino in GTA5 that has opened its doors some time after the original has been released.
GTA 5 Casino
The introduction of the GTA casino was a groundbreaking feature. The players had been gazing for years at the sign on the door that said that the casino was about to be open soon. Finally, the Casino & Resort celebrated its grand opening in the downtown district.
The GTA casino uses chips, much like your everyday casino. As a player you can trade your GTA money for casino chips. You can then spend these chips on various mini games, such as horse racing, slot machines, poker or roulette. There's also the Lucky Wheel, which you can spin to win prizes like Chips, cash, clothes, or even a high-end car if you're lucky.
The GTA Online Casino Secrets
For fans of GTA games, the whole idea of a virtual casino inside a virtual setting seems to be fascinating in and of itself. But it wouldn't be a GTA experience without some exclusive options. For example, the VIP player option, which we consider the GTA 5 best casino game option you can try.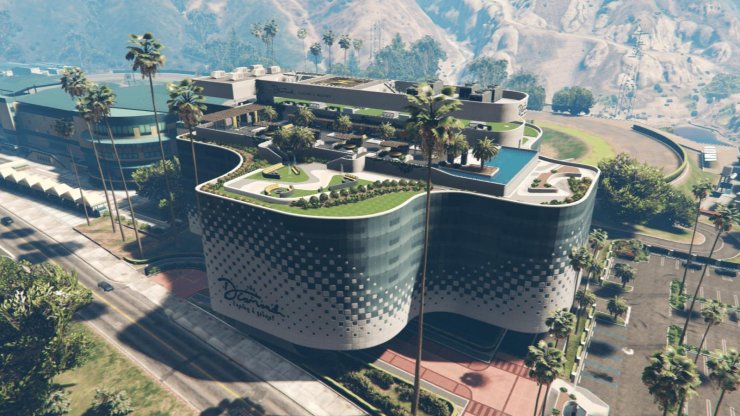 If you so decide, you can purchase a VIP membership too, which grants you access to a variety of benefits. Some of them are valet parking, landing an aircraft on the roof of the building, a complimentary limo service, VIP lounge access, and an opportunity to play at special tables with high stake limits. Of course, this luxury comes with a price. In order to get to play in the VIP mode, you'll have to buy the Master Penthouse.
But, more crucially, owning a Master Penthouse means you also get to participate in the casino business within the game. This opens up a whole new set of missions for you to enjoy. The objectives center mostly on helping the business to keep going. After you complete each of the tasks, you'll earn a unique gift. And completing the full tale will grant you access to an exclusive car. Extra employment becomes possible too, and this will earn you both Chips and regular money.
Real Life Casinos
If you like the experience of playing in a casino, you'll definitely like the virtual Rockstar GTA option as well. But this can also go the other way around. If you're interested in learning about real-life, regulated casinos that you can enjoy using for real money, we got you.
Virtual casinos or Internet casinos are virtual analogs of traditional casinos that operate on the web. Gamblers can play and wager in the casino through the Internet at casinos. It is a very popular type of gaming and it comes with various deposit and withdrawal limits. If you played in a GTA 5 version and wish to try the real version out, some casinos have a minimum deposit of only $10, $5, or even $1. We definitely recommend trying out with small amounts in a casino 1$ first before going big.
We always recommend you find regulated casinos that take responsible gaming seriously. You'll be able to set time limitations, deposit limits, and loss limits on your account, as well as self-exclude from these gambling sites. They also give advice on how to recognize a gambling issue and how to gamble responsibly at real-money casinos.
Conclusion
The mini game mode and custom mode era of video games have definitely taken over in the last decade. Gone are the days of basic gameplay and sticking to the original version. The creativity of the die-hard fans can go to unexpected lengths when it comes to building custom-made worlds and mods for every player.
We discussed the most interesting and innovative aspects of game customization within the Rockstar universe. Things like in-game gambling and arcade, however, only time will tell how this branch of creative work will develop in the future.
>>> Read more: 10 Tips To Do GTA Online Cayo Perico Heist Solo