Amongst PC games, the one genre that gives you the most bang for your buck is probably Open World RPG. It is usually the longest type of game, with a lot of exploration, big maps and a huge amount of quests.
In this article, Gurugamer is going to showcase the top 5 best open world RPGs to play on PC in 2022.
1. Marvel's Spider-Man Remastered
Marvel's Spider-Man Remastered is a fantastically fun game. For many people, Spider-Man used to be the one game you bought a PS4 to play, a system seller. Just the fact that this is now on PC is kind of a miracle. That the game also happens to be a stellar PC port is just the cherry on top. What makes Spider-Man stand out from other open-world ones is the traversal. Insomniac absolutely nails the movement of Spider-Man. You could see shades of this system in their old game, Sunset Overdrive. Here, it's so fun just swinging and web-slinging from building to building that I didn't even bother with fast travel for 99% of my playtime. The combat is pretty fun too, especially mid to late-game where you'll have unlocked many moves and gadgets to spice it up. The map of NYC is filled with collectibles, some of them fantastically well-designed, some not so much. Insomniac went the bold route of making an entirely original story with the characters and setting of Spider-Man. Just follow the story of the movies and comics would've made the game less special and more predictable. I was pleasantly surprised by the cast of characters and villains.
2. Elden Ring
Elden Ring, while imperfect, is the best implementation of an open-world action RPG that I've ever played. It feels like the culmination of every iteration of FromSoft's 'Souls' games into one truly amazing experience filled with intrigue, struggle, and eventual triumph. FromSoft didn't make Dark Souls 4. This game is Dark Souls 4, 5, and 6 all in one. Absolutely massive game and the open world part doesn't feel like an attempt to pad the game (like most open world games do). Elden Ring's open-world game has various mini-dungeons/secrets hidden away in every corner of the map. It is to your advantage to seek out these locations to find rare materials and unique weaponry that may or may not change your play style altogether. The open world feels like there is always something waiting for you to discover, such as powerful enemies that drop unique weapon arts (ashes of war) or an NPC standing around waiting to offer you a quest. With the introduction of a day/night cycle, there are even some bosses that only spawn at nighttime in specific locations waiting to ambush you, but offer unique drops as well. As with any game, it's not for everyone, but if you love souls games, you'd be doing yourself a disservice by missing this one. If you've never played a souls game, this is the best one to try. The most accessible by far. No crazy hard tutorial bosses, the new ashen summoning bell gives some great support in difficult areas, and the fact you can always leave harder fights and come back to them later makes it so you rarely run into situations where you know booting up the game means you're gonna be brick walling until either the boss dies or you give up.
3. Red Dead Redemption 2
There are stories, good stories, and then there are those stories you'll remember for a long time. This game has it all. Adventure, tons of things to do, a marvelous story, fun gameplay, and most of all it leaves you something. You really care for the characters, the gang "family" becomes like your family, and when things go bad.. you really want to help. Of course in the meantime you can hunt, rob, kill and do whatever nasty or good thing you prefer, but you know someone is waiting for you. And the ending will bring tears to your eyes for different things on multiple occasions. Add to this an incredible, very realistic environment, a perfect western setting that would make Sergio Leone proud and you have an absolute masterpiece. For the visuals, even while not at the ultra settings, this game is insanely beautiful, I never felt a world full of life as much as in RDR2, Rockstar went into each detail to create the last days of the Wild West and it's a huge payoff for the players, you really feel like you riding with a gang in the early 1900s. And with photo mode, whatever you are doing and wherever you are on the map, be sure that you'll end up with a nice photo. I'll add to that the dynamic weather and different environment that won't change just the looks but also the fauna and flora of the region. Shooting is pretty satisfying with the dead eye mechanic and the slow motion. Even the crafting is diverse, from food to ammo to tonics, also loved the weapon modifications, to make each weapon customized to a different look.
4. Assassin's Creed Odyssey
As a big fan of the series and of the RPG genre, I can say that I have enjoyed this game more and more as deeply as I got into the game. I really believe that Odyssey needs time on for players to fully value the work Ubisoft has put into and ignore the fact that it no longer aligns with the direction once Assassin's Creed became.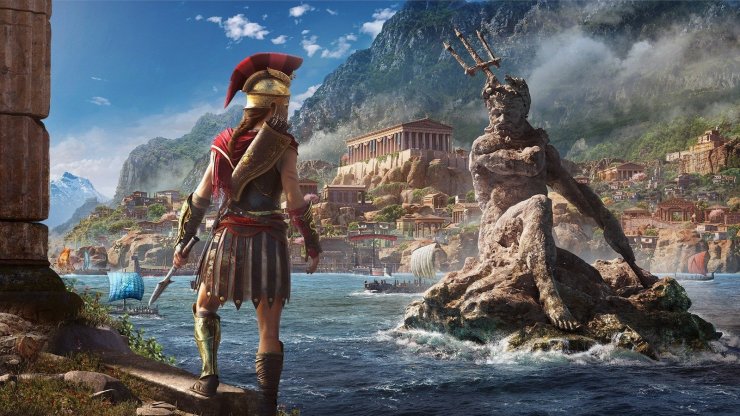 It keeps the old elements of Parkour and assassinations but doesn't expand on them, yet this game really does a great job with the beautiful world and lore behind it. If you love Greek Mythology, you will find this game fascinating to explore and enjoy. I know I sure did. The game contains a lot of side quests and side missions that will keep you engaged for over 150 hours if you're a completionist. The graphics of this game are gorgeous, and I needed to upgrade my PC's CPU to play it to its fullest detail fully. The world is gorgeously crafted, and I can't give credit enough to Ubisoft for its beautiful work.
Without spoiling anything, I'd like to point out that this game takes time to grow on you regarding the story. It does a great job at creating emotions between you and the characters along the way, and with the 3 DLC's you are bombarded with beautiful finishing touches of the great story.
5. Horizon Zero Dawn
Horizon Zero Dawn is a third-person/single-player action game set in post-apocalyptic land ruled by mechanical creatures, in which the remains of humanity are split into warring tribes and kingdoms that dwell among the ruins of ancient times. And so here we are, in a regressed primitive state of Earth, where we take on a role of a young huntress, an outcast of the Nora tribe, Aloy, who's forced by a series of events to go on a journey to not only uncover her past but also the origins of the world she currently lives in therefore the fall of the previous civilization. The most pleasant surprise to me was how fluid and fun the gameplay actually is and because of this, it simply went beyond my expectations. You've got an open world where exploration is always good and any kind of combat, whether it be with machines, animals or humans is extremely rewarding but progressively gets tougher the longer you get into the storyline which in itself is a pretty cool aspect. People can say a lot of different things about this game but we can all agree that as funny as it sounds, an apocalypse was never more beautiful and so visually stunning as it is in HZD which results in it being an absolute design masterpiece.
>>> Read more: 5 Best F2P Battle Royale Games On PC (2022)