Earlier today, the colorful platformer game Yooka-Laylee and the Impossible Lair has been officially released for PC, both on Steam and GOG digital games store. Along with the official release is the latest launch trailer of the game, which you can watch below:
Yooka-Laylee and the Impossible Lair Launch Trailer
Yooka-Laylee was first released in 2017, which is a platform game that tried to capture the nostalgia feeling from many classic games like Donkey-Kong or Banjo-Kazooie. The gameplay of this requires you to control the chameleon Yooka and the bat Laylee, to explore the environment, solving puzzles, and reach the goal.
In the original game, Yooka and Laylee embarked on an adventure to explore worlds within a magical book, and they have to complete the game's challenge to collect "Pagies", which is the main currency required to unlock new worlds and expand the existing world in the book.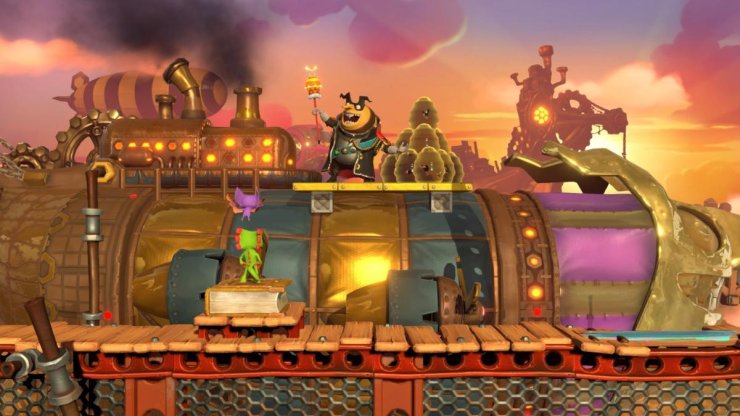 Meanwhile, Yooka-Laylee and the Impossible Lair is the spin-off of the original Yooka-Laylee in 2017, and features the gameplay similar to Donkey Kong Country - which many have regarded as the "PC-reskinned version of Donkey Kong Country". Of course, similar to the original Yooka-Laylee, this game also received mixed receptions, as Yooka-Laylee and the Impossible Lair was perceived as an attempt to hit on the nostalgia of old gamers - and not bringing any new idea to the gaming market.
However, whatever people might say, this game was still a great platformer - with right enough difficulty to welcome any new player to the genre. A special feature of this game is that the end-game area, dubbed by the titular 'Lair' - is actually available right from the start of the game. Of course, it's not recommended for players to enter this area right away - but the choice is actually yours to make, as you can immediately go to the Lair and try to clear the game right at the beginning. This feature, according to the developers, was inspired by the Hyrule Castle area of Breath of the Wild, and serve as a way for high-skilled players and speedrunners to challenge themselves with the game.
Yooka-Laylee and the Impossible Lair is now available on Steam and GOG.