PUBG Mobile has been experiencing consistent growth in popularity since its initial launch. The unprecedented journey has revolutionized the face of mobile gaming as a whole, pioneering the mobile Esports scene. The Krafton-owned title even became the highest-earning mobile game globally in 2020.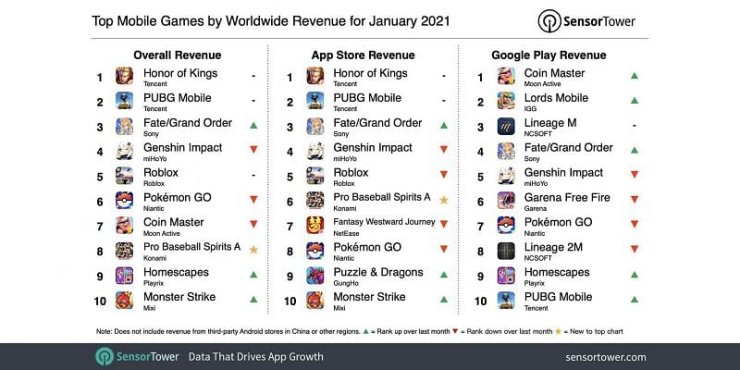 PUBG Mobile once again appeared in second place in SensorTower's top 10 highest-earning mobile games in January 2021.
PUBG Mobile is the Second Highest-Earning Mobile Game of January 2021
In the first month of 2021, PUBG Mobile still managed to bag a decent revenue. According to a recently published report by Sensor Tower, it was the second highest-earning game of January.
More than half of the game's revenue (~60%) came from China, where it's locally known as the Game For Peace. The United States emerged as the second-biggest market of the game, accounting for 9.8% of the total revenue. The game finished second on both the Google Play Store and App Store charts. Honor of Kings, another game from Tencent, dominates the charts as the top-grossing title in January with a whopping $267.3 Million in player spendings. The game experienced a steady growth of 22% in the same period last year. Fater/Grand Order by Sony came in third on the charts.
The widely successful Genshin Impact by miHoyo finished fourth in terms of revenue in January 2021. The game generated a revenue of $153.4 million with Japan being the dominant market (~33% total revenue). The USA accounts for 17.2 percent of player spending, while Asian players contributed around 72% of Genshin Impact's income. Top 10 Mobile Games by Worldwide Revenue in January 2021
#1 Honor Of Kings
#2 PUBG Mobile
#3 Fate/Grand Order
#4 Genshin Impact
#5 Roblox
#6 Pokèmon Go
#7 Coin Master
#8 Pro Baseball Spirits A
#9 Homescapes
#10 Monster Strike