When it comes to the military and the soldier world, many first think about a severe environment that is seemingly born for only men. However, in some countries, due to their economical - political - defense characteristics, the number of female soldiers is as much as that of male soldiers and Israel is a typical example. That's why Israel has been on the top list of the countries with the largest amount of beautiful female soldiers who work in many various positions, from direct soldiers on the battlefield to those in the army logistics support. Accordingly, women are required to serve in the military in two years, while men in three years. As mentioned above, the Israeli military has many beautiful and lovely female soldiers, even some have sexy bodies just like renowned actresses and models. However, there is just only one who is known as the Queen of Guns or the symbol of feminism: Orin Julie.
She has started to stir the network work and magazines since 2019 and until now, Orin Julie has drawn about 5 lakh followers on Instagram. According to Sputnik, she has joined the army and served in the Israel Defense Forces since 18 years old. In the beginning, she just did simple tasks at the office but at the very first sight, the young girl has had a powerful passion for guns and weapons. Her description on Instagram is a piece of obvious evidence: Queen Of Guns. Not long after becoming a soldier, Orin Julie asked to voluntarily take part in frontline missions to serve the nation much more, as well as to have a chance to get closer to many kinds of guns. In 2013, Julie's wish was accepted and she became one of the members of the Search and Rescue Unit of the IDF. No need to say that her images in the actual combat always look fatally sexy and it's hard to resist her beauty.
On Instagram, Orin Julie often shares her photos with guns, even when she is sleeping. In an interview with Daily Caller, the former Israeli soldier said that she always has a special love with guns and many gun manufacturers have contacted and invited her to be a model for their products. Of course, with her sexy body and complete soldier style, Julie knows how to create her albums as real as possible. Until now, when she returns her normal life, her passion for guns has shown no sign of disappearing. She said that her heart only finds its vibrations as she pulls the trigger and her favorite clothes are always military uniforms.
In another interview, Julie stated that she doesn't want to wander in a swimsuit. She knows how to hold a gun, pull the trigger, and the US people highly appreciate that.
In Israel, Orin Julie is considered as a symbol of feminism while in the United States, her fans can't take their eyes off her sexy beauty next to guns. Even the PUBG community can't also resist her powerful pics. A US gamer on Reddit said that after looking at Julie's pics, the PUBG cosplay pics seem meaningless.
Now, let's take a quick look at the stunning and sexy pics of Queens of Guns Orin Julie: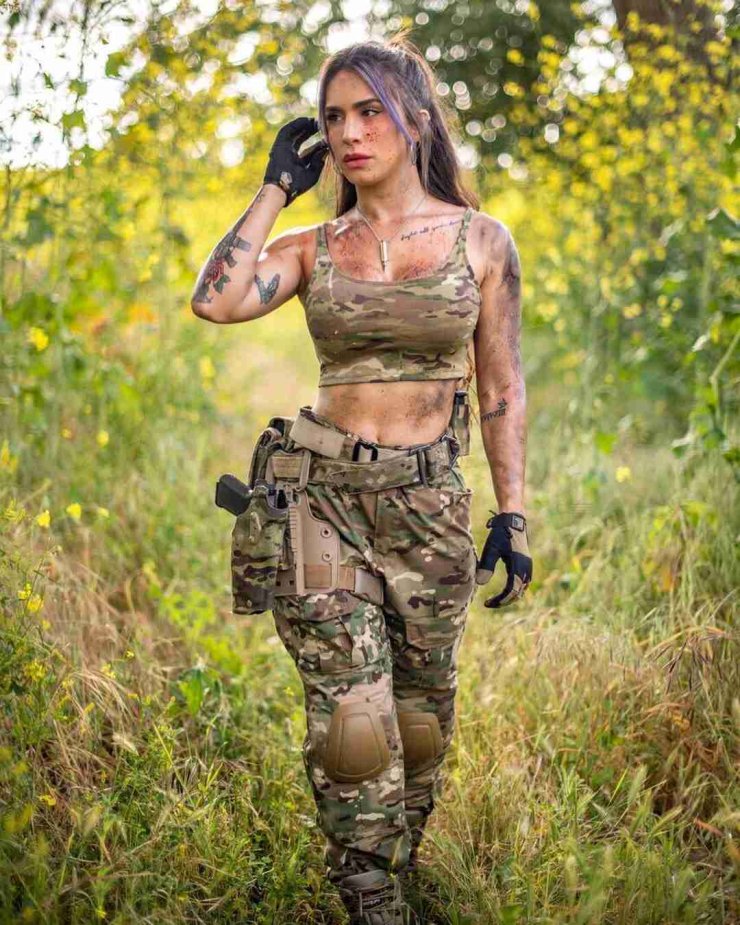 >>>Also check out: Streamer Ninja Says He Removes TikTok Due To Concern About Security Issue