Each character has an elemental burst Genshin Impact. Their power mostly relies on this special skill. Unlike elemental skills, Genshin Impact elemental bursts need charging. Check out which elemental burst is strongest and how to charge them.
Table of Contents
I. What's An Elemental Burst Genshin Impact
Elemental burst is a special skill of characters in Genshin Impact. Each character has its own burst with different power and effects. But elemental bursts are always the strongest ability of characters that provide giant benefits to both the character and the whole party.
The elemental burst can be defined to be the ultimate skill of a character. It's also one of the key elements for players to determine the character's rank, rate, and role in a team. For example, main DPS characters often have powerful bursts, such as Hu Tao, Raiden Shogun, Eula, etc. II. Strongest Elemental Burst Genshin Impact
The list of Genshin Impact players is extended after every update. Then, there are more and more new elemental bursts to use. Here are the top strongest elemental bursts of six available Genshin Impact elements up to the current version.
#1. Anemo Burst
Kazuha Slash of Kaedehara Kazuha is the best Anemo burst in Genshin Impact now. It can create an Autumn Whirlwind on the battlefield and deal occasional AoE Anemo DMG on enemies inside the Whirlwind.
Besides, Xiao's Bane Of All Evil and Jean's Dandelion Breeze bursts are also very powerful and useful. #2. Pyro Burst
It's undeniable that Hu Tao is the strongest Pyro character in Genshin Impact now. Her elemental burst, Spirit Soother, is also the most devastating ability. The blazing spirit she releases can produce insane Pyro DMG on a large area on the battlefield.
Besides, Xianling and Diluc also have powerful and effective Pyro bursts. #3. Cryo Burst
It's hard to pick the best Cryo main DPS because Eula, Ganyu, and Ayaka are all good. But the best Cryo burst must be Kamisato Art: Soumetsu of Kamisato Ayaka. It produces a massive Frostflake storm forwards. But it's also hard to use with nimble enemies.
Ganyu and Eula's bursts are easier to use. Moreover, Qiqi's burst is a very interesting Cryo burst you can use. #4. Geo Burst
Zhongli's Planet Befall is the strongest Geo elemental burst in all Geo characters. He summons a devastating Meteor Shower on the battleground to produce continuous AoE damage.
Besides, Albedo and Ningguang's bursts are also good to create Crystalize DMG to deal with enemies and release shield particles.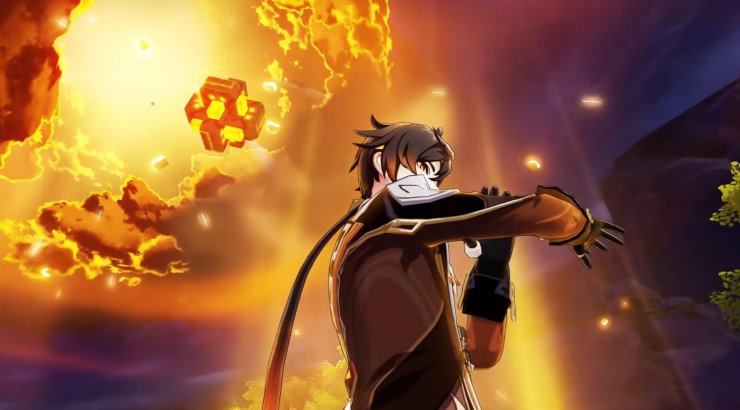 #5. Electro Burst
The Raiden Shogun's Secret Art: Musou Shinsetsu is the best Electro burst. After the elemental burst, her normal attacks still deal Electro damage and physical damage to enemies.
Besides, Keqing and Razor also have powerful Electro bursts. #6. Hydro Burst
Mona's elemental burst, Stellaris Phantasm, is very useful for DMG boost and elemental support. When she teams up with an Electro or Cryo main DPS, she can boost their elemental burst to deal higher damage to enemies with elemental reactions.
Ayato's elemental burst is also the best Hydro burst after Genshin Impact 2.6. III. How to charge elemental burst Genshin Impact
You need the charge the Elemental Burst to use. The elemental burst is only read to use when you gather enough Elemental Particles after using Elemental skills or defeating enemies. After filling the gauge fully, you can touch the burst button.
You can build Energy Recharge to charge the burst faster by using weapons and artifacts. Besides, many characters' talents can generate more Elemental Particles and fill the gauge quickly.
In addition, elemental bursts can also have a cooldown time. It means that you cannot use the elemental burst successively. But you can switch to characters whose elemental burst is fully charged. Bonus: FAQs
To understand more about elemental bursts, answer these frequently asked questions about these special abilities in Genshin Impact.
1. Can Elemental Burst Crit?
Yes. Except for elemental reactions, most attacks in Genshin Impact can crit.
2. How To Make Elemental Burst Stronger?
You can use artifacts and weapons to boost the character's elemental burst. Besides, characters' talents, skills, and bursts can also boost each other's elemental burst. Those are all about elemental burst Genshin Impact. The power of a character mostly relies on the elemental burst. You should focus on building their elemental burst to kill enemies faster.
>>> Also Read: Genshin Impact Upcoming Vibro-Crystal Research Event Gameplay