Free Fire is a competitive battle royale on mobile released by Garena in 2017. It is one of the most popular games in the world with hundreds of millions of players. Due to the nature of the game, the skill cap in Free Fire is really high.
While having high skill in Free Fire is often just one of many factors that will lead you to victory, many players use it as a way to compare to one another. Free Fire Clash Squad Custom 1 vs 1 match is often how most Free Fire decide who the better player is. So if you happen to have an upcomingClash Squad Custom 1 vs 1 match with another player, you might want to take a look at these tips. Free Fire Clash Squad Custom 1 Vs 1 Tips
1. Confuse your enemy
The most important thing in a 1 vs 1 match is that you have to be unpredictable. If you are not, the enemy can just catch you off guard and take you down like a bot. Use different movements such as jumping, or crouching. Think to yourself about what the enemy will expect you to do and avoid it.
The enemy will also try to make their own surprise move so be prepare. 2. Always be on the move
You must almost never stop moving in a Free Fire Clash Squad Custom 1 vs 1 match. You only stop moving when either the enemy or you are dead. Always try to find an angle that will give you an advantage over the enemy.
Learn how to move around the map faster and make unexpected movements so the enemy cannot pin you down easily. This also prevents the opponent from knowing your current location. 3. Use Gloo Wall
In most 1 vs 1 matches, you will be provided with an unlimited number of Gloo Walls to use. That's right, you can use as many Gloo Walls as you want. Use them constantly to block the vision of the enemy, stop them from rushing, or defend yourself.
You would want to learn how to deploy your Gloo Wall quickly and build different Gloo Wall patterns. Also, always stack 2 Gloo Walls to prevent the M82B. 4. Pick Good Characters
A good combination of characters is always a big plus in Free Fire. Here are some of our character suggestions:
This character can heal you whenever you place a Gloo Wall. since you have unlimited Gloo Wall, you will also have an unlimited regeneration. His ability can also destroy all Gloo Walls in front of him, giving the opponent no place to hide.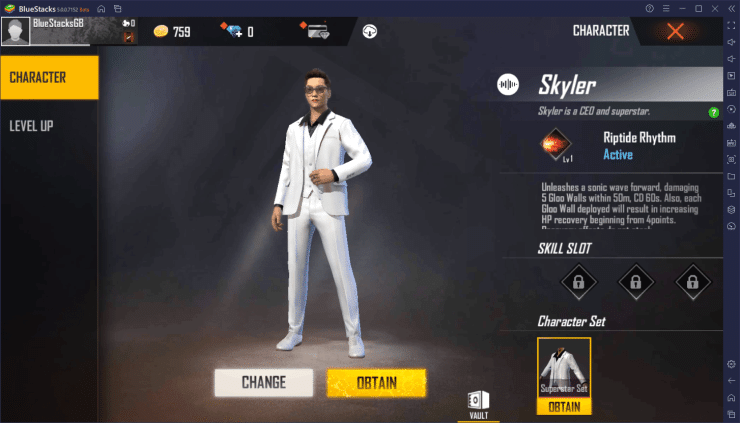 You start the match with 35 extra HP with Antonio. It doesn't matter if you cannot heal these HP back since you will not likely have time to heal at all.
If you use his skill right, you can totally throw off their aim and then turn back to kill them.
How to create a Free Fire Clash Squad Custom 1 Vs 1 Match
You need a Custom Room card in order to create a Free Fire Clash Squad Custom 1 vs 1 match. You can buy this item in the store for 100 Diamonds or you can get it for free when your Guild reaches 1800 Dog Tag Count. Here is a step-by-step guide on how to create a Free Fire Clash Squad Custom 1 vs 1 match:
In the main lobby of Free Fire, tap on the game mode button in the top right corner.
Choose the Custom mode in the menu (next to the Training mode) and tap the Create button.
Now you will see a menu with many setting options for your room.
Enter room name, password and choose Clash Squad mode. Move on to the Game tab, turn off Fall Damage, Airdrop. Set default coin to 1500 and EP to 50.
You can choose to enable/disable Character Skill, Limited Ammo, depending on what you want. Press Confirm when you are done.
Now invite your opponent to the room and start the game.
>>> Check more Free Fire tips on Gurugamer.com: List Of All Upcoming Free Fire Tournaments In August 2021