Planning strategies are pretty important when playing Ranked on Free Fire Classic Bermuda Map. While getting more kills is nice, surviving until the end would get you a lot more points towards your goal of getting to heroic rank. Amongst all the elements, landing locations is extremely important, as Battle Royales like Free Fire is all about loot, combat and avoiding the circle.
In this article, we would list out some of the most important things that you need to take note of while playing on the Bermuda map.
1 - Free Fire Classic Bermuda Map landing locations
Even if your personal ability is not as good as your enemy, you can still defeat them if you have the better gear, and picking where to land would definitely affect what gear you could get. Free Fire's landing locations are usually designed like this: low risk, far from the center areas would have fewer players and lesser loots, while the high risk, center areas with good loot has swarms of player concentrated on them.
Rim Nam Village (low risk) As the circle rarely ends at the edge of the map, people tend to skip these places so that they could make it safely to the circle. As a result, the outer locations usually have worse loot than the hot zones. Rim Nam is an exception, with an array of decent drops scattered in an easy to access area. However, as the village is usually not on the first circle, you need to loot fast and get out of there. Avoid the Clock Tower when heading out, as that is where all the campers are.
Cape Town (low risk) Another location on the edge of the map, Cape Town is usually not somewhere people would land on, as the quality of the drops are not that high. However, the place made up for it with quantity, as its buildings are closely stacked together, which makes looting much faster. After you are done, you can begin to head toward the circle.
Sentosa (medium risk) Another top looting place on the map, Sentosa's medium risk level is mainly because of its bridge, which is wide open for campers. If you are landing here in a squad, you would be able to fill up your inventory relatively fast with decent equipment, as the place is just that good. Head to either Pochinok or Peak when leaving the island.
Pochinok (medium risk) Pochinok is more suitable for squad players – the gap between its building is just too big for a single player to clear it out efficiently. With the first circle usually covered the area, you can either choose to stay on the town camping for targets after looting – or get to Peak using a cable or vehicle.
Bimasakti Strip (high risk)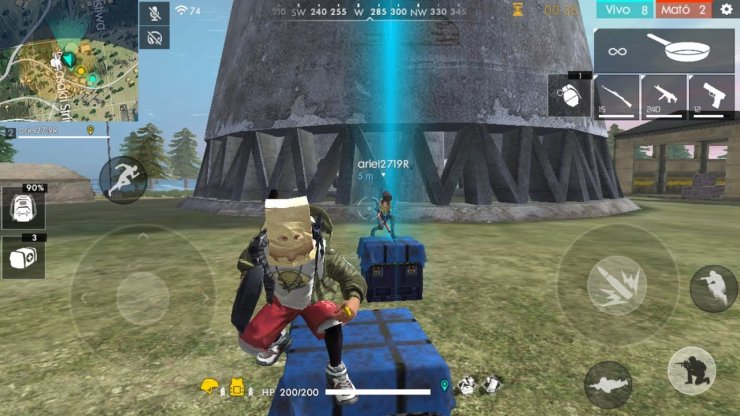 The most dangerous location on the map – it offers the highest level of loot and the ability to set up a camp, as the final circles usually would end in this area. Because of this, Bimasakti would be filled with hostiles right from the beginning. If you are going to land here, look for weapons and try to fight right away. With a central road divides the site, try to loot everything on your side before moving to the other.
Read more:
Katulistwa (high risk) A smaller town in the vicinity of Bimasakti, Katulistwa is decent if you are playing solo and do not want to take too much risk. After landing and clearing the place out, it is best to get a sniping weapon, get on the hills between the two areas and snipe away.
2 - Tips and tricks for Ranked on Bermuda
Run and Gun
Lying prone is super useful in setting up an ambush, but at the same time, it limits your mobility. However, you can get up from going prone in Free Fire by pressing the two buttons Run and Gun at the same time. Try to abuse that to switch positions if your camping location is exposed. Stay near the edge of the zone
Try to find someplace on the edge of the zone to camp so that you can catch people who are running inside off guard and get more kills. Why the edge? Well, the middle of the zone is usually filled with hostiles. You must know how to use a sniper rifle
This is the fastest way to get good in Free Fire, as the sniper rifle requires you to have a good aim. Practicing with that gun would make you more patient and calm under pressure.
Keep the close-range gun on the Primary slot
You would be able to pull it out much easier that way, in case you are surprised by an enemy coming out from nowhere. Aim upward when spraying to get headshots
While you might want to pull the gun down while spraying to negate the recoil, pulling up might be a great option, especially when you are using something with good accuracy like an assault rifle.
Interested in more of our articles related to Garena Free Fire? Please check out this post for the upcoming updates for the Bermuda map.