Garena Free Fire has so many micro-transaction systems that it would take hours just to name them all. However, if there is one that we recommend players to buy, it has to be the Elite Pass. By far, it is the most cost-effective purchase in the entire game. Free Fire released the Season 31 Pass at the beginning of the month. Let's take a look back at Free Fire December Elite Pass 2020, then we will check out what Garena has in store for us in 2021! What is a Free Fire Elite Pass?
An Elite Pass is essentially a tier-based system that rewards players for reaching a certain tier. By completing missions, players will level up their Badges, which in turn, unlock new items in the Elite Pass. The available rewards include character bundles, emotes, skins, and more. Each Elite Pass only lasts for a month, which means we get a new replacement every month in Free Fire. Free Fire Elite Pass Price
However, the Pass is not free. Players can purchase it with Diamonds or subscribe to the Elite Pass's Seasonal Passes. They can order the Pass in advance using Diamonds for extra rewards. There are two options for players to choose from:
Elite Pass: Purchase just the Pass (499 Diamonds)
Elite Bundle: Get the Pass + exclusive bundles and other items instantly + additional 50 Badges (999 Diamonds)
Free Fire December Elite Pass 2020
The ongoing Free Fire Elite Pass is the 31st in the series. It takes the name of Endless Oblivion. This will be the last Elite Pass of 2020. Release Date
Right after the Season 30 Elite Pass concluded in November, Garena excited players with the next Elite Pass in Free Fire December 2020. It started just hours after the previous Pass and will continue all the way to the end of the month.
Rewards
Here is a list of prominent rewards in the Season 31 Elite Pass and the Badge Level you need to acquire them:
0 Badge - Oblivion Jacket (Male and Female)
10 Badges - Endless Slasher Machete
15 Badges - Endless Oblivion Jeep
50 Badges - Endless White Bundle
80 Badges - Endless Oblivion M249
100 Badges - Endless Oblivion Backpack
125 Badges - Piece of Cake Emote
150 Badges - Endless Oblivion Surfboard
200 Badges - Endless Oblivion LootBox
225 Badges - Endless Black Bundle
Free Fire Elite Pass Season 32 Leaks
As 2020 is closing in really soon, so is the Season 31 Elite Pass. It paves the way for the Season 32 Pass to hit Free Fire right in January 2021. According to speculations, the new Pass will take on the Ghostbuster theme, with the main color scheme being a gradient purple.
Leaked Rewards
Male Bundle
The male Ghostbuster bundle will unlock blue flame animation on the head, along with a mine design on the jacket, and a purple aura. Complete the level 225 Badge and you shall receive this reward. Female Bundle
Players can unlock the Ghost Killer female bundle at level 50 Badge, or get it instantly with the Elite Bundle purchase (999 Diamonds). It features a subtle animation on the jacket portion (the purple aura) and a flaming gradient green hairstyle.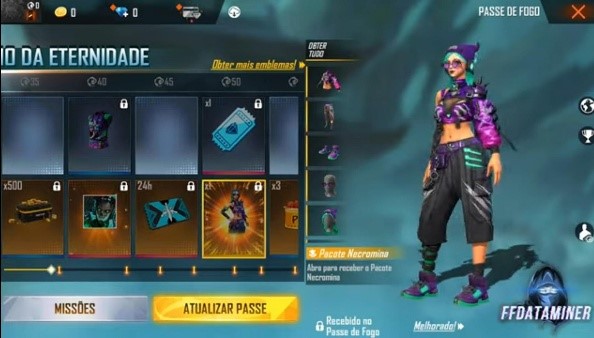 New Backpack Skin
Level 1
As usual, the Season 32 Elite Pass introduces a new evolution backpack skin with 3 forms. At level 1, it features a simple design as you can see in the picture below. Reach Badge level 200 to obtain this backpack. Level 2
In the next level,  the backpack looks bigger with a black border surrounding the green portion. However, it still has no animation in this stage. Level 3
Once evolved into the final form, the backpack skin will feature a digital theme animation that shows a ghost and a chimney with black smoke.
Exclusive Weapon Skin
Each new Elite Pass comes with an exclusive weapon skin. In the Season 32 Pass, it will be the Thompson that receives a new look. It will feature a pink background gun skin and share the same Ghostbuster theme. Players can claim this skin at 80 Badges. Bat and Grenade Skins
Here are a few other notable items you can contain from the Elite Pass Season 32:
Bat Skin: The Elite Pass Season 32 includes a Ghost Hunter Bat as the melee skin. It features a simple design with no animation. Players can claim this skin claim at 10 Badges. Grenade Skins (125 Badges) Exclusive Ghost Finder Death Loot Box (150 Badges) That is everything you need to know about Free Fire December Elite Pass 2020 and the Season 32 Elite Pass for January 2021. As December is coming to an end, players who have not finished the Pass should speed up! Also, don't forget to take part in the Operation Chrono Events to win exclusive rewards for free. For more guides, tips, and tricks regarding the world of gaming, visit our website at GuruGamer.com.