Free Fire by Garena contains a great deal of in-game characters, weapons, outfits, customizations, skins, and much more. You can purchase these rewards directly from the shop or redeem them when completing Elite Pass missions. Regardless, every player needs diamonds to possess these items, and you can purchase diamonds themselves via the Diamond section of Free Fire. Some players even resort to using Free Fire diamond hack 2020 in India.
Garena allows you to get free diamonds in Free Fire occasionally, but it's not very convenient, and the amount you get is often very little compared to the time you invest in the game. The best way to Free Fire free diamonds is often just outright purchasing more of it.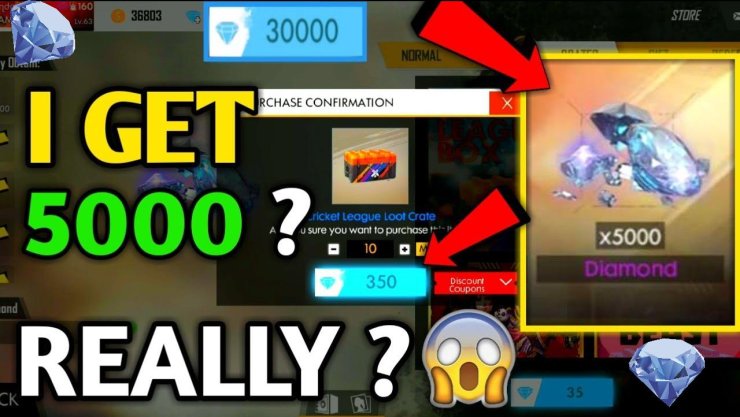 Surely a lot of us want to earn as many Diamonds as possible, right? Obviously every single player would want to have that, but there are also some players who want to have those diamonds for free.
The game's extra items tend to cost a lot of diamonds, and they can end up emptying your pockets pretty quickly. Which is why some players try to get around that by trying to find out how to hack Free Fire diamond in India 2020.
However, not only are these hacks illegal and leave you vulnerable to bans, but Garena also works hard at identifying cheaters and almost every cheater gets caught eventually. No matter if you use Free Fire Diamond Hack 2020 in Indian server.
Instead of asking how to get Free Fire diamond hack 2020 in India APK, you should be looking into some legitimate ways that can fetch you Free Fire free diamond. Here are the 5 most common ways of how to get free diamonds without using Free Fire diamond hack 2020 in India download.
1. Free Fire Diamond Hack 2020 in India: Follow Free Fire Youtubers for Giveaway
Content creators like YouTubers who play Free Fire, we have a lot of them out there helping to popularize the game. Each of these YouTubers would very often have a Giveaway with cool prizes, so it's important you shouldn't miss whenever it is available. Usually, they will give out some cool prizes to all of us who play Free Fire. And one of the prizes that is often given out is a lot of Diamonds. If you haven't started following and watching the most popular Free Fire YouTubers, you can start now.
2. Free Fire Diamond Hack 2020 in India: Use Apps that Give You Free Fire Diamonds
In addition to paying attention to Giveaways, you can also use apps that give you Diamonds in the Play Store. These applications will usually give you a task, that when completed can give you a number of points that can later be exchanged. And these points are usually exchanged with Google Play credits or vouchers. And with these Google Play credits and vouchers that you have obtained for free, you can do Free Fire top-ups and get your diamonds.
3. Free Fire Diamond Hack 2020 in India: Wait for Official Events from Garena
Not only that, usually Garena will provide the latest events related to Diamonds. And the diamonds that can be obtained for these events are often quite a lot and very useful for all of you. Usually, these events are available only on important days.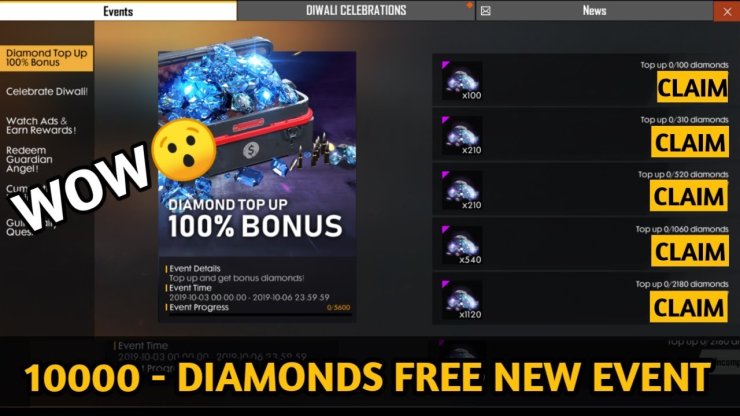 For example, the events can happen during a grand Free Fire Tournament or a very big celebration day. And during these events, Garena can give out a lot of Diamond prizes to lucky players.
4. Free Fire Diamond Hack 2020 in India: Find and Use Redeem Codes
Using the Redeem Code will definitely help you a lot, because you can have access to cool items too. The codes that can be obtained vary in terms of the items you can get and not all of them can fetch you the same item you want.
Besides giving cool prizes like Bundles or Skins for weapons, you can use this redeem code to get Diamond prizes too. But the possibility of getting Diamonds via redeem codes is indeed small. Regardless it is still a free and quick way to get Free Fire free diamonds.
5. Free Fire Diamond Hack 2020 in India: Report Bugs When the Advance Server is Open
Finally, by reporting a bug in the Advance Server, you will get a chance to earn Free Fire diamonds when the Advance Server is opened by Garena. The prize you can get is Diamonds, which is quite a lot compared to other methods.
There have been quite a few attentive players who were able to get this Diamond prize after noticing and reporting a Bug. Whenever the Advance Server is open again, don't forget to pay attention when something weird happens and report it to earn free Diamonds.
Having enough Diamonds to buy an item has become the most important thing for every Free Fire survivor to look forward to. Just follow these methods and you'll be having loads of Diamonds to spend.
If you are looking for more news, updates, guides, lists, etc. on gaming and entertainment like this Free Fire Diamond Hack 2020 in India article, visit our website at GuruGamer.com for more of what you need.