Free Fire Live Stream – Since it was launched officially on December 4, 2017, Garena Free Fire has been one of the best game titles in Battle Royale game sort with over 450 million users.
In addition to exciting in-game battles, Free Fire players now have lots of other gaming activities to experience the game in many ways. Streaming is one of the most popular ways to connects the gamer community. On streaming, Free Fire players share amazing moments and have more fun out-game.
This instruction of Gurugamer.com will suggest you some game streaming apps and channels. These apps let you watch and live stream Free Fire game on Android and iOS smartphones. Free Fire Live Stream on Facebook
There are many game streaming channels where players can live stream their games. Also, other players can watch and enjoy other's performance on these websites or apps. Facebook Live is a wonderful app that allows anyone to live stream. With a Facebook account only, you can go live with external sources from a PC. It means that you can use this streaming app to broadcast game videos to your friends. Vice versa, you can watch the game broadcast of your friends on this massive social network. You, your friends, and other audiences can connect with streamers by comments, likes, and reactions. Here's how to go live on Facebook:
Access to 

https://www.facebook.com/live/create

 and choose to Create Live Stream.

Then, choose where to post your stream (in a group or on your timeline) and click Next.

Copy and paste server URL into the streaming app you have chosen and stream key (if required).

Name your video and tag a game.

Click the Start Streaming button. Then, you see your stream's preview, choose Go Live.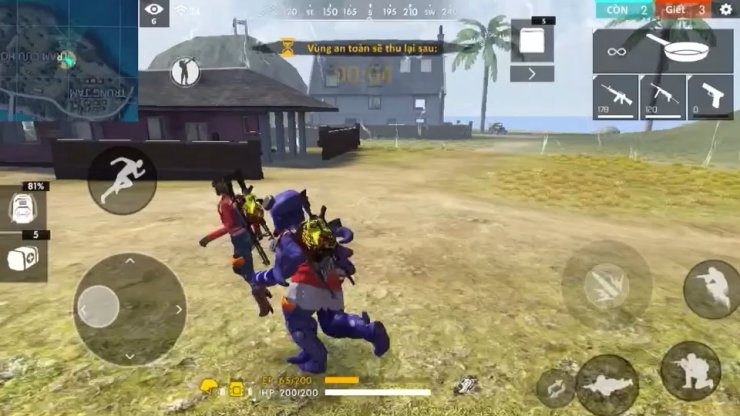 When your friends have a game broadcast on Facebook, you will see a notification of Free Fire live now. You can monitor the chat room of your stream from Facebook. It also lets you download videos after the broadcast ended.
Free Fire Live Stream on YouTube
Another popular social network where you can broadcast your game or watch other's games is YouTube. To go live on YouTube, you need to install Omlet Arcade, a free streaming app for Android and iOS devices. This streaming app also lets users post their game broadcasting on Facebook. After installing Omlet Arcade, you need to create an account to enjoy all the features of this app. Then, you have to allow the app to record everything playing on the smartphone screen. Here's how to broadcast Free Fire game videos on YouTube with Omlet Arcade:
In the main menu, choose Go Live.

Next, select the game Free Fire to broadcast.

Then, choose the place to post your Free Fire live stream (Facebook or YouTube).

In Setting Menu, choose to Turn off Front Camera, the video quality of 480p, 720p, or 1080p.

Click Start Streaming. Or else, you can use the Mobcrush streaming app for Free Fire live now on YouTube and Facebook. This streaming app also runs on iOS and Android devices. To go live on YouTube with Mobcrush, you do turn on screen recording function in Operating Center. Then, do the same actions as in Omlet Arcade. To end broadcasting, touch the red timing button on the status tab. Or else, you can turn back to Setting Menu and touch the Recording Screen button to end streaming.
Top Indian Free Fire Streamers
Desi Gamer
This is one of the most popular Free Fire channels in India with 13.5 lakh subscribers currently. His monthly income from Free Fire live-stream is Rs 2,48,500. Moreover, this stream is also a pro player in the Free Fire game. Therefore, you can learn lots of Free Fire tips and tricks from his Garena Free Fire live stream. UnGraduate Gamer
The real name of this young streamer is Ayush Dubey. His YouTube Channel has around 11.2 lakh subscribers and his Free Fire live stream channel got 3.58 lakh followers. This career gives the streamer Rs 99,400 every month. Moreover, he uploads lots of interesting Free Fire videos on his channel. Gyan Gaming
Gyan gaming is also a popular name in the Free Fire live stream now community with 19.6 lakh subscribers. His real name is Sujan Roy Mistri. The streamers live stream Free Fire game every day on his YouTube channel. His monthly income from this work is Rs 3,12,400. Besides, the streamer also shares lots of Free Fire tips and tricks in his guiding videos on the channel. Two-side Gamers
Two-side Gamer is one of the most famous channels in the live stream of Free Fire community in India. This YouTube channel got 25.4 lakh subscribers currently. And unlike most of the previous channels, the Two-side gamers YouTube channel is run by two men, Ritik Jain and Jash Dhoka. The two friends earn Rs 4,75,700 per month from the Free Fire live stream on this channel. In addition to streaming the game, they also uploaded many Free Fire videos of highlights, challenges, and Free Fire tricks and tips for viewers to watch and enjoy. Total Gaming
This player can be the most-followed Free Fire streamer on YouTube with 41.8 lakh subscribers. His real name is Ajay. He plays Free Fire on his iPhone 5s and does live-stream this game almost every day. Every month, this streamer earns Rs 7,73,900 from his channel. Besides, Ajay also shares lots of useful tips and tricks to play like a pro in this game. Moreover, you can also watch many highlight videos of the best performance and gameplay of this streamer on his channel. Those are some apps for the Free Fire live stream on the two most massive social networks. With these useful apps, the Free Fire community will have more exciting experiences with this game. To update the latest mobile game news as well as useful tips and tricks for a gamer, let's visit our website Gurugamer.com.