In Free Fire and online shooters in general, customizing your names is the norm - therefore it is very likely that you have seen many players with strange Free Fire Name Symbols and foreign characters in their Free Fire ID, like Ninjà, Sㄚ 么 乙 ツ or ĐàŔk Š0ūŁ. In this guide, we would list out some of the best ways for you to get your username customized with special characters. There are rules for that, of course, as the game might show an error message called "invalid character" while fixing your username. Check out the post below to get everything in order.
1 - What do you need to change your Free Fire name symbols?
To change your ID, navigate to your in-game profile and tap the edit "pencil" icon. Unlike PUBG Mobile in which you can get the name changing card for free, in Free Fire, you would have to spend up to 390 diamonds for the change, which is an outrageous price. There is a way to reduce the fee, of course - by using the Guild Token shop. For 200 guild tokens or 39 diamonds, you would be able to exchange a "name changing coupon" to remove the cost of modifying your ID. 2 - How to add special letters to your ID without a symbol generator?
Using the built-in keyboard
You could always use the built-in keyboard of your phone, as it usually would have a few special characters from other languages. To get these characters to appear, you usually only have to press the key for a certain amount of time. Afterward, you can freely select any characters in the field appeared.
Use Free Fire Name Symbols Generator
This is probably the most straightforward way to get a nice name – you can just go to this Free Fire Name Symbols Generator site and create your own name symbols. The only thing to do afterward is copy/paste them into the rename field. The site also has a list of various popular names that you could pick then modify - along with some tips and tricks to make the best name possible. Get the name symbols from the top players in the game leaderboard
A lot of players have special symbols in their Free Fire names - it might be a cool idea to lift the names and make them your own. A well-made name could be part of your appeal, striking fear into the hearts of your enemies. It also helps if you ever decided to go competitive. First, you need to get to the in-game leaderboard. Afterward, get to the profile of people you want to copy - however it is best that you don't emulate their whole name. Paste the details you like onto your rename card afterward.
Use Text Font Generator
Firstly, you would need to acquire this application called Text Font Generator from the Google Play Store. It is easy to use and costs nothing to download. There should be alternatives for this app if you are using iOS as well - just browse for the same name.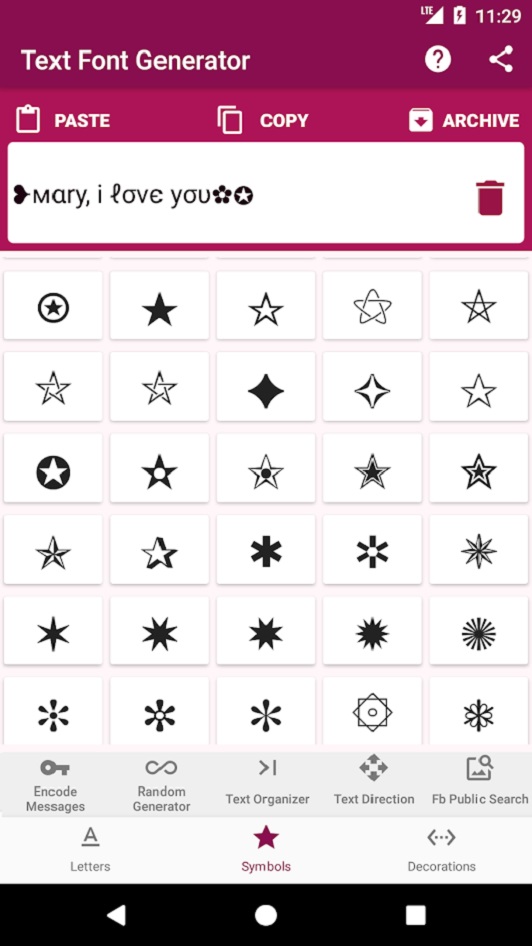 Open the app then get to the Symbol section. In this menu, you would be able to browse various special characters and symbols. Copy the ones you need and use it to change your name. Another thing you need to consider is that not all these symbols are supported by the game - sometimes you have to try case by case to see if they work or not.
Use characters from other languages
With Free Fire being a global title, it has to support a lot of languages in the world and the symbols from those languages are always accepted. Therefore, you can copy some Chinese or Japanese letters to modify your Free Fire names, as they are usually really striking and unique. To get the characters, you only need to upgrade your keyboard with more language packs. To accomplish this task, go to Keyboard & Languages and add a new language. The app would automatically download the pack. Once it is installed, you can switch between languages using a key. The final step is to experiment on the language to find a key you like to input into your Free Fire name field.
Interested in more of our posts related to Garena Free Fire? Please check out this article to find out more about how to use the Smoke Grenade in Clash Squad.