Free Fire is known for constantly releasing new events for players to join and get rewards. One of the latest events in Free Fire is the Otho Top Up event, where you can obtain the new Otho character in Free Fire for free. Let's go check it out.
Free Fire Otho Top Up Event
Event duration: November 12 to November 16
During the event, players who top up a certain number of Diamonds into Free Fire will be able to claim Otho character and Otho avatar for free. Note that you don't need to spend the Diamonds, hence it is basically free. Here are the details of the Otho Top Up event in Free Fire:
100 Diamonds - Otho character
500 Diamonds - Otho avatar
With Otho Memory Mist ability, when you defeat an enemy, you can detect the location of enemies within 50-meter of the elimination spot. The information is shared with teammates.
How to top up Diamonds in Free Fire and claim rewards
Follow the steps below to top up Diamonds in Free Fire and claim the rewards in the Free Fire Otho Top Up Event:
Tap on the Diamonds icon on top of the screen in Free Fire to open the top-up menu.
You will see many top-up options. Pick the 100 Diamonds to get the Otho character.
Complete the transaction and the Diamonds will be added to your account in a few seconds.
Go to Event -> Free Fire Otho Top Up Event to claim your rewards.
If you want to have a chance to get a 100% bonus on your first top-up, you may refer to reputed Free Fire top-up sites to get more Diamonds from your purchase.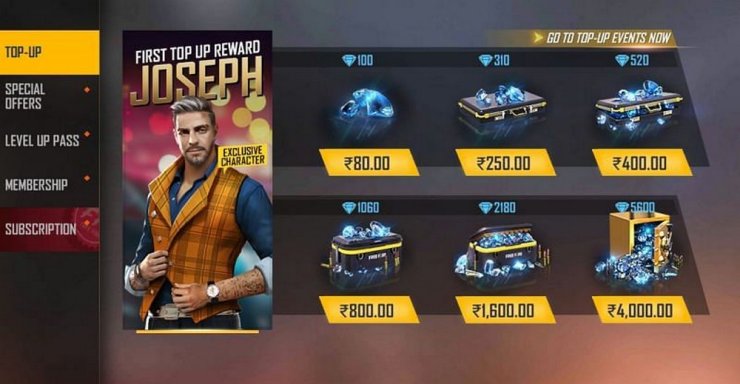 >>> Read more: Garena Announces The Free Fire World Series To Be Held In May 2022