Free Fire redeem code 2020 gives you a lot of exclusive rewards in this game. As usual, you may need to pay a lot of diamonds to have those items. Therefore, it's a good chance to get them free with a Free Fire redeem code 2020 India.
This article will guide you on how to get a Free Fire redeem code India and use it to get attractive rewards. Check it out with Gurugamer.com. 
What Is Free Fire Redeem Code 2020?
Free Fire redeem code India contains 12 characters, including numbers and capital letters. If you enter normal letters, it won't work. As introduced, the redeem code brings you rewards like items, golds, and diamonds. You can see the item gifts in the vault tab in the lobby. If you get golds and diamonds, the rewards will be added in your game wallet automatically. 
If the Free Fire reward redeem code you entered is expired, you won't get the rewards. However, if you can't redeem gifts with the right code, you need to contact the customer service for help. Moreover, it's notable that you cannot redeem rewards if you log in with guest accounts. So, you have to log in to the Free Fire game with your Facebook account to use the code.
How To Use Garena Free Fire Redeem Code 2020?
Redeem codes are rare and only available in big game events, such as game's anniversaries, holidays, cultural celebrations. Or else, when the publishers release new events or updates, they also give players some redeem code. However, only a limited number of lucky players can get and use those Free Fire redeem code 2020. Thus, once you luckily get a redeem code, you need to quickly redeem items and get rewards before the code is expired.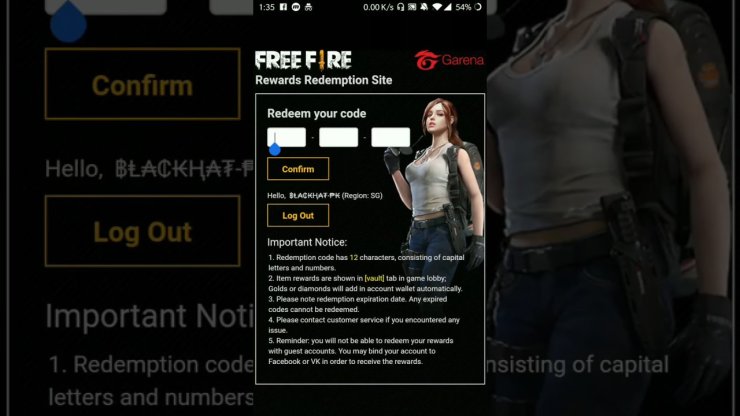 Here are some samples of redeem code 2020 Free Fire. Some of them may be usable and you can try some of them to get gifts. 
G4D1 126E 4D5S

Y7KS 1ER6 23H1

D4G1 D33S D5D4

E7SK E1R6 31H1

Z1KS 1ET6 43S1

X90B 1SD6 WSFW

Y76S 1LR6 56L1

T4W4 1S62 W564

Y7PS 1HR6 23H4 To use Free Fire redeem code 2020, you go to the official website of Garena Free Fire Reward. Then, login by your Facebook account. As I mentioned before, you cannot redeem rewards with guest accounts. 
Then, enter the redeem code into the blank and click Confirm. Then, the reward will be given to you in the game. You will receive a notification from the system and get the gifts in a few minutes. How To Get Free Fire Redeem Code Free?
Free Fire redeem codes bring players a lot of exclusive and rare rewards like weapon skins, character bundles, outfits, golds, and diamonds. Therefore, Free Fire players are hunting for those codes to get rare gifts. So, here is the guide on how to get Free Fire free redeem code 2020. There are some sources of redeem codes for you to get codes and redeem items. First of all, Free Fire players can find redeem codes on the official media of Garena Free Fire, such as Facebook, Twitter, or Instagram. The publishers will give lucky players some redeem codes for free when there is a special event. So, you can follow Free Fire event announcements on the official account of Free Fire. 
Also check out: List Of Working Free Fire Redeem Code Today, September 2020
Then, there are some groups of Free Fire community on Facebook where players share free redeem code 2020 Free Fire. You can join those groups and find a free code when someone wants to share. Notably, many Android users tend to download and use a Free Fire redeem code generator to get unlimited code. However, most of the time, these generators do not work and even contain malware or toxic codes in their links. You can get viruses from those unknown links instead of the redeem codes. Moreover, you may lose your account because those Free Fire generators often require you to provide private information. Those are things you need to know about Free Fire redeem code 2020 as well as the guide on how to redeem items. The article also instructs you on how to get a redeem code in Free Fire. To update the latest Free Fire game news, let's visit our website.
>>> You may also like: PUBG Redeem Codes 2020 - How To Use Them And How To Get Them?