Free Fire players always seek ways to get free rewards and they frequently come back to redemption codes as the most convenient way to collect exclusive items. You can do mini-missions on some websites or buy in-game diamonds with real-life money. But at the end of the day, these 12-character alphanumeric codes remain the most favored method.
Apart from being released almost every day, the simplicity of using the Free Fire redeem code for today is what keeps gamers hooked. But what does the developer offer you today? Take a look right below. Free Fire redeem code for today (October 27)
Besides the ongoing events that can get you new prizes like Emote Party, players on Indonesian and European servers can redeem the codes and get their respective rewards as below.
Indonesia region
FF10X5A89WNF – Halloween Triple Loot Crate and Psycho Maniac (Head).
FF10PRF6299F – Black Rose Rocker (Mask) and Justice Fighter Weapon Loot Crate x1.
FF10VXKEHCPD – Skeleton Magician Mask Loot Crate and Reindeer Express Surfboard.
FF10TD3CCA4R – Special Ops Loot Crate and Spirit of Booyah (Mask) Europe region
KC78CMCM8NK2 – M1014 Underground Howl Loot Crate x1 These five codes are all region-specific are working at the moment and may expire anytime soon. Therefore, get your hands on the rewards as soon as possible before they expire.
How to get free rewards via redeem code
No matter what region the redeem code is released for, every code on Free Fire must be processed through the official website of the game. Although the procedure is too familiar to other players now, a guide on how to redeem Free Fire codes is essential to know especially for beginners.
You may take on these simple steps to use the Free Fire redeem code for today:
1. Head over to the official Free Fire Rewards Redemption site.
2. Next, log in to your account via Google, Facebook, VK, Twitter, Huawei ID, and Apple ID. It will not work for guest accounts for those who have not been familiar.
3. Then, you must type the redeem code in the text box. Remember to insert it correctly.
4. Confirm and hit the OK button.
You will get the rewards in 24 hours if the redeeming process is successfully done. You can also head to the in-game email section to collect your rewards redeemed with the newest Free Fire codes.
Players are successful in redeeming the code when the system shows a message like this.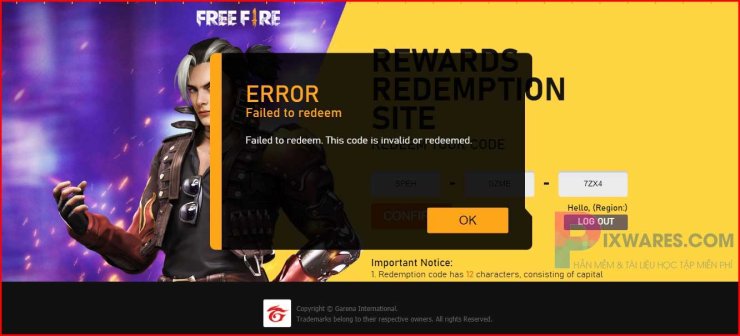 When the code has expired, it will display an error message that claims it is already redeemed or invalid.