More than 3 years after being launched, Free Fire has become and a leading title in the battle royale genre with more than 30 core active users around the world. The key point of Free Fire worldwide success is about keeping players entertained with endless updates and interesting features. In addition to that, Garena frequently rolls out new events, discounts, and especially redeem codes so that players can get many valuable items as well as diamonds for free. In case you're interested in Free Fire Reward Redeem Code, here is all you need to know about the feature as well as some of the latest and valuable redeem code from Free Fire this month. What is Free Fire reward redeem code?
Generally, Free Fire redeem code is a 12-digit-code including both numbers and letters released by the game developer. Each code represents an amount of diamond or in-game item that any player who is able to redeem the code in time will get a reward. To redeem the code, players will need to go to the redemption center and input their code. After that, the reward will be sent to their account automatically.
However, the redeem code is not plenty for all. While getting one is hard, being the first one to redeem it is way more challenging. If you're unclear about where and how to get a redeem code, here is a few popular ways: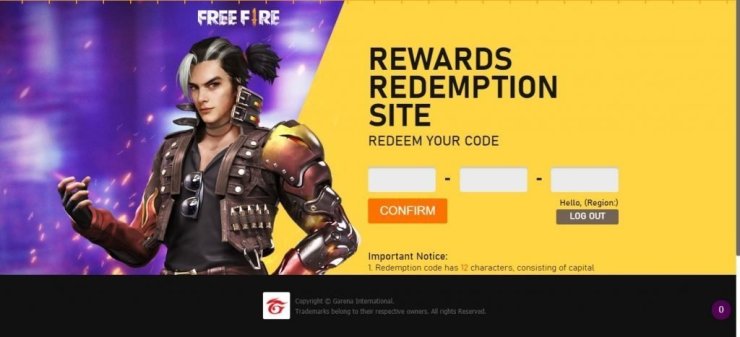 How to get Free Fire reward redeem code
In fact, Free Fire redeem code is delivered through many channels where you can spot out some on different social media channels of the game or on live-stream video. In addition to that, it is also set as reward in many give-away events on Free Fire social media channels or you get some just by watching live-stream videos.
When it comes to Free Fire tournaments, battles will be live-streamed on the official Youtube channel of the game. Normally, many redeem codes will be rolled out randomly midway through the streaming section. One of the upcoming tournaments to be on stream this week is the finals of the Free Fire Continental Series slated to be on Sunday, November 29th. There will be a lot of gifts and redeem codes given away in the biggest event of Free Fire in 2020. The live-stream will be available on Youtube or you can watch it directly from the banner of the event in the app. Brace yourself to be the first one who goes to the redemption center when the code is launched.
Find more details about FFCS event: Free Fire FFCS Events: How To Complete The Light Up The World Event And Obtain Exclusive Skins How to redeem Free Fire redeem code
Once you get a redeem code, rush into the official redemption center of Garena as https://reward.ff.garena.com/ and input your code. There will be only a few steps to take before the reward is yours. But first, you need to log in with your Facebook or Google account, the one with which your Free Fire account is bind. After that, you will see a blank pace to put in your redeem code. Remember to type exactly all the letters and numbers of the code, otherwise, you will be informed that the code is invalid. Press the 'Redeem' button to confirm.
If your code is said to be valid, you will see a confirmation of successful redemption. While diamonds will be added automatically to your account, you will need to open your Free Fire mailbox and confirm the reward if it is an item.
Suggested post: Official Announcement From Garena About Free Fire Guest Account Recover In 2020 Free Fire reward Redeem code today
In fact, the Free Fire reward redeem code 2020 is one of the hottest topics that so many players have been seeking. However, not everyone is lucky enough to get one as the number of redeem codes is limited and there are only a few are issued monthly. Here are some of the new Free Fire reward redeem code in November for you to try your luck. Please go to the redemption center and put in the exact code. In case the code is said to be invalid, it is obvious that it has been used by another player so try with another one. Hope that you can earn valuable gifts with the following codes:
| | | |
| --- | --- | --- |
| SPEHGACMN3WN | SPEHGRED9NU6 | SPEHGHSMLMCT |
| SPEHGYG8EACT | SPEHGX8D33ZL | SPEHGVNJGDFM |
| SPEHGDUMU6Z4 | SPEHG944JU6T | SPEHGDE7FXT3 |
| SPEHG89NJQ7P | SPEHG48AM72U | SPEHGB488FLB |
| SPEHGZZDJGVD | SPEHGUTT5MLU | SPEHGG87W5D2 |
| SPEHGVEABSUR | SPEHGKWHGSW9 | SPEHGHGH9S7L |
| SPEHGMDVUDJR | SPEHG5ARXT4K | SPEHGYKWC9FD |
| SPEHGHMEAD6Z | SPEHGWBNMTPR | SPEHG9VXGEDD |
| SPEHGGGX5FPV | SPEHGSN285DG | SPEHG3PPSGG6 |
Above are some Free Fire reward redeem code as well as some helpful information for players to get and redeem their code and win valuable prizes. Meanwhile, Free Fire is all swing with the upcoming FFCE finals that there are many other rewards are being given away in in-game events. Take a look at some of them as follows:
Also read: Free Fire New FFCS Top Up Event: List Of Exclusive Reward Revealed