Free Fire has just released a new Top Up event for players to claim free rewards. Unlike other top up events in Free Fire, the new Sensei Top Up event features a total of 4 prizes, including the Sensei Tig pet, emote, and skin. In this article, we will show you how to get those rewards from this event. Free Fire Sensei Top Up
The latest Free Fire event Sensei Top Up starts from September 22 to September 28.
The events feature the Sensei Tig pet, Show off emote, Fire Sensei Tig skin, and Ice Sensei Tig. For the duration of the events, players must top up a certain number of Diamonds to claims these rewards. Here are the details:
100 Diamonds - Sensei Tig pet
300 Diamonds - Ice Sensei Tig
500 Diamonds - Show Off Emote
500 Diamonds - Fire Sensei Tig Note that players will be able to claim these rewards just by buying Diamonds. You don't have to spend those Diamonds to get the rewards.
How to top up Diamonds in Free Fire and claim rewards
Follow the steps below to top up Diamonds in Free Fire and claim the rewards in the Free Fire Sensei Top Up event:
Tap on the Diamonds icon on top of the screen in Free Fire to open the top-up menu.
You will see many top-up options. Pick the 100 Diamonds to get the Sensei Tig pet or the 520 Diamonds to get all 4 rewards.
Complete the transaction and the Diamonds will be added to your account in a few seconds.
Go to Event -> Free Fire Sensei Top Up to claim your rewards.
There are also other Free Fire top-up sites that offer a 100% bonus on your first top-up so check them out to get more Diamonds from your purchase.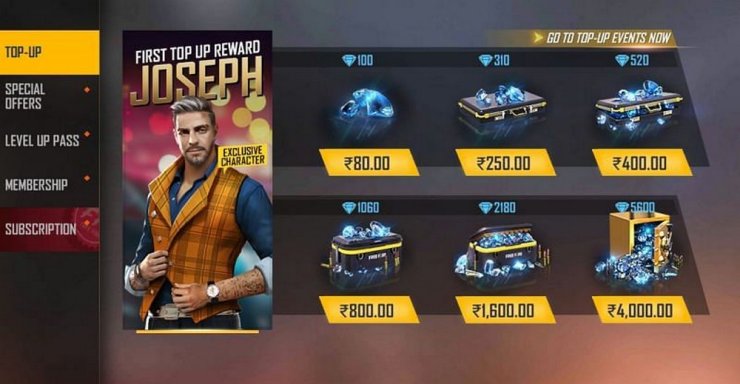 >>> Read more: How To Get Free Fire Skins For Free And What Is The Rarest Skin In Free Fire (2021)