While there are many payment methods for Free Fire top up, most of it including e-wallets require a bank account which is impossible for many players. As being students and do not have much money, many young players cannot afford a bank account. Therefore, setting up an e-wallet or credit/debit card is beyond the bound of possibility. Fortunately, the in-game currency can also be purchased by SIM card balance. In case you haven't given it a try, here are some basic steps to make Free Fire SIM card top up available!
Thanks to the popularity of net banking systems and e-wallets companies like PayTM or PhonePe, making digital transactions is easier than ever as we can purchase anything from the internet in a few seconds. However, all e-wallets will require a bank account that many young players don't have. That's why paying free fire top up with SIM card becomes the best payment method many players are going with at the moment. If you're looking for how to top up Free Fire with SIM card, here is the detailed guideline you need: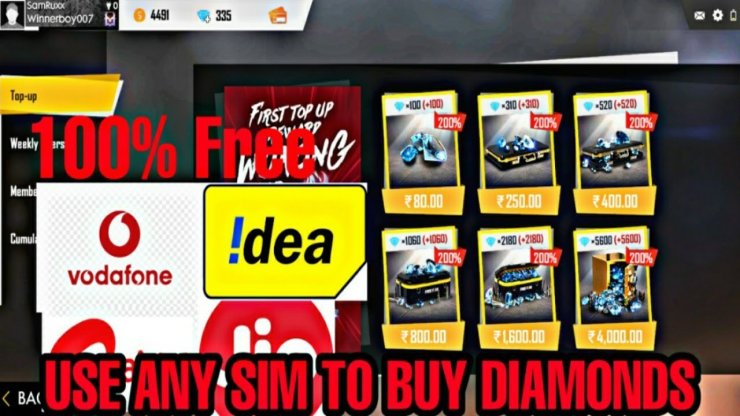 Free Fire diamond top up SIM card
At first, please note that the option for free fire top up in SIM cards is only available in Google Play Store aka the in-game store. It means that you cannot purchase diamonds from other flatforms like Game Kharido or Codashop using mobile billing.
In addition to that, to make the transaction successful, please make sure that your SIM card balance is greater than the value of diamond you want to buy. It means that your balance needs to be greater than Rs 80 if you want to buy 100 diamonds and so on. You can top up using the billing service of almost all mobile carrier in India like Jio, Airtel, Vodaphone or BSNL.
Here are some easy steps you need to do to make free fire SIM card top up in India:
Go to the Free Fire top up center by tapping the diamond icon in the left top bar
Choose the amount of diamond you want to top up
Choose the payment method you prefer
There will be so many different payment methods available like Netbanking, BHIM UPI Id or Redeem code. You will also see the mobile billing option. Tap on it to top up with SIM card balance.

Registering for mobile billing service
For players who use the survive for the first time, you will need to sign up and fill in some basic information. Tap enable to process the registration, fill in the required information like your full name, address and especially your PIN code. Your PIN code is so important that you must remember it for later use.

After the mobile billing is successfully added to Google account, you will be navigated back the top up page. Make sure that all information about your payment method and the value of the diamonds are correct before checking out. Tap Buy and enter your Google account password to confirm the payment.
After the transaction is confirmed to be successful, you can go back to the homepage of the game to check if the newly-purchased diamonds have been added up or not. Normally, it will take a few minutes for the system to update. Meanwhile, you will also get charged immediately after confirming your payment.
In case diamonds are not added up to your account, please contact the Garena Free Fire help center for further support. Apart from making Free Fire SIM card top up, mobile billing is also a convenient and trusted service for users to make online transactions in other games and apps and PUBG Mobiles, Call Of Duty Mobile and many others. Other Free Fire top up methods
For the uncovered, there are many options for Free Fire players to top up the in-game balance. The most common one is topping up directly in the game via Google Play Store. The platforms offer various types of limited discounts and special bonuses. It also has a lot of payment methods so players can pick the one they are acquainted with.
However, players can also look for other Free Fire top-up websites that offer a cheaper price in comparison to Google Play Store. There are also many exclusive promotions but please note that Free Fire SIM card top up is unavailable on those platforms.
Check out more details about Free Fire top up websites as following: Most Trusted Free Fire Top Up Link With Special Discounts And Cheap Price
Above is the new about Free Fire SIM card top up which might be helpful to players who don't have bank accounts. Visit our website Gurugamer.com for more interesting news about games and entertainment!
Also read: Free Fire Elite Pass Season 29: Anubis Legend Cosplay Pics Are Too Good To Be True