Free Fire is one of the most popular battle royale games on mobile. Into the game, players will drop into an island from a plane. They can pick up items and weapons on the island to fight 49 other players until there is only 1 survivor left.
It is important to have a good set of weapons and gears in Free Fire, especially at the start of the game. It will give you a great early game boost in fights and allows you to reposition anywhere you want. In this article, we are going to show you the best weapon looting locations in Free Fire on Bermuda Remastered and Kalahari. Table of Contents
Best Free Fire Weapons Location on Bermuda Remastered
1. Peak
Peak is the most wanted landing location on Bermuda Remastered. It is located right in the middle of the map. There is an abundance of high-quality loot here. You will be able to find many strong weapons, utility items, and high-tier gears here.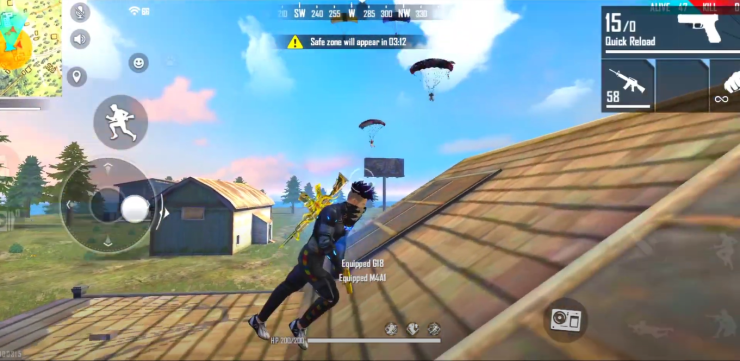 Of course, there will be a lot of players here every match so you really need to watch out. If you want to land here, you need to plan ahead and make the jump as soon as possible to land early. Otherwise, you will become just another free kill for other players.
2. Factory
The Factory is also another popular drop, only behind Peak. While the location is quite small, it offers a high amount of quality loot. Just like Peak, you will find a lot of early engagement in this place. There is enough loot here for 2 squads to be fully equipped.
3. Nurek Dam
Nurek Dam is a huge dam located on a river on the north side of the map. It is quite an uncommon location, not many players want to go to this place. There is a lot of good loot here though enough for a whole squad. Best Free Fire Weapons Location on Kalahari
1. Confinement
The Confinement is located in the far East of the map. Since it is quite far from the center of the map, it is overlooked by many players. However, the quality and quantity of loot here are amazing. You might spot a few other players from time to time but the location is relatively safe overall. If you decide to land here, you need to watch out for the safe zone. If it ends up not being on your side, you need to move early and move fast to make it in in time.
2. Stone Ridge
The Stone Ridge is located in the far South of the map, next to the Command Post. The loot level in this location is medium but it is a much safer location than the Command Post. You should still be able to get your sell a decent set of gears and weapons though. No one will push this location. Meanwhile, you can make a push to the Command Post from this place while moving toward the safe zone.
3. Refinery
The Refinery is the hottest Free Fire weapons location on the whole map because it is located at the center of Kalahari with a high amount of loot. You will always be able to get the best loot here but you will have to fight for it. Special Free Fire Loot Locations
1. Blue Zone
At the start of each match, you can always see a Blue Zone on the map. This zone appears at a random location at the start of each and stays there for the rest of the match. This is the only place where you can find Level 4 Helmets. The Level 4 Helmet can prevent you from a lethal shot in the head and leave you at 1 HP. 2. War chest
In a recent update, Free Fire features Warchests that spawn randomly in open areas around maps. You can find strong weapons and equipment in these chests. 3. Vending machine
The Vending machine was introduced in Free Fire as an alternative option to get items in the Battle Royale mode in Free Fire. You have to collect Gold tokens on the map and use them to exchange for items, weapons,... from this machine. >>>> Check more Free Fire tips on Gurugamer.com: Top 5 Safest Spots To Loot On Purgatory Map In Free Fire