The Poker MP40 has made its way back to Garena Free Fire. This gun skin first came out a few months ago, and players just fell head over heels for the color scheme and wonderful effects. Garena has now restocked this rare skin for gamers to claim. So make sure you get it before it leaves the game again. Like the other high-end weapon skins in Free Fire, the Poker MP40 also enhance the stats of the gun. That's why you see professional players always equip weapon cosmetics for a better chance of winning duals.
How to Get the Poker MP40 Skin in Free Fire
Players can not buy the Poker MP40 skin directly from the in-game store. Being a rare cosmetic, players have to spin the wheel using Diamonds to get it. One spin will set you back 40 Diamonds, and 5 spins cost 180 Diamonds.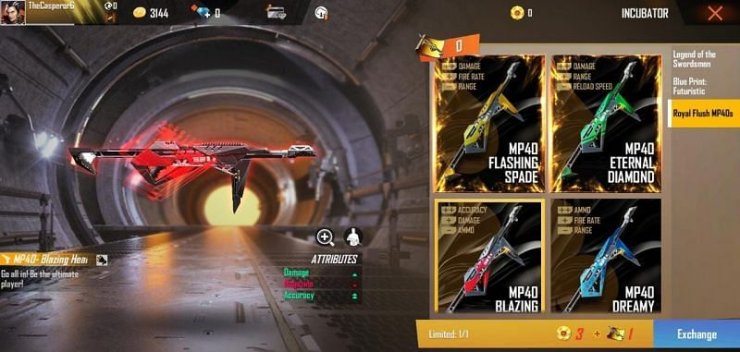 The Poker MP40 comes in four color variants - Flashing Spade (Yellow), Eternal Diamond (Green), Blazing Heart (Red), and Dreamy Club (Blue). Players can get a plethora of items as rewards from the wheel, including skins, pet food, memory fragments, and more. Most importantly, please note that you need to collect Evolution Stones and Blueprints of Royal Flash for the Mp40 skin. When you have accumulated enough of the required materials, click on "Enter" to craft the variants you want. Here are the exact costs of the four Poker MP40 skins:
Flashing Spade Poker MP40: 7 Evolution Stones and 3 Blueprints.
Eternal Diamond MP40: 5 Evolution Stones and 2 Blueprints.

Blazing Heart and Dreamy Club MP40: 3 Evolution Stones and 1 Blueprint. For your information, the Poker MP40 skin boosts the stats of the original gun, including its damage and accuracy. It will get rid of the weak points of the MP40 to give you an ultimate weapon!