It turned out all the scandal and outrage at Genshin Impact's anniversary event do not affect the game's revenue at all. In fact, miHoYo actually makes more money. In this article, we are going to analyze the latest report from Sensor Tower, the mobile industry's leading firm in analysis. And the title of the top-grossing game in September 2021 is claimed by no one but Genshin Impact.
1. Genshin Impact leads top 10 most profitable mobile games in the world
The global mobile games market generated $7.3 billion from player spending across the App Store and Google Play in September 2021. This marked an increase of approximately 11 percent year-over-year.
Genshin Impact from miHoYo has become the top grossing mobile game worldwide for September 2021. In only one month, it earned $341.7 million in player spending. About a third of its revenue came from China's AppStore, at 31.6%, with 21.7% from the US and 21% from Japan.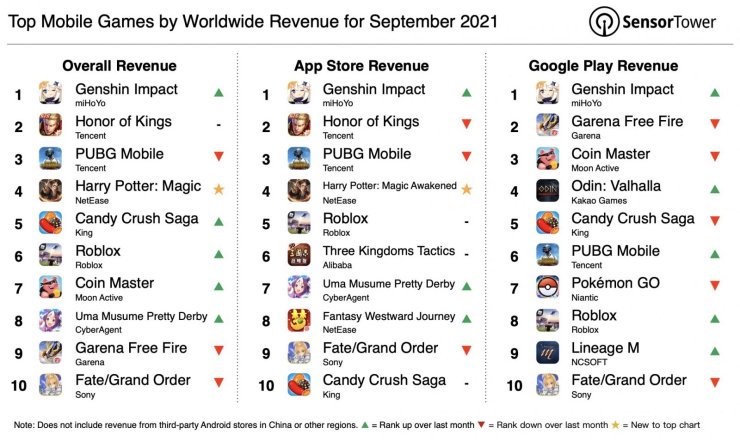 Indian gamers are probably unfamiliar with a lot of the games on this list. Honor of Kings from Tencent was the runner up, with $209 million in gross revenue. It is a MOBA on Mobile that's only played in China, with Chinese players account for 95% of its revenue.
Though only one country plays it, Honor of Kings has managed to get on top of all mobile revenue charts in the last few years. You can try the game internationally under the name "Arena of Valor".
Free Fire lost its position to PUBG Mobile
PUBG Mobile has been doing really well recently, claiming the third spot back from its rival Free Fire. These titles are all leaders in mobile games ranking 2021 with whopping amount of profit by October.
And there are the usual suspects that have been on the list for quite a while now that every gamer knows their names. They are Garena Free Fire, Roblox, Candy Crush Saga, Coin Master.
Roblox is a Minecraft-like platform of minigames that are popular in the 'states. Candy Crush is one of the first casual games ever on smartphones. Coin Master is a base building game that's very similar to Clash of Clans.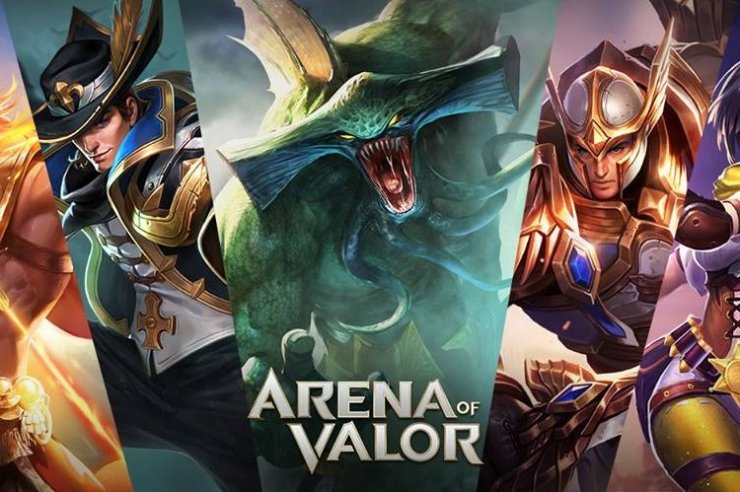 Newcomers make their way to the list
The new additions to the list of top-grossing games in September 2021 are: Harry Potter Magic Awakened, Uma Musume Pretty Derby and Fate Grand Order.
The first two are exclusive to China and Japan, respectively, therefore Global players won't be able to play them. The last one, FGO, has a global version - but it is not a good title, gameplay-wise. Players only play FGO for the story. Therefore, if you want to do that, save your time by watching playthroughs on YouTube.
2. Why is Genshin Impact making so much money despite all the commotion?
In the recent 1st Anniversary, the community literally went berserk over the low amount of premium currency that was given away for free. They demanded miHoYo to give more and spammed bad reviews on Genshin Impact's Google Play Store, to the extent that the game's score was beaten down to 1.6/5.
However, the commotion disperse afterward, when miHoYo gave in and give away another 10 pulls worth of currency, alongside a few more rewards.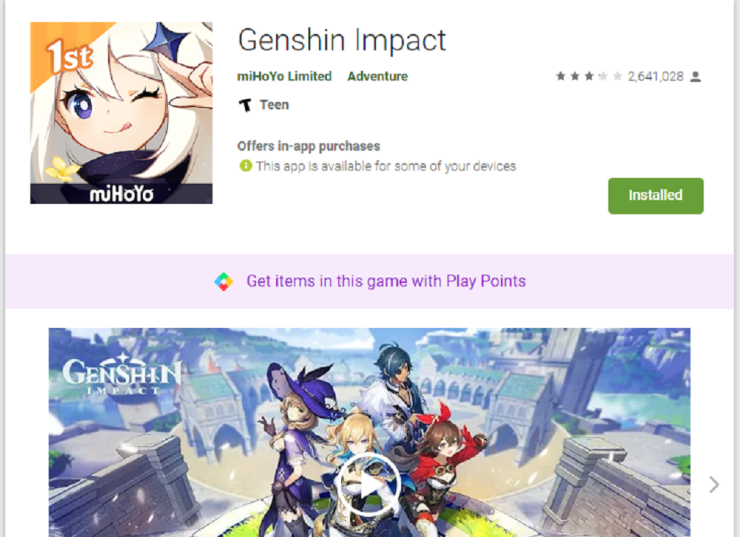 And after September ends, the company is back to making more money than ever before. Simply, the community that boycotted the game is just the vocal minority that does not contribute much to the game's overall revenue.
Interested in more of our articles related to mobile games? Please check out this post to find out more about all Genshin Impact 5-Star Characters Tier List, Skills & Guide