Genshin Impact Staff of Homa is a premium 5-star weapon that players can pull for. However, not like other 5-stars in the game, the only way to own it is via limited banner pulls.
While Hu Tao's rerun banner has arrived, the Staff of Homa also comes along beside Elegy of the End. It is probably the most well-regarded polearm in the game with the amazing passive ability and good stats.
Table of Contents
Genshin Staff of Homa Rerun Banner
The Staff of Homa is again up for grabs from November 2, 2021, in a time-limited banner. After the banner ends, it is unclear when it would return or whether the weapon could be added to the Standard Banner.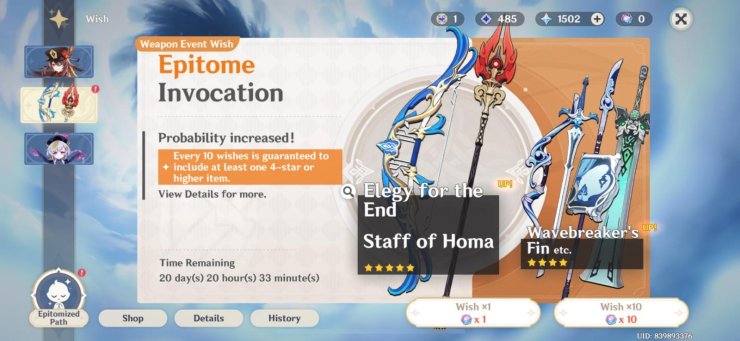 It is quite challenging to get the weapon that you need from a Limited Banner as it may take up to 240 pulls to guarantee the weapon is obtained. You should gauge and collect as many Primogems as possible not only for the weapons but also the Genshin Impact characters that you like.
Staff of Homa Stats
What makes Genshin Impact Staff of Homa a badly-desired polearm weapon in the game? See its stats for a clearer demonstration.
Rarity: 5-star
ATK: 46 – 608
Secondary Stat: Crit DMG%
Secondary Stat Level: 14.4% – 66.2%
Passive: Reckless Cinnabar: HP increased by 20%
Moreover, it also offers an ATK Bonus based on 0.8% of the character's Max HP. When the user's HP is less than 50 percent, the ATK bonus is increased by a bonus of 1% of Max HP.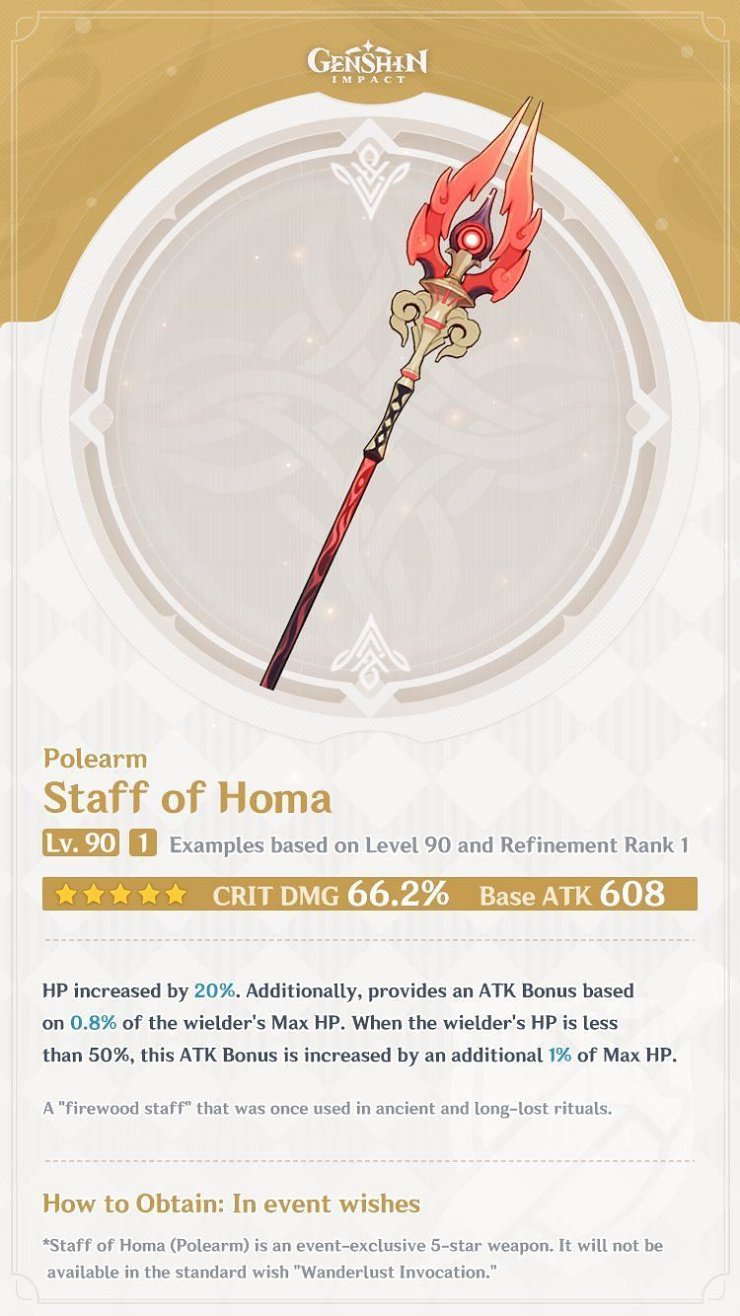 The flat ATK bonus makes the spear universal for all polearm wielders, substantially increasing their damage. The CRIT DMG stat is equally impressive as it makes finding a decent CRIT ratio much easier.
This is considered broken considering it is an incredibly good stat stick like Mistsplitter's Reforged and Wolf's Gravestone.
Best Characters To Equip Staff of Homa
Hu Tao
The Staff of Homa is touted as the best in the slot for Hu Tao. As players usually build her for a high max HP, this weapon's passive property is flawless for it.
Hu Tao may transform into the Paramita Papilio state with her elemental skill. It's when she gets a buff on ATK based on the maximum HP. The ATK and HP buffs of Staff of Homa well serve this ability, granting massive damage output like other 5-star polearms.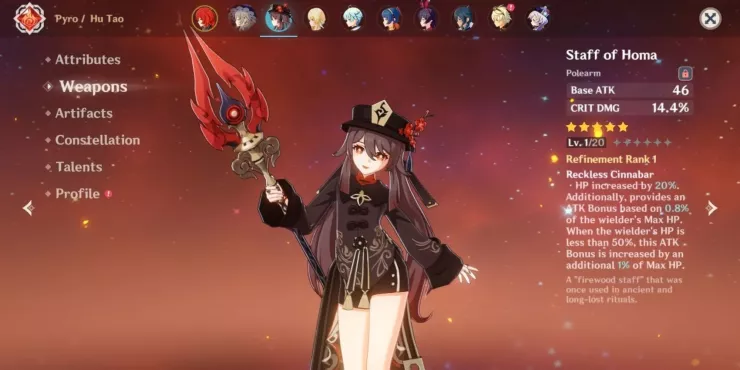 Zhongli
Genshin Impact Staff of Homa is also considered the best choice for Zhongli build.
His Jade Shield makes him one of the best shield users and it generates off his max HP. To improve his incredible shield and DPS, the Staff of Homa is definitely a must.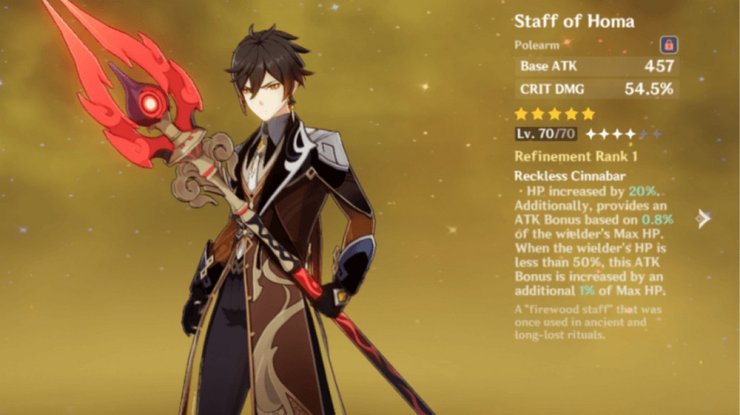 Raiden Shogun
Among the many options to equip Baal's team with, this is quite an odd one as the spear can change her playstyle and artifact preference quite drastically. However, it does work and the Genshin Impact Baal Staff of Homa combination is totally possible.
Players can use Genshin Impact Baal Staff of Homa although it was originally intended for high-HP characters.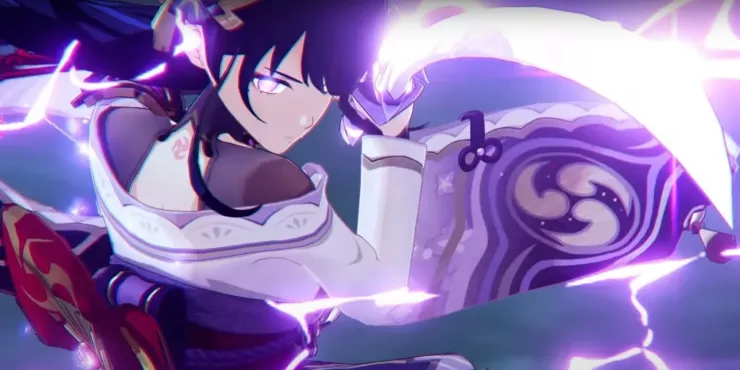 Xiao
On another hand, the weapon can also be fatal when paired with Xiao. Those who don't own a 5-star Primordial Winged Spear, Xiao's signature, can totally make it work with Staff of Homa's insane abilities.
With the inherent ATK buff, the weapon can also be used for Xiangling for Pyro DPS or Rosaria for Cryo support work.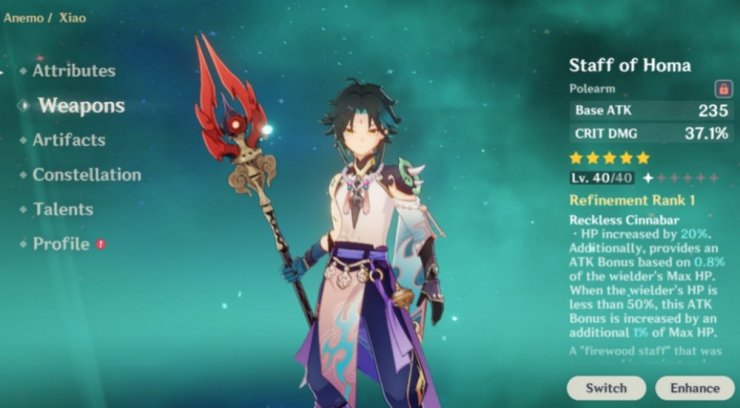 Staff of Homa vs Primordial Jade
Primordial Jade Winged Spear and Staff of Homa are called the best spears for Hu Tao and players cannot help comparing the two.
While Primordial Jade outshines the Staff of Homa when Hu Tao's HP is below 50%, Homa significantly outdoes it in the character's uptime. Unless the player can maintain Hu Tao below 50% HP, Jade Spear will do well.
Meanwhile, after some updates, Hu Tao's DMG bonus gets higher which makes Staff of Homa more superior. Although Primordial Jade works better during downtime, Homa is an indisputable feat at all levels considering how she needs incredible amounts of HP.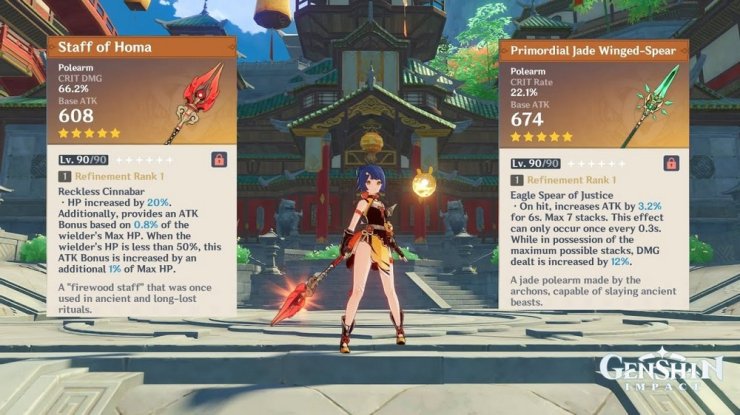 Staff of Homa Ascension Materials
To make the Genshin Impact Staff of Homa reach its fullest potential, we need to collect these materials to ascend it:
Grain of Aerosiderite
Dead Ley Line Branch
Dead Ley Line Leaves
Ley Line Sprout
Slime Condensate
Piece of Aerosiderite
Bit of Aerosiderite
Slime Secretion
Slime Concentrate
Chunk of Aerosiderite
>>> Related post: Genshin Web Event 'Barbecue Under The Stars' Guide: All Grill Fish Dishes & Hidden Dishes