Thoma is a Pyro Polearm user in Genshin Impact, who is part of the 2.8 banners alongside Kazuha and Klee. While he is generally considered a weak character and is often overlooked, players can still make him work with the right investments. In this article, Gurugamer.com is going to showcase the best Genshin Impact Thoma build guide in 2022, including talents, gears, and team comp.
Table of Contents
1. Thoma Genshin Impact Overview
Hailing from Mondstadt, Thoma is the housekeeper for the Kamisato Clan, and also a well-known "fixer" in Inazuma. Strength
Pyro Shielder, providing shields with Elemental Skill and Burst.
C6 provides a boost to the party's Normal, Charged, and Plunge Attacks.
Elemental Burst can apply off-field Pyro reactions.
Weaknesses
High Energy Cost for his Elemental Burst.
Lackluster DMG scaling.
Long Elemental Skill CD.
2. How to use Thoma effectively?
Multiple instances of his shield can stack
Thoma's Elemental Skill, Blazing Blessing, deals AoE Pyro DMG to enemies while providing a shield. Thoma's shield is unique as its DMG Absorption can stack based on the remaining Absorption of the previous barrier. Both his Burst and Skill create shields. With Ascension 1 passive, players can gain up to 25% extra shield strength at 5 stacks. To do this, just chain his Burst to refresh the duration of the shield before it runs out (8 seconds). As the cooldown of his Skil is 15s, players need at least C1 to be able to chain his shield effectively, allowing Thoma to get 100% shield uptime.
The best part of Thoma's shield is actually the stagger resist. Due to its stacking nature, players are pretty much immune to stagger.
Triggering Pyro reactions with his Burst
Thoma's Elemental Burst, Crimson Ooyoroi, deals AoE Pyro DMG to enemies while also surrounding the party with a Scorching Ooyoroi buff. This functions similarly to Xingqiu's rainswords -  every normal attack and charge attack you do will release a wave of Pyro dealing damage to enemies. Players can just switch to another character to trigger Vaporize or Melt. The reason that Thoma is not that popular is because of his Elemental Burst's 80 Energy Cost.
3. Best Genshin Impact Thoma build
Overall, Thoma is a shield support/sub DPS that can supplement off-field Pyro damage for reactions.
Shielder & Pyro Support Thoma
Best Weapon
Staff Of Homa: This is a powerful weapon that you probably should put on much better characters than Thoma. However, it is the best weapon for him, technically.
Players usually need to go with The Catch, Favonius Lance, or even Black Tassel. Best Artifact
Any combination of Emblem of Severed Fate x2, Tenacity of the Millelith x2 and Crimson Witch of Flames x2.
Pyro Burst Sub-DPS Thoma
Best Weapon
Engulfing Lightning: The best weapon for Thoma Sub DPS, increasing his energy regeneration and the damage of his Burst.
Alternatively, players can use Wavebreaker's Fin, The Catch, or Favonius Lance. Best Artifact
Emblem of Severed Fate x4 or Noblesse Oblige x2 and Crimson Witch of Flames x2.
Recommended Artifact Sub stats
Overall, Thoma is pretty easy to build around, as his kit mostly scales off HP. Players can also get some Energy recharge and Pyro damage bonus on him if they are using Thoma as a sub-DPS.
| | | | | | |
| --- | --- | --- | --- | --- | --- |
| | Plume of Death | Flower of Life | Sands of Eon | Goblet of Eonothem | Circlet of Logos |
| Main stat | Flat ATK | Flat HP | HP% / Energy Recharge | HP% / Pyro DMG Bonus | HP% |
| Sub stats | CRIT DMG, CRIT Rate, HP%, Energy Recharge | CRIT DMG, CRIT Rate, HP%, Energy Recharge | CRIT DMG, CRIT Rate, ATK%, Energy Recharge | CRIT DMG, CRIT Rate, ATK%, Energy Recharge | CRIT DMG, CRIT Rate, ATK%, Energy Recharge |
4. Thoma Constellations and Talent Priority
Constellations
As Thoma's kit is generally considered pretty lackluster, he needs a lot of constellation levels to bolster up the consistency. If players are going to spend a lot on this Kazuha banner to get C2, chances that they would get a high constellation Thoma. The character's best constellations are C4 and C6:
C4: After using Crimson Ooyoroi, 15 Energy will be restored to Thoma. This effectively reduces his Burst cost to 65, which is still fairly high but more manageable.
C6: When a Blazing Barrier is obtained or refreshed, the DMG dealt by all party members' Normal, Charged, and Plunging Attack is increased by 15% for 6s. This gives Thoma a bit more value as a normal attack support. Talent Priority
Thoma is a support character first and foremost, so players need to max his Elemental Burst and Skill first. His Attack talent can be completely skipped.
5. What are the best teams for Thoma?
Overall, Thoma is usable in teams that can weave in normal attacks, where he does not interfere with reactions: mono pyro, reverse melt, electro-charged, Xiao, Itto, Yoimiya, and one of the best options for Hu Tao. Decent substitute for Zhongli when you want a shield. Players can also run Thoma in a Electro team for the occasional Overload.
Hu Tao teams
Thoma has the rare niche of being a Pyro Shielder, who can give Hu Tao the shield she needs while enabling Pyro resonance at the same time. As Hu Tao does not like getting healed due to her kit revolving around being at low HP, Bennett does not help her much. However, Thoma's Burst can steal Vaporize from Hu Tao, which is a big minus. Childe teams
While Thoma is not as good as Xiangling for Childe support, he has a defensive edge because of his shield's high stagger resistance. Thoma would be the main shielder of the team while providing additional Pyro applications during his burst. Childe can play recklessly under Thoma's shield, relentlessly attacking enemies with his kit. Players can trigger some vaporize reactions, but it would not be very consistent.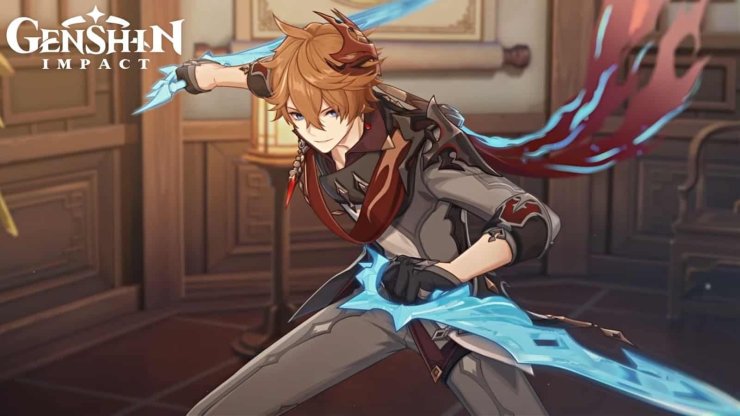 >>> Read more: Genshin Impact Kuki Shinobu Build Guide: Talents, Gears, And Team Comps (2022)