The otaku action role-playing game Genshin Impact has been taking over the world in recent times. Developed and published by miHoYo, the company behind Honkai Impact 3, the game features an open-world environment with tons of exciting features. However, those may also act as a barrier preventing new players from getting to know Genshin Impact. So today, we're here to change that. Well, actually just a small part of that. Here's what you need to know about Genshin Impact Tier List Weapons.
Table of Contents
About Genshin Impact Weapons
If you're a veteran Genshin Impact player yourself, you may want to skip this part. However, for those who just started out, learning about different types of weapons and their capability is crucial for bonding with the game in the long run. What are Weapons in Genshin Impact?
Weapons are equipment that helps you deal more damage to the enemies.
Types of Weapons in Genshin Impact
Currently, the game offers 5 choices when it comes to weapons. Each character can only wield one kind of weapon. The weapon types in Genshin Impact are:
Bows: long-ranged attacks in the game, with charged attacks that hit enemies from far away.
Catalysts: magical weapons, all Normal and Charged attacks are considered elemental damage.
Claymores: slow but deals more damage than other melee options. Have a damage bonus towards breaking Geo objects.
Polearms: fast melee weapons with a long reach.
Swords: mid-range melee weapons with damage and speed of laying somewhere in between the slow attacks of Claymores and the rapid attacks of Polearms.
The Rarity of Weapons in Genshin Impact
The Genshin Impact all weapons tier list is determined by stars and power. All weapons in the game have a rarity ranging from 1-star to 5-stars. More stars equal higher rarity, better scaling on stats but more difficult to obtain. Rare weapons also require more weapon experience to level up. How to Obtain Genshin Impact Weapons
Players can obtain weapons in Genshin Impact via the following ways:
5-star weapons: exclusive in Wishes.
4-star weapons: Wishes or crafted via Forging.
3-star weapons: Wishes and from chests in the open world.
2-star and 1-star weapons: chests in the open world, or purchased from NPC shops.
Factors Affect Weapons' Tiers in Genshin Impact
Before we get into the actual tier list for Genshin Impact weapons, let's go on a tour about how it comes to be. We'll go over the factors that contribute to the overall standing of the weapon in our list. This will give you a better idea of the weapon and should thoroughly explain the upcoming Genshin Impact Tier List Weapons. Here are the things we judge every weapon on:
Damage, Skills, And Refinement: Without a doubt, a good weapon should deal a ton of damage to the enemies. But, besides the Base Attack boost, we also consider the percent stat boosts that the Weapon Skills and Weapon Refinement Levels give. The higher the stats, the better.

Skill Cooldown And Conditions: Some weapons in Genshin Impact trade powerful effects for long cooldowns or intricate conditions. However, they could mean massive limitations to the weapons. Therefore, weapons with long cooldowns and bad conditions are less valuable.
Genshin Impact Tier List Weapons
Now, the part you have been waiting for. Check out the full Genshin Impact weapon tier lists right here.
Genshin Impact Weapon Tier List Bow
Top 5 bows in Genshin Impact:
#1 Skyward Harp: Big Crit damage
#2 Amos' Bow: Increase range damage (DPS best)
#3 Elegy For The End: Increase teammates' power (Support best)
#4 Blackcliff Warbow: Attack buff upon defeating enemies
#5 Sacrificial Bow: Can reset the cooldown of Elemental Skills
Genshin Impact Weapon Tier List Catalyst
Top 5 catalysts in Genshin Impact:
#1 Skyward Atlas: Summons a cloud that adds damage to the enemies
#2 Lost Prayer To The Sacred Winds: Boost Movement SPD and CRIT
#3 Mappa Mare: Easier to enhance and obtain
#4 Blackcliff Agate: Boosts crit damage
#5 Solar Pearl: Greatly boosts Crit Rate
Genshin Impact Weapon Tier List Claymore
Top 5 claymores in Genshin Impact:
#1 Wolf's Gravestone: Greatly increases Base ATK
#2 Skyward Pride: Create a vacuum that gives additional damage
#3 Prototype Archaic: Easier to enhance
#4 Blackcliff Slasher: Greatly boost character's crit damage
#5 Serpent Spine: Greatly increases Crit Rate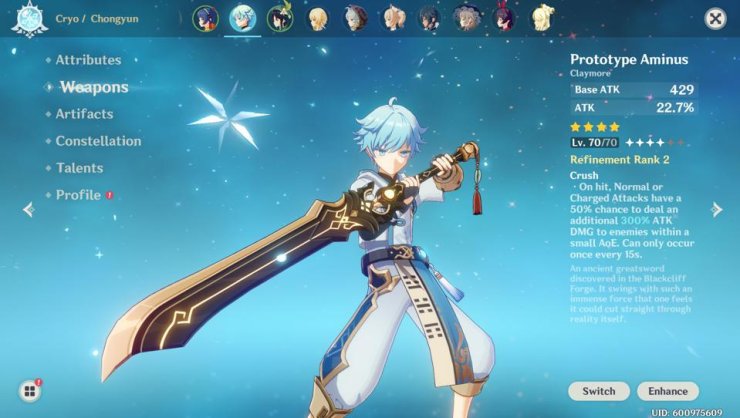 Genshin Impact Weapon Tier List Polearm
Top 5 polearms in Genshin Impact:
#1 Staff of Homa: Significantly increases HP and ATK
#2 Primordial Jade Winged-Spear: Increases ATK stat per hit
#3 Skyward Spine: Attacks can trigger a vacuum blade
#4 Vortex Vanquisher: Increase the Shield Strength
#5 Crescent Pike: Craftable so it is easier to enhance
Genshin Impact Weapon Tier List Sword
Top 5 swords in Genshin Impact:
#1 Primordial Jade Cutter: Increases the attack scaling with HP
#2 Aquila Favonia: Highest Base ATK
#3 Skyward Blade: Greatly boost CRIT Rate
#4 Prototype Rancour: Can Increase Attack and Defense up to 4 levels
#5 The Black Sword: Boost normal and charge attacks
Note: Different classes and characters in the game have different uses and powers, and so do their weapons. That's why we can not compare and make a Genshin Impact 5 star weapons tier list. That's everything you need to know about Genshin Impact Tier List Weapons. If you enjoy our article here, be sure to check out our website at GuruGamer.com for more!