In Free Fire, apart from finding matches in different modes against random players on the Internet, you can also create a custom room and play with a group of specific people.
In games such as CS:GO and DOTA 2, there are only 10 players each match. Meanwhile, in Free Fire, there are 50 players each match so most players will never have the need to use the custom room in Free Fire ever. This feature is mainly used for the purpose of holding an event or tournament. Here in this article, we will show you a step by step guide on how to create a custom room in Free Fire.
How To Create Custom Room In Free Fire - What You Need?
Since this feature is only mostly used by tournament organizers and not by most common players, it requires you to have an item called 'Custom Room Card' to create a custom in Free Fire. This is the only way to create a Custom Room in Free Fire.
Before learning how to create Custom Room in Free Fire, you need to get this item first. There are several ways to get a Custom Room Card in Free Fire.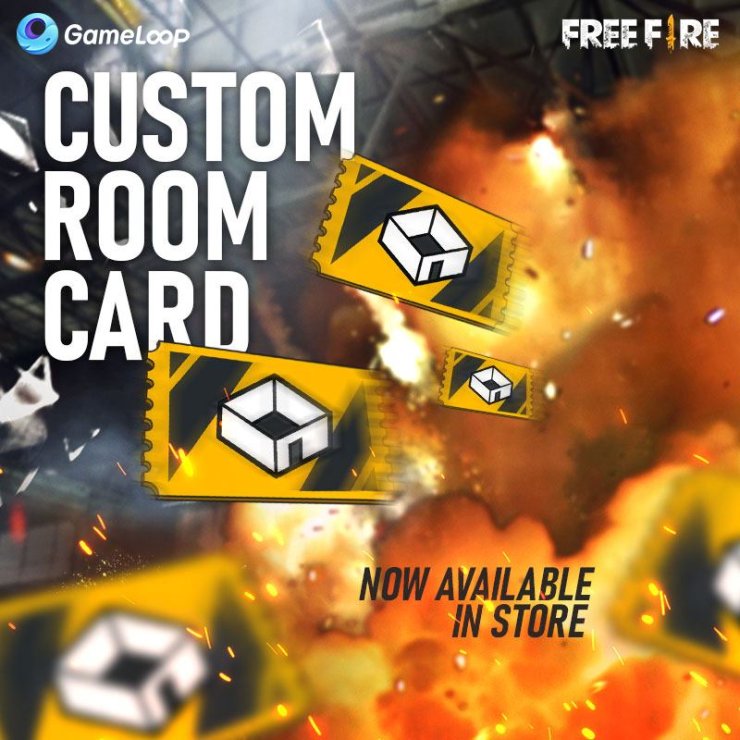 Use Diamonds To Buy Custom Room Card From Store
Recently, Free Fire has allowed players to purchase Custom Room Card directly from the in-game store using Diamonds. This is the easiest and most convenient way for you to get a Custom Room Card and create a Custom Room. Each Custom Room Card cost 100 Diamonds. While this is not the best bang for the buck option, it is always a viable option, especially when you are in a hurry.
Tap the Store icon in the Free Fire main lobby and then choose the Item tab to find the Custom Room Card.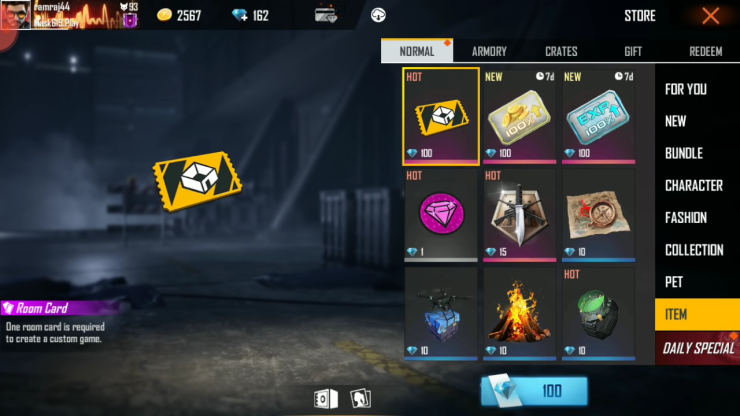 Use Winner Badges From Showdown event to buy Custom Room Card
You can purchase Custom Room Card using Winner Badges from the Showdown event. The event is over now, but it likely that Free Fire will return it in the future. You can get one Custom Room Card for 150 Winner Badges.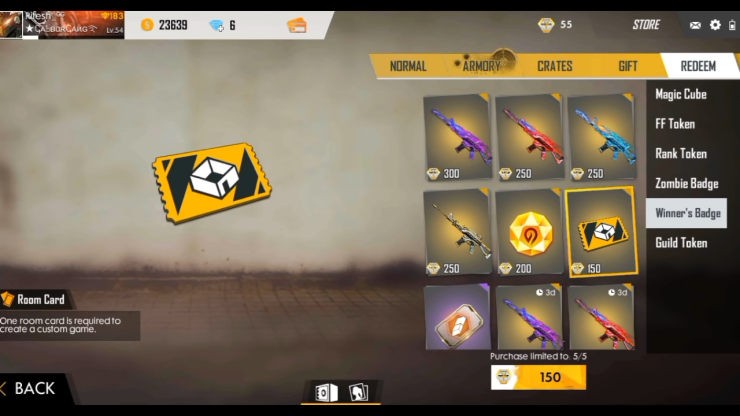 Get Custom Room Card From Guide Weekly Reward
This is the easiest way to stack up Custom Room Card in Free Fire for free. All you have to do is to join an active Guild which consistently reaches 1800 Dog Tag every week since the last Guild Reward Box will give you a Room Card. This is super easy to do as long as everyone in your Guide is active. You also get other extra rewards for earning Dog Tag for your Guild.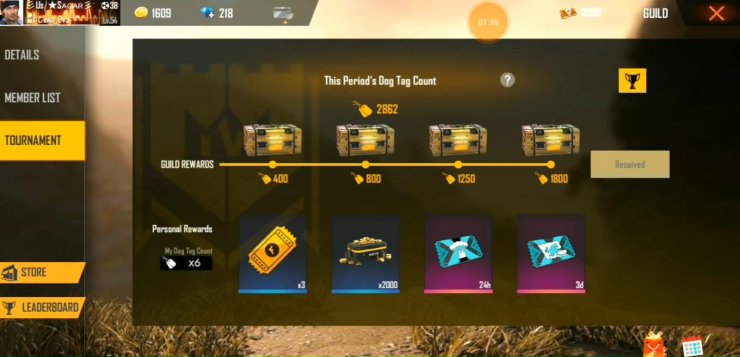 Here is how you can join a Guild in Free Fire. Tap the Guild icon on the right side of the screen in the Free Fire main lobby. Now you will see a list fo different Guilds. Choose a Guild or find a Guild using the search function and then Join. Depending on how each Guild was set up, you will join the Guild immediately or have to wait for Guild Leader's approval.
How To Create Custom Room In Free Fire - Step by Step Guide
If you have obtained yourself a Custom Room Card from the above methods then now you can create a Custom Room in Free Fire. We will give a step by step guide on how to create Custom Room in Free Fire here.
In the main lobby of Free Fire, tap on Game Mode on the top right corner of your screen.
Tap Custom and then tap the Create Room button.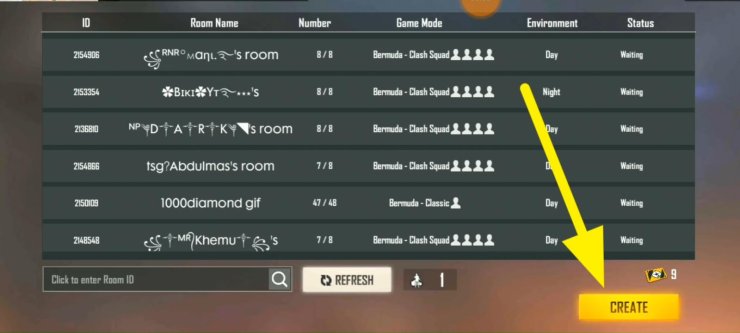 Now you will be present with multiple options to adjust the setting of your Custom Room. Just look through all the options and adjust anything you want to have in your Custom Room. For example, you can increase HP of everyone to 500 or change the game mode into a Grenade only mode.
The most important part is your Room Name and Password. You will need to remember these two things so other people can join the room.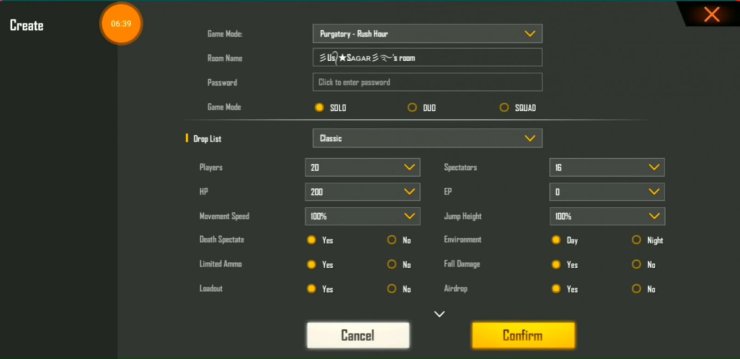 You can always change these options after creating the room so don't worry too much.
You can directly invite your friend to your room after creating it so they can join faster.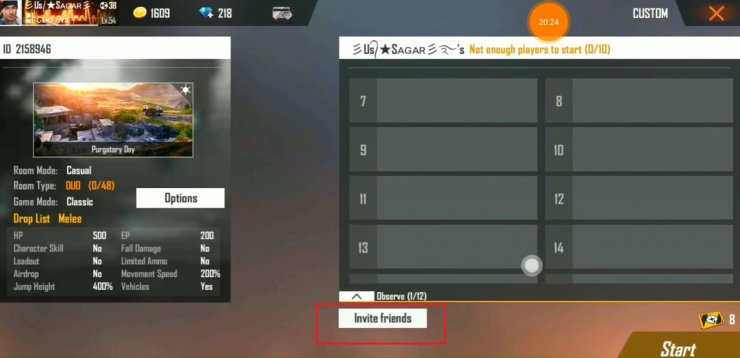 Also check out: Free Fire: Your Skills Don't Improve Even After Many Hours In The Game? You Must First Eliminate These 3 Bad Habits!