Keqing is a 5-star Electro Sword user in Genshin Impact. She is one of the top-tier characters that you can get in the game. In this article, we are going to showcase a complete guide for Keqing Genshin Impact, including character profile, gameplay and best builds.
Table of Contents 1 - Genshin Impact Keqing Profile
Keqing is the Yuheng of the Liyue Qixing, one of the 7 members of the ruling council of Liyue. She is a workaholic and always trying to do her hardest to maintain peace and order in the city.
In terms of her appearance, Keqing is a beautiful character with fair skin and dark amethyst eyes. Her outfit, Piercing Thunderbolt, is described to be a formidable-looking dress made of luxurious materials.
2 - Keqing Genshin Impact Abilities
Normal attack: Yunlai Swordsmanship
Normal Attack: Perform up to five fast strikes.
Charged Attack: Consumes stamina to perform two rapid sword slashes.
Plunging Attack: Plunges to slam the ground dealing AoE damage while striking enemies along the way.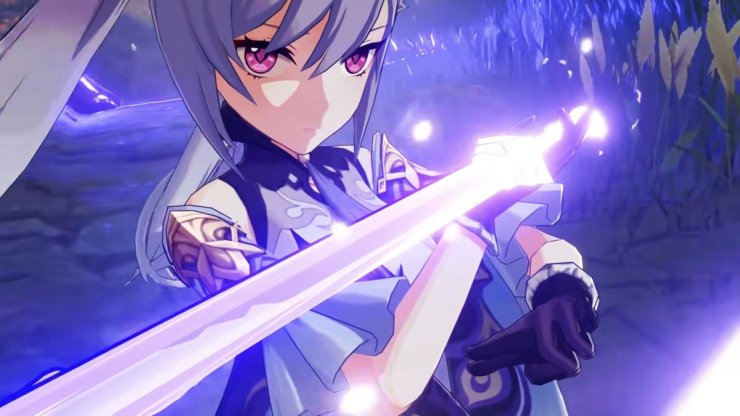 Elemental Skill: Stellar Restoration
Hurls a lightning stiletto that deals Electro damage and places a Stiletto Mark. Players can activate the skill again to jumps to the mark, unleashing a slash that deals AoE Electro damage. Players can hold the button to aim the stiletto - in this mode, Keqing can jump to the blade at any time, passing any obstructing terrain.
Furthermore, the Stiletto Mark can also be cleared using a charged attack. This deals massive AoE Electro damage by triggering a series of thundering cuts at the mark's location.
Elemental Burst: Starward Sword
Keqing unleashes the power of lightning, dealing AOE electro damage. Afterward, she performs a series of fast strikes in a star shape, dealing further AOE Electro damage each slash. The final strike deals a massive amount of AoE Electro damage.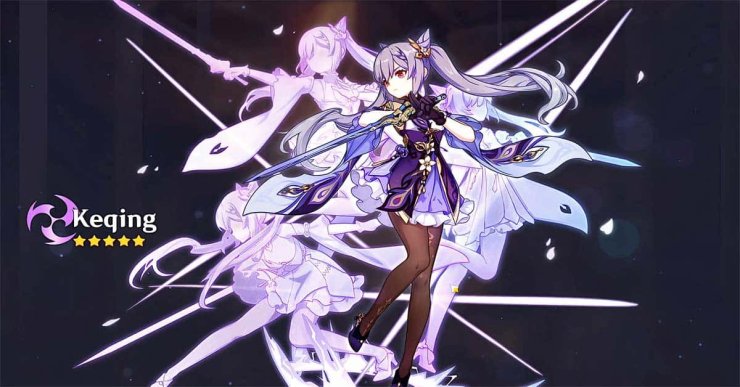 3 - Keqing Genshin Impact Passives
1st Ascension Passive: Thundering Penance
Jumping to a Stiletto Mark with Stellar Restoration infuses Keqing's sword with Electro for five seconds.
4th Ascension Passive: Aristocratic Dignity
When casting Starward Sword, Keqing's crit rate and energy recharge are increased by 15% for eight seconds.
Utility Passive: Land's Overseer
If Keqing is dispatched on an expedition in Liyue, it takes 25% less time. 4 - Keqing Genshin Impact Constellation
Keqing's C4 and C6 are probably the ones that matter most.
Thundering Might: Recasting Stellar Restoration while a Lightning Stiletto is present causes Keqing to deal 50% of her ATK as AoE Electro DMG at the start & end point of her Blink.
Keen Extraction: When hitting an opponent affected by Electro, Keqing's normal and charged attacks have a 50% chance of creating an Elemental Particle. This effect has a cooldown of 5s.
Foreseen Reformation: Increases the Level of Starward Sword by 3. The maximum upgrade level is 15.
Attunement: Increase Keqing's ATK is increased by 25% after she triggers an Electro-related Elemental Reaction. Last for 10s.
Beckoning Stars: Increases the Level of Stellar Restoration by 3. The maximum upgrade level is 15.
Tenacious Star: Keqing gains a 6% Electro DMG Bonus for 8s when initiating a Normal Attack, a Charged Attack, Elemental Skill or Elemental Burst. Effects from each source stack independently from each other, up to 24% max.
5 - Keqing Genshin Impact Gameplay & Best Build
Overall, Keqing is a great character in both fighting and exploration. Her elemental skill/teleport ability allows clearing mobs much faster and jumping through obstacles at a moment's notice. Keqing's elemental burst renders her invulnerable, which is very useful during boss fights. It allows Keqing to deal high damage without getting damaged.
Below is the best weapon and artifacts for Keqing Genshin Impact build in different sets.
Keqing Electro build
The optimal main weapon for Keqing is the Primordial Jade Cutter (HP increased by 20%, the user gains ATK Bonus based on 1.2% Max HP). Players can substitute it with The Black Sword, Summit Shaper, Festering Desire or Harbinger of Dawn.
About artifacts, players can use Gladiator's Finale's 2-Piece Set and Thundering Fury's 2-Piece Set. Alternatively, they can also use the Thundersoother 4-Piece Set. Keqing Physical build
The best weapon for Keqing's physical build is the Aquila Favonia (Increases ATK by+20%, deals 200% of ATK as AOE DMG and regenerates HP equal to 100% of ATK when hit, 15s CD). Alternatively, players can use the Prototype Rancour or Fillet Blade.
Artifacts for this build are the Pale Flame 4 pieces set. You can also replace 2 pieces with the Bloodstained Chivalry 2-Piece Set if you don't have the full Pale Flame set. Keqing best team
Being a mobile 5-star DPS, Keqing is able to zip around the battlefield, dealing both physical and electro damage. There are 2 versions of teams for Premium and F2P players.
Premium Team: Keqing + Xingqiu + Venti + Qiqi
Keqing is the main DPS, dealing electro and physical damage.
Xingqiu boosts Keqing's damage with his burst and Wet application for even more electro damage.
Venti is on crowd control duty, gathering enemies up for slaughter.
Qiqi can heal and apply Cryo for Superconduct, which leads to even more Physical damage.
F2P Team: Keqing + Kaeya + Fischl + Barbara
Keqing is the main DPS, dealing electro and physical damage.
Kaeya applies Cryo, allowing Keqing to apply Superconduct buff.
Fischl provides energies regeneration for spamming bursts.
Barbara provides heal when needed.
Interested in more of our articles related to Genshin Impact? Please check out this post for a complete guide for Aloy, including skill, gameplay and best builds.