It's rare to see Garena giving so many freebies out to Free Fire survivors like they do today. The game publisher has just released a list of exclusive gift codes. They're confirmed to be still working perfectly at the time of writing, so go ahead and claim your rewards right now!
Check out the Free Fire redeem code for today list on September 17th, 2021.
Note: The following redeem codes are for the Indonesian sever. Players from other servers/regions cannot redeem them.
Free Fire Redeem Code For Today (September 17th)
Here are all the redeem codes that are given by Garena for today:
Redeem code: FF10JA1YZNYN
Rewards: New Year Loot Box and Cool Captain (Shoes) Redeem code: FF10KB849VXB
Rewards: Santa Militia (Head) and Flaming Wolf Weapon Loot Crate Redeem code: FFSHOPEE7BX2
Rewards: Wasteland Vault Backpack Redeem code: FF9MPGS385PS
Rewards: Annihilator (Mask) and Digital Invasion Weapon Loot Crate Redeem code: FF9MJ31CXKRG
Rewards: Manly Cologne grenade and Shoot Dance emote
How To Use Free Fire Redeem Codes?
To use the redeem codes above, follow the instruction below:
Go to Free Fire's official Rewards Redemption Site.
Log into your current Garena Free Fire. Remember to use the same social account as well. You can log in using Facebook, Google, VK, Twitter, Huawei ID, or Apple ID.
Enter the Free Fire redeem code for today in the blank. A dialogue box should appear, hit OK to confirm.
If the code is legit, you will receive your rewards in your mailbox within 24 hours.
Problems When Using Free Fire Redeem Code For Today
Errors may occur when you're redeeming Free Fire's gift codes. You will find a list of common problems down below: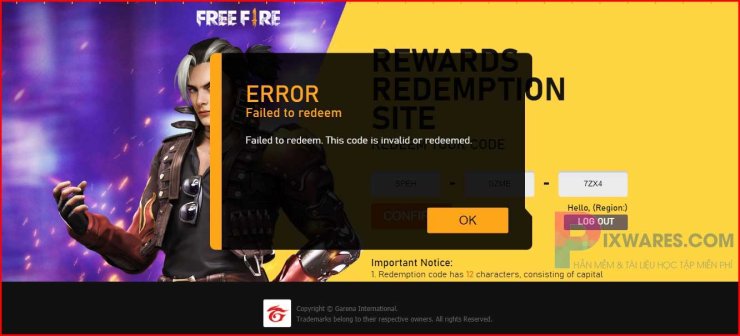 Missing or Redundant Characters: A valid Free Fire redeem code has exactly 12 characters. If yours has more or fewer, the code isn't valid.
Expired Codes: Each redeem code has an expiration date and use limit. When either of these limits is reached, the redeem code becomes invalid.
Wrong Region: You cannot use redeem codes for other regions.
Account Not Bound: Guest accounts cannot use the Rewards Redemption Site. You have to bind your Free Fire account to a social platform before using the redeem code.
>>> More details at Free Fire Redeem Code Problem: What Prevents You From Redeeming Codes?​