Board games have been getting more and more popular in recent years. While the social factors are part of their success, getting a group of people together to play is super hard sometimes. This is where digital multiplayer board games android comes in. In this article, we would list out some of the best board games that are available on Android.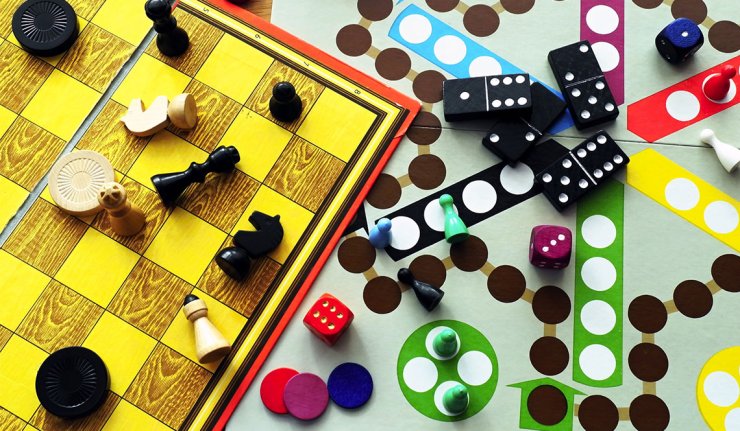 Top 7 Multiplayer Board Games Android:
1 – Ticket to Ride
Available modes: cross-platform online multiplayer, pass-and-play, solo mode.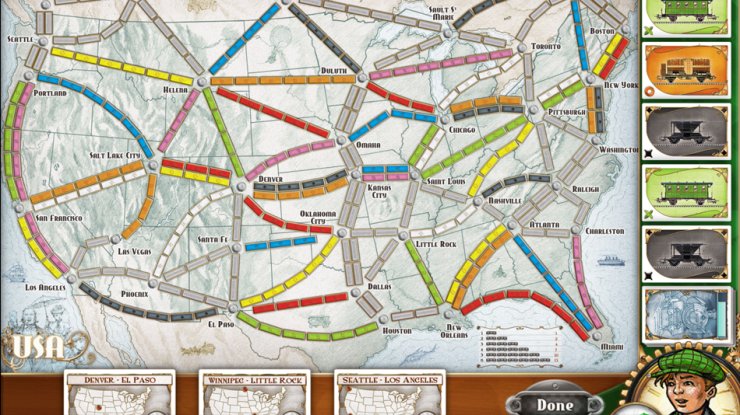 It is best to start with one of the classics games in the genre: Ticket to Ride. In this game, players would step into the roles of railroad tycoons, building rails across the USA. While the objective of the game is pretty simple – to get the highest score, players must also complete various bonus objectives to gain extra points. There is a decent variety of maps available in-game, including Europe, India, Switzerland, and more… There is also a kid version of the game called Ticket to Ride: The First Journey.
2 – Splendor
Available modes: pass-and-play, solo mode.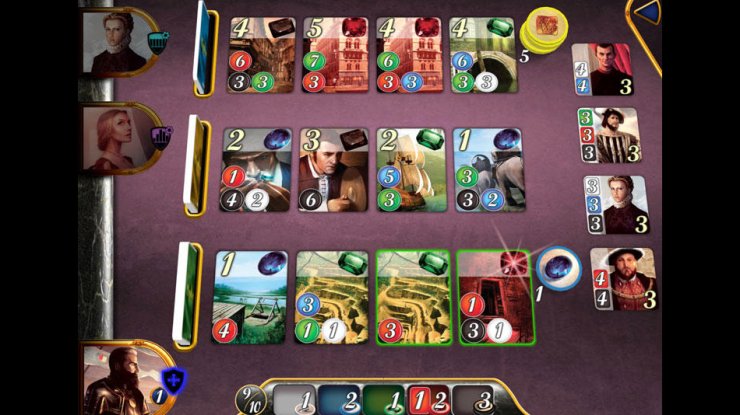 Set in the Italian Renaissance, in this game, you would have to buy jewels with jewels to make a profit and buy more jewels… with the person earning the most money at the end becoming the winner. The game is based on actual historical events that happened during the 15 and 16th century Jewellery Merchants. The game has robust mechanics with no singular ways to win – you can experiment and try out multiple methods – the digital version of the game also comes with a new challenge mode with extra puzzles added to the usual mechanics.
3 – Carcassonne
Available modes: online multiplayer, pass-and-play, solo mode.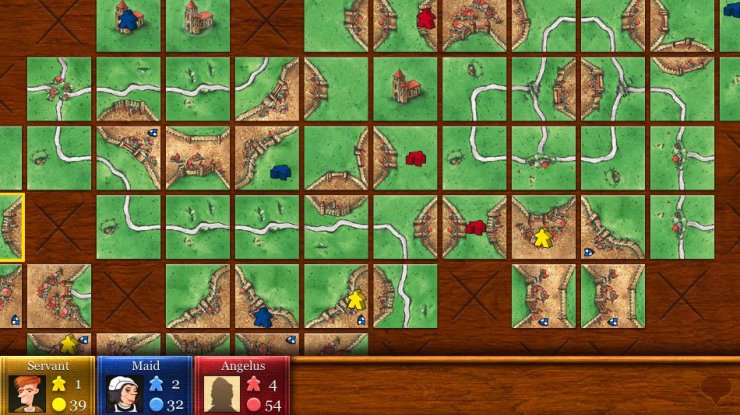 Another classic board game that has been ported into digital – in Carcassonne, players would set tiles and build medieval castles, roads, and buildings to earn victory points. Due to the fact that Carcassonne used to be a gateway game that introduces people to board games, it is really easy to learn and play. The game also has a decent number of expansions that add new gameplay elements to the tiles such as rivers… along with yet another layer of rules to add extra challenges. The android version of the game also has updated graphics.
4 – Galaxy Trucker
Available modes: online multiplayer, turn-based mode, solo mode.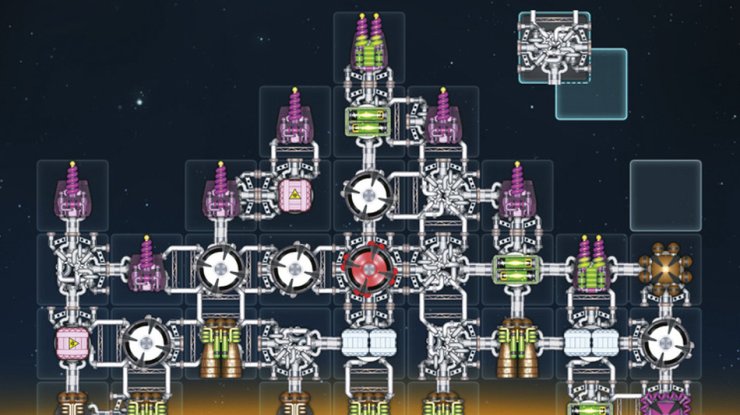 If you want to get away from the usual business theme of board games, then this space-themed game Galaxy Trucker would be something you need to play. The core part of the gameplay is to build your own spaceship using the given components and within the time limit. Afterward, players would travel the galaxy, bracing space pirate attacks, and meteor storms. Only by building your spaceship correctly would you be able to survive the ordeal. The building part of the game encourages creativity, which is something a lot of board games lack. A lot of people actually play the game for the spaceship designing aspect alone - it is super fun to play.
Read more:
5 – Neuroshima Hex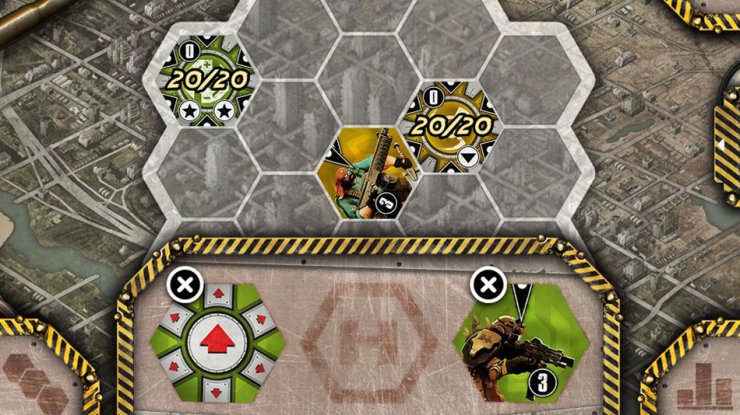 Available modes:  online multiplayer, pass-and-play, solo mode.
People who are trying to find complicated strategical gameplay would be able to sate their appetite with Neuroshima Hex. This board game is based on an RPG named Neuroshima, set in a militarized post-apocalyptic world. The game is pretty competitive and fast-paced, with 4 players controlling 4 armies and battle for survival. Each faction in the game has their own unique powers that can be fitted to different types of gameplay, with expansions adding more to the mix. Gameplay involving players drawing units to protect their base and attack their enemies – the team with headquarter taking the least damage is the winner. If you are a fan of the post-apocalyptic settings, this game is definitely worth a try.
6 – Colt Express
Available modes: online multiplayer, pass-and-play, solo mode.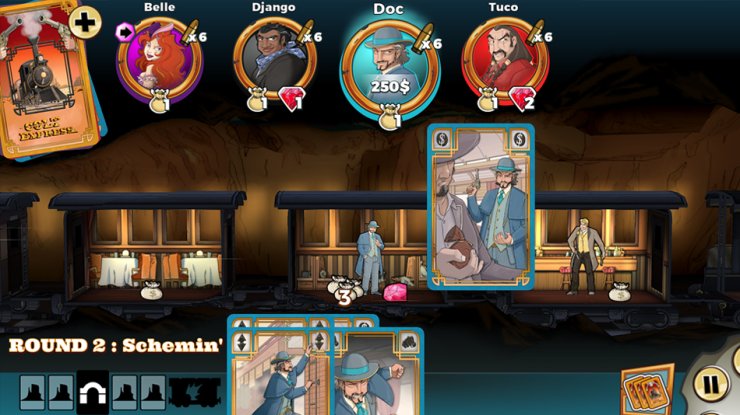 Another Wild West-themed board game – but this time you are not a tycoon… you would be the opposite of that, a Wild West outlaw. In this game, players would plan out their train robbery step by step, secretly from each other – with the one managed to complete the objective become the winner. A lot of things can go wrong – a player can plan to attack another player to steal their money, only to be baited with a sheriff chase instead. The digital version of Colt Express also comes with a Story Mode for each playable character, each with their own unique objectives. The one with the highest money made at the end of the game is the winner.
7 – Exploding Kittens
Available modes: online multiplayer, local play.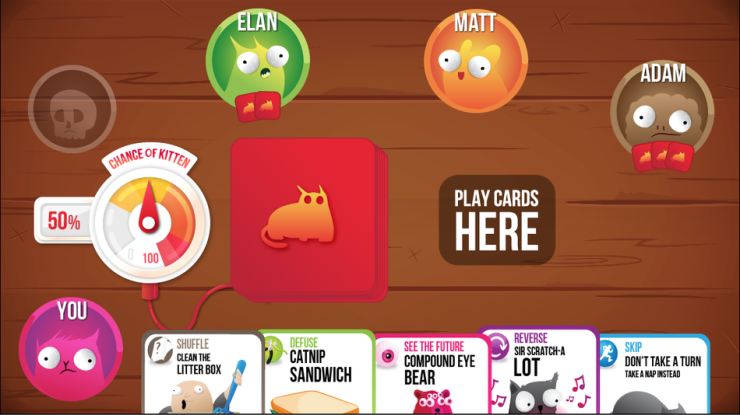 One of the first games that were created through crowdfunding on Kickstarter, this board game took over the internet by storm at the time of release. The best part of the game is its comedic art style, its Russian roulette random gameplay, and kittens. The digital version is pretty faithful to the physical – but with even more new exclusive kittens and powers. Exploding Kittens has maintained a healthy player base and even has a matchmaking system in which you can challenge your previous opponent again after the initial match.
>>> Visit Gurugamer.com to keep updated with the latest news on mobile games.