PUBG lucky spin is a chance for PUBG players to get exclusive rewards. Of course, players have to pay UC to join the game. Lucky spins are available in PUBG events. Players can participate in these events, play lucky spins, and receive rare rewards. Check out the guide on how to play PUBG lucky spin free here with Gurugamer.com.
What Is PUBG Lucky Spin?
PUBG lucky spin is launched when PUBG celebrates an event, festival, or releases a new patch. It is available in all versions of this game, including PUBG PC, PUBG Mobile, and PUBG Mobile Lite. The rewards you can get from those lucky spins are also various. There are exclusive outfit sets or single outfits, rare weapon skins, crate coupons, or coupon fragments. You can open the lucky spin in the event center on the bottom right of the screen. All lucky spins are time-limited events that come with special celebrations. For example, PUBG and Tencent brought to players many lucky spins on the 2nd Birthday celebration of PUBG Mobile titled "2gether We Play" with lots of attractive rewards. Or else, PUBG Mobile Lite players can join the Women's Day lucky spin to get stunning outfits. However, PUBG players have to pay UC to play lucky spins in these games. Both prizes and prices of these lucky spins are various. For example, in the 2nd anniversary spin lasting from March 15th to April 4th, 2020, it costs you 10UC for the first time of spinning each day. If you pay 540UC, you will have 10 times to play. In short, you have to pay a great sum of UC to play PUBG lucky spin. So, a lot of players are searching how to play PUBG lucky spin free.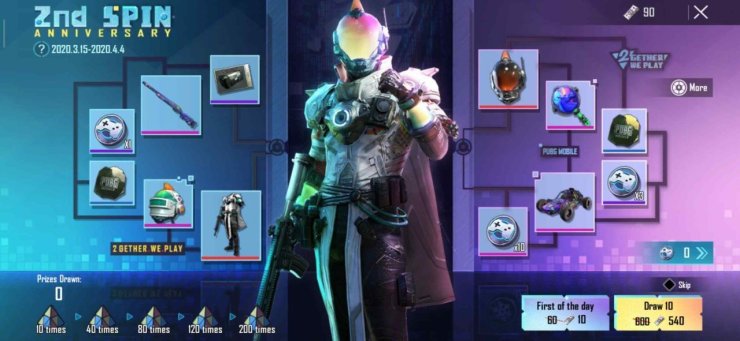 This article will guide you on how to play PUBG free lucky spin and give you some tricks to get exclusive rewards. Check it out below.
How To Play PUBG Lucky Spin Free?
PUBG free lucky spin is not available in this game. As mentioned above, you have to pay UC to play. As usual, the first spin of the day costs you 10 UC. However, the later spins will cost you up to 60 UC. If you buy a pack of 10 times, you have to pay up to 540 UC. It's a great sum of real cash you have to pay to recharge UC. If you can't afford it, you need to learn how to get UC free in PUBG. There are many ways to get free UC in this game. The first way to get UC free is by doing online surveys. Or else, you can use Google Opinion to get rewards, including PUBG UC. Moreover, players can get UC free from in-game events. In addition, Indian PUBG players can get free UCs from bonus challenges in this game. You can learn more about how to get free UC in PUBG mobile here with us. We have already given you a detailed guide on how to get UC free without using the hack. But these opportunities of getting free UC sometimes are not available during the event. To play PUBG Lucky Spin free, you have to use a cheat tool to get unlimited UC. However, it's a cheat. Therefore, you need to take risks to use hack tools. If the dev teams of PUBG Corp. and Tencent spot your cheat, you will get banned. But it's the only way to play lucky spin free in PUBG. Or else, you have to buy UC with real cash. 
PUBG Free Lucky Spin 2021 Tips & Tricks
When playing the lucky spin, you should buy a package of 10 draws. It increases the chance of getting rare rewards. Moreover, it's cheaper when you buy a package of 10 spins instead of paying 60 UC for single spins from the second time. 
Latest PUBG Mobile Lucky Spins 2021
Icicle Lucky Spin is the latest event in PUBG Mobile 2021. It lasts from Jan 3rd to 23rd. This lucky spin event has a lot of attractive and stunning skins, such as Snowflake Dancer Set, Captivating Reindeer Set, Green Blessings Headgear, Reindeer Ornament, and Surprise Gift Grenade skin. Especially, there is an ungradable Icicle skin for the legendary DMR Mini-14.
Once you got 200 lucky points, you will definitely get this grand prize. The lucky player will receive the Icicle Mini-14 skin at level 1. Then, you can go to the Lab and upgrade it by using paints and materials. A lot of PUBG Mobile players have been spending UC on this Lucky Spin to get this rare reward and many other beautiful bundles.
Those are things you need to know about lucky spins in PUBG and how to play PUBG lucky spin free. The article also gave you some tricks to get rare rewards from PUBG lucky spins. To update the latest PUBG mobile game news as well as tips and tricks for players, visit our website.