PUBG Mobile plans to release its latest collaboration with McLaren very soon, introducing the McLaren 570S into the game.
It's true that PUBG Mobile has shaken hands with various brands and shows around the world. However, this is the first time ever that the Battle-Royale title engages in a collaboration with a multi-billion enterprise! Of course, the recent Godzilla vs Kong collab did leave an impression on players around the world. But it won't come close to the next collaboration with British supercar manufacturer McLaren. This news came as a total surprise from the side of PUBG Mobile.
PUBG Mobile to present the McLaren 570S in the game
In the spirit of the collaboration, PUBG Mobile will present the McLaren 570S on the battlefield. This car model was released back in 2015. And according to the leaks, it will come in 6 different color variations as follows:
Zenith Black
Lunar White
Raspberries
Glory White
Pearlescent
Royal Black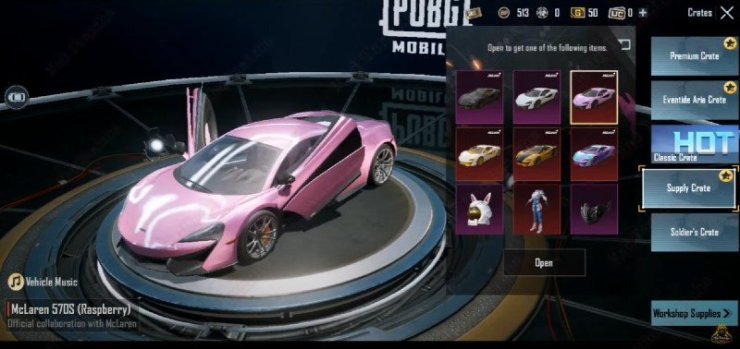 Previously, PUBG Mobile had also collaborated with the Japanese company Yamaha to introduce two of their models. They were MWT-9 and the T7 Concept. Players could claim these by opening crates for 60 UC each.
How to obtain the McLaren 570S in PUBG Mobile?
Unfortunately, we haven't got any information regarding how PUBG Mobile plans to release the car skin. If things go according to the previous collaboration with Yamaha, we can expect it to arrive in crates. However, there's no saying anything for sure here. We would have to wait and see how PUBG Mobile presents the supercar on the battlefields. Stay tuned and don't miss your chance to "test drive" the McLaren 570S in PUBG Mobile.
>>> Also Read: PUBG Mobile Is Officially Coming Back To India With New Poster And Teaser