M762 vs M416, which assault rifle is better? Compare M762 vs M416 stats to find the better gun for you here. This article will compare these two AR guns in terms of power, reloading time, speed, stability, and more. Check it out to choose the most suitable PUBG Mobile weapon for you with Gurugamer.com.
M762 Vs M416 Damage Per Hit
Both Beryl M762 and M416 are powerful AR guns in PUBG Mobile. But these weapons are different in all aspects. While M416 uses 5.56 ammo, Beryl M762 uses 7.62 ammo. Therefore, the Beryl gun causes greater damage than M416. If you test these two guns in the real match, you will notice that you need 30 bullets to burst a car with an M416. However, with a Beryl M762, you only need 27 bullets to burst a car in the same type. It's understandable because 7.62 ammo has a greater armor penetration rate than 5.56 ammo. Therefore, in terms of power, M762 surpassed M416. Moreover, in comparing the time to kill between Beryl M762 vs M416 PUBG Mobile, the statistics are pretty the same. But in many parts of the body such as arms, hands, legs, and feet, it takes you a long time to kill the enemies. It means that the M762's damage is greater. M762 Vs M416 PUBG: Reloading Time
The next criterion to compare M762 vs M416 is the reloading time. It takes an M416 2.2 seconds to reload the magazine without a quickdraw mag. But when you attach a quickdraw mag to your M416, the reloading time reduces to 1.2s. However, the reloading time without a quickdraw mag in Beryl M762 is 2.9s without quickdraw mag and 2.25s with a quickdraw mag. So, M416 wins in terms of reloading time. When these two guns run out of bullet in the magazine, the player with an M416 can win the combat. Because he wastes less time in reloading the ammo load. Thus, you should grab an M416 for the later stage of the match.
Beryl M762 Vs M416: Bullet Speed
The bullet speed in an M416 is 880ms/s while it's only 715ms/s in a Beryl M762. It means that the M416 has a greater firing rate than the Beryl M762. Keep in mind that the firing rate is another criterion to estimate the power of a gun. So, although the damage per hit on the M762 is higher, its firing rate is still lower. Therefore, it's hard to conclude that M416 is weaker than M762. In comparing the bullet speed, you will know which AR gun is better to kill the enemy fast. As the bullet speed of M416 is higher, it can kill the enemy first if both these guns fire at the same time. So, M416 wins this round of speed. Beryl M762 Vs M416 PUBG: Stability
In full-auto firing mode, the M762 has a greater recoil rate than the M416. The Beryl gun has a 35% higher vertical recoil rate than the M416. So, it's harder to control a Beryl than an M416. In single firing mode, the Beryl still has a 20% higher recoil rate than the M416. That's the reason why most players prefer using M416. It's less recoil and more stable than the Beryl M762.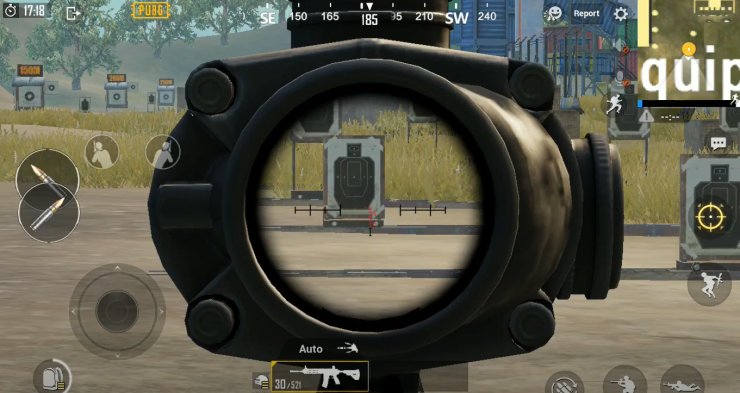 Moreover, with a full set of attachments, you can reduce the recoil rate of these guns significantly. M416 is the most suitable gun for the beginners in PUBG Mobile. But if you prefer the Beryl M762, you need to go to the training room and practice controlling recoil.
M762 Vs M416: Attachment Slots
Both M416 and Beryl M762 has four basic attachment slots for muzzles, sight/scope, foregrip, and magazines. So, you can attach almost attachments in this game to these guns. However, M416 has a further slot for a stock. This attachment helps reduce gun recoil significantly. You should find and fill all these slots with available attachments. But it would be better if you have a vertical foregrip to use. It's the best tip to reduce weapon recoil in PUBG Mobile. Moreover, you should use a holographic/ red dot/ 2x scope for the M416 and the M762 because the most effective range of these guns is under 400m. When you use these AR in long-range combat, it's hard to control the bullet line. In addition, if you use an M416, you can use either a suppressor or a compensator in the muzzle slot. But if you use a Beryl M762, you'd better find a compensator to reduce the gun recoil. Moreover, you should find an extended QuickDraw mag for these guns to increase the number of bullets per load and reduce reloading time.
M762 Vs M416: Sound
The last but not least difference between these two guns is the sound. In fact, the M416 sounds less noisy than the M762. If someone fires with an M762, you can hear the sound of the gun clearly from a long distance. But the noise of the M416 is lower. So, a lot of players prefer using an M416 with a suppressor the hide their position.
Those are some significant differences between M762 vs M416, the two most powerful ARs in PUBG Mobile. In short, many players like the Beryl M762 more due to its higher damage per hit. However, a lot of players prefer M416 because it's the most stable gun in this game. To update the latest PUBG Mobile game news, let's visit our website.