Free Fire Hacker's Store 6.0 spin brings players a lot of grand and bonus prizes. This time-limited event will be live until July 6th, 2020. Check out this event as well as attractive rewards you can get from the lucky spin.
Free Fire Hacker's Store 6.0 Spin & Prizes
The 6th edition of the Free Fire Hacker Store has just come. Then, Garena Free Fire introduced Hacker's Store 6.0 event with a lot of attractive prizes. Here players choose 2 out of 6 items that will be included in your prize pool. This limited event lasts for a week, from June 30th to July 6th, 2020. In the event lobby, there are two lists of Grand Prizes and Bonus Prizes.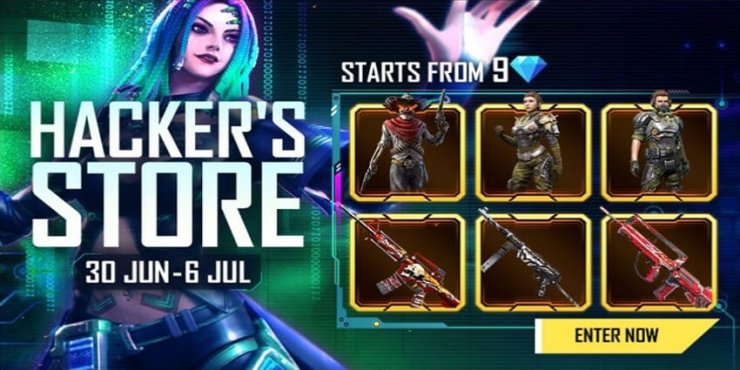 Then, you choose a Grand Prize and a Bonus Prize from these two lists. These rewards will be included in the final prize pool. The Grand Prizes include three rare bundles (Me. Death Bundle, Assault Force Bundle, & Task Force Bundle) and three exclusive skins (Maniac MP40, Hellfire M4A1, & Vampires FAMAS).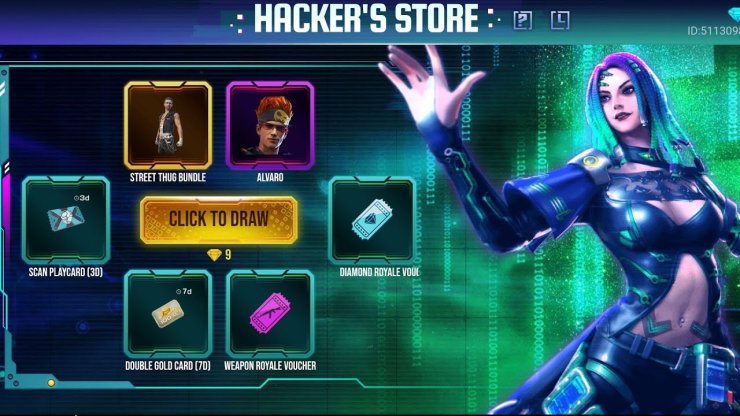 In the list of Bonus Prizes, you choose one of the 6 rewards. There are Jota Character, Kapella Character, Ottero Pet, Name Change Card, Wiggle Walk Emote, and Viking's Spirit Backpack. The bonus and grand prizes will be added to the Spin. Besides, there are 4 other rewards in the spin to win, including:
Scan Paycard (3 days)
Double Gold Card (7 days)
Diamond Royale Voucher
Weapon Royale Voucher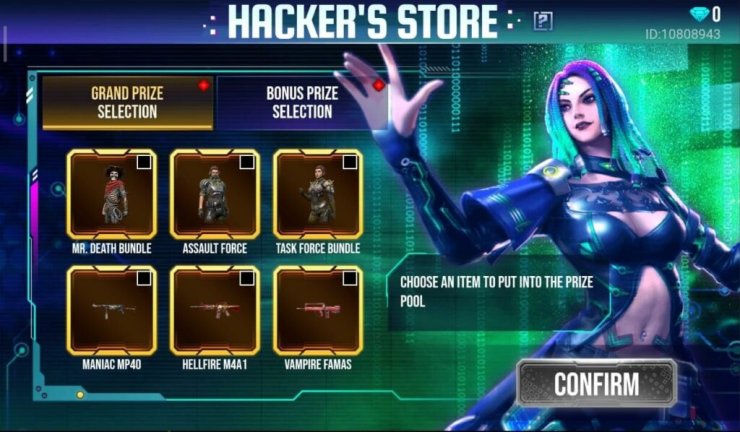 Like in other spins, you need to pay diamonds to get these items. But the costs of the first and later spins are not the same. Here is the price list of spins in Free Fire Hacker's Store event:
1st spin: 9 diamonds
2nd spin: 19 diamonds.
3rd spin: 49 diamonds.
4th spin: 99 diamonds.
5th spin: 199 diamonds.
6th spin: 499 diamonds. In total, you need to spend 874 diamonds to draw all 6 spins. Once you get a prize, this item will be removed from the spin. Therefore, you will definitely get all items after 6 times of spinning. The system will send you the prizes in the Vault.