There is no doubt that Garena Free Fire boasts one of the most extended collections of aesthetic items. The world-renowned Battle Royale game offers a whole rainbow of gun skins, emotes, outfits, and bundles for players to choose from. Not to mention the dynamic character system, pets, and Elite Passes,... But the worst thing about those eye-catching items is that they are certainly not free. You have to buy them from the store or claim them from events. That's where SEAGM Free Fire comes into play. In order to buy the items above, or take part in in-game events, Free Fire players will need Diamonds. Diamonds are the premier currency of this mobile BR game. And to get Diamonds, the quickest way to buy them straight up with your money. Players can choose to top-up directly from the in-game store or via third-party distributors. SEAGM falls to the second category. Let's learn more about SEAGM Free Fire top up.
Table of Contents
What is SEAGM?
SEAGM stands for SEA Gamers Mall. It is one of the most trusted top-up websites for gamers around the world. SEAGM does not just provide services for Free Fire, but you will also find a plethora of other games on the site. On top of that, users can also buy all types of cards and recharge their mobile fees with SEAGM. What's interesting about SEAGM is the selections it offers seem limitless. You have access to the top-up services in every language or region imaginable. The website also supports multiple payment channels, including Paytm, MasterCard, UPI, NetBanking, and more.
How to Top-up With SEAGM Free Fire?
To start buying Diamonds from SEAGM, you must first decide the manners in which you wish to do that. The website currently offers 2 options: direct top-up or gift card. If you choose the first option, the Diamonds will be deposited into your account right after you make the payment. The other gives a gift card that you can redeem later or send to friends as a present. Here's our step-by-step guide on topping-up Diamonds with SEAGM.com Free Fire:
Visit SEA Gamers Mall's official website and search for "Free Fire" using the search tool or go to the top-up page via this link: https://www.seagm.com/free-fire-battlegrounds
Choose your top-up option (instant top-up or gift cards)
13 denominations will show up on your screen, pick out the one you prefer, and its quantity
Fill in your Free Fire ID and nickname as required
Check out and choose your preferred method of payment
After the payment is complete, you will receive the Diamonds in your vault or in gift cards depending on what you choose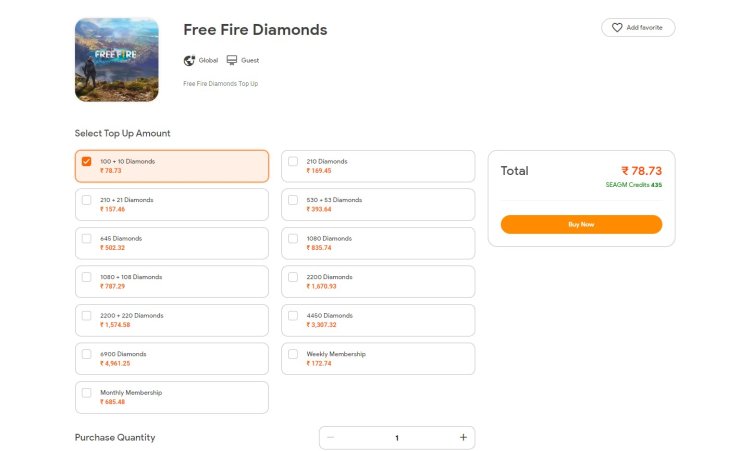 Friendly Reminder: Apart from the regular top-ups, SEAGM also offers Free Fire weekly and monthly memberships. Moreover, you do not need to create an account to use the website. Just top up directly using your Player ID and IGN.
Top-up Denominations Available on SEAGM
100 + 10 Diamonds - INR 78
210 + 21 Diamonds - INR 157
530 + 53 Diamonds - INR 393
645 Diamonds - INR 502
1080 + 108 Diamonds - INR 787
2200 + 220 Diamonds - INR 1574
4450 Diamonds - INR 3307
6900 Diamonds - INR 4961
Weekly Membership - INR 172
Monthly Membership - INR 685 SEA Gamers Mall is running a promotion program for gamers across all games. Free Fire players can buy Diamonds at a cheaper price point as well as get a 10% bonus Diamonds for certain denominations. So, be sure to give www.seagm.com Free Fire a look!
Other Free Fire Top-up Websites
Games Kharido
Speaking of top-up websites for Free Fire, we simply can not leave out Games Kharido. This site is developed by Garena itself to meet the rising demand for buying Diamonds of Indian gamers. The company makes Games Kharido specifically for the Indian region. There is currently an amazing promotion running. Players who top-up for the first time using Games Kharido will get a 100% bonus. So we strongly recommend you using Games Kharido for your first top-up. MooGold
Another website that you should check out for purchasing Diamonds is MooGold. It also offers a first-time bonus top-up similar to that of Games Kharido. However, the website does not seem very certain about whether the players really get the bonus Diamonds. Perhaps this only works when you top-up Diamonds for the very first time in Free Fire. You can check out the denominations and the bonus in the picture below. That's everything you need to know about SEAGM Free Fire top-up as well as two other great websites to buy Diamonds from. This method may set you back a few Rupees, but it does not put you at the risk of losing your account. Steer clear from hacks, cheats, or false redeem codes that claim to give you free Diamonds. They do not and will never exist. For more information on Garena Free Fire, visit our website at GuruGamer.com.