Free Fire has its own distinct features that make its stand out among other competitors on the market. One of the unique features in Free Fire is the pet system, which can actually make players stronger in combats rather than just for show like in other games.
Each pet has its own ability which fits a different kind of playstyle of each player so not all pets are going to benefit you. In this article, we will show you the top 10 best pets in Free Fire and how it will fit your playstyle so you don't waste your Diamonds.
1. Poring
Poring has a unique skill that will repair your armor and helmet when you are not in combat. It also prevents your high tier armor and helmet from being destroyed. High tier armor and helmet in Free Fire are rare and Poring's skill will help you keep them forever. Poring is a great pet for all players regardless of playstyle. 2. Falco
Falco is one of the latest pet in Free Fire. Its skill Skyline Spree will help you increase the gliding speed while skydiving and the diving speed after your parachute are open. You will be able to land and pick up weapons much sooner than other players, which is a huge advantage in the early game. 3. Detective Panda
Detective Panda's skill Panda's Blessing will restore a small amount of health to you after each kill. This pet is a great choice for people who want to play aggressively. His skill goes very well with Jota, who also heals himself after each kill. 4. Spirit Fox
Spirit Fox's skill will restore additional HP health to you whenever you use a health pack. It's is an all-rounder pet that is useful for all players, regardless of their playstyle. 5. Robo
Robo is a spherical mechanical pet with cat ears. Robo's skill Wall Enforcement makes your Gloo Wall stronger with additional HP. Gloo Wall has always been one of the best defensive tools in Free Fire and it is always nice to give it additional HP. 6. Shiba
Shiba's skill is called Mushroom Sense, which allows you to mark the location of one of the Mushroom on the map with a 180-second cooldown. Mushroom is one of the main ways in Free Fire to restore your HP in Free Fire and all players need it. This makes Shiba a great pet for all Free Fire, except campers ( since you will have to travel a lot to get Mushroom).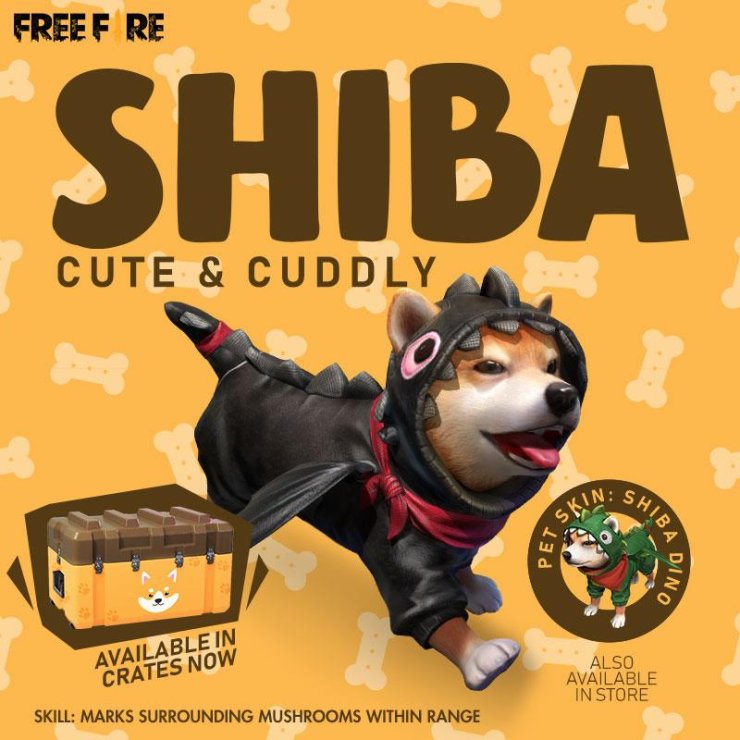 7. Ottero
Ottero was just introduced recently but it has already become one of the most favorite pets of many Free Fire players. Ottero's skill will give you EP whenever you use the Med Kit or Healing Gun. At level max, Ottero can give you 50% of the recovered HP, giving you a great amount of sustainment. 8. Kitty
Kitty is the best pet for pro Free Fire players who want to have some challenge. It means that it doesn't have any skills at all. It is just a cat that doesn't give you any benefit in the battle at all. 9. Mechanical Pup
Just like Kitty, Mechanical Pup is there for people who like challenges because it doesn't have any skill at all. But it is there as emotional support for you to get that Booyah! 10. Night Panther
Night Panther is a mechanical panter that will increase your inventory space. A good pet if you are the player that can resist yourself from picking up everything. At max level, it will increase your inventory space by 30. Also check out: How To Unlock Pets In Free Fire? Which Pets You Should Get First?