Action is one of the best genres in video gaming, and arguably the easiest one to get into. This is why many action games have been ported to the handheld Android platform. In this article, Gurugamer is going to showcase the top 5 best offline action games for Android in 2022.
Table of Contents
1. GTA: Vice City
Grand Theft Auto: Vice City is the fourth main entry in the GTA series, following 2001's Grand Theft Auto III. If you are looking for something similar to GTA 5 vs Free Fire, this game is probably an obvious pick. Gameplay-wise, it has the same 3rd person perspective gunfights as the other games in the GTA series.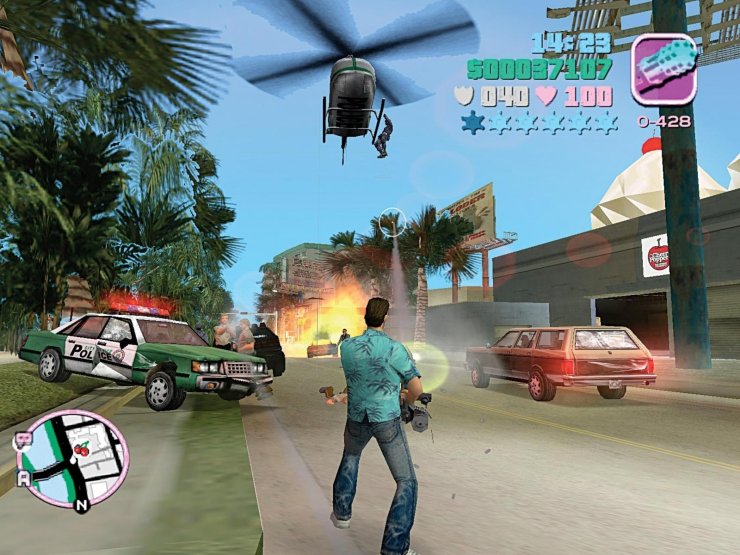 Vice City, based on Miami, is one of the most varied, complete and alive digital cities ever created. The single-player campaign follows mobster Tommy Vercetti's rise to power. Your mission is to seek out and take revenge on people who wronged you while slowly building a criminal empire and seizing power from other criminal organizations in the city.
2. N.O.V.A. Legacy
N.O.V.A. Legacy is one of the best story mode shooter titles available on the Google Play Store. While its main mode is multiplayer, there is a single-player campaign you can play with 19 levels of action-packed combat. Besides story mode, you can also try limited-time challenge missions or custom missions. If you want to play multiplayer, Deathmatch and Team Deathmatch are definitely going to satisfy your thirst for action-packed shootouts against other players. You can customize your marine with various special 3D models and skins.
3. ICEY
ICEY is a 2D side-scrolling action game featuring fast-paced combat and an interesting narrative story. Attack, dodge and counterattack your way to chain up combos - with the simple control, even beginners could get into this game easily. Every attack is special in its own way - master your favorite against an array of terrifying cyborg bosses.
4. Titan Quest
Originally released back in 2006 on PC, Titan Quest is pretty much Diablo 2, but on a Greece mythological backdrop. The predecessor of the gods, the Titans, have escaped from their prison and are aiming to destroy the world of man. The Gods alone can't stop them - a hero must rise to lead the fight and protect humanity. Mixing ancient mythology with non-stop action, Titan Quest is a classic hack-and-slash offering energizing gameplay with a fast, intense rhythm. The player character in Titan Quest is that hero, of course. Create your character, master 150 different skills spread amongst 30 different classes and go against more than 80 different mythological monsters. There are over 1200 items to discover: from legendary swords to enchanted bows or devastating thunderbolts... and more.
5. Knights of the Old Republic
Star Wars: Knights of the Old Republic or KOTOR is generally considered one of the best high end games for Android 2021, if not the very best star wars game ever made. It is an epic role-playing game set in the Star Wars universe years before the movie. The epic story leads you all over the galaxy, exploring the secrets of the force, both Jedi and Sith. In this game, you would be able to participate in exciting lightsaber duels, intricate turn-based combat... and more. KOTOR's story is so well written, fans are still speaking about it even today. The controls are specifically designed for android devices.
>>> Read more: Top 5 Games Similar To Minecraft On Android (2022)