A good action movie is a great way for anyone to get entertained. Action movies will feast your eyes with all the kicks, fights, and explosions that no other movie genres can do.
However, a good action movie is really hard to make with a great plot and good filming quality. No one has the time to scroll through the entire list of Bollywood action movies to see which ones are good, which ones are bad so we have done a list of best Bollywood action movies to make things easier for you.
List Of Bollywood Action Movies With Top 10 Best Action Bollywood Movies Of All Time
1. Baahubali 2: The Conclusion
Directed by S. S. Rajamouli.
Release date: April 28, 2017.
Box office: Rs 1,810 crore.
Baahubali 2: The Conclusion is a must-watch in 2017 that you wouldn't want to miss. The movie tells the story of a king named Bhallaladeva, who is plotting to betray his brother to become the king of the Mahishmati kingdom. He succeeded in killing his brother and lock his wife in jail, but the son escaped. Years later, the son returns to revenge for his family.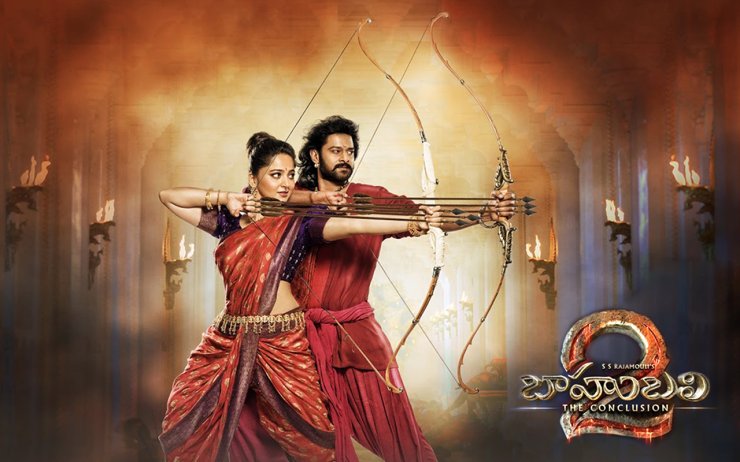 Baahubali 2: The Conclusion answers all the questions that the viewers have from the first movie Baahubali: The Beginning? and takes them on an emotional ride with thrilling actions.
With the total box office of Rs 1,810 crore, this is the second-highest-grossing Bollywood movie in the global market. If you somehow missed this sequel or have never seen any of the two movies then you should spend the next couple hours doing it now. You can easily find the movie on Netflix or Hotstar.
2. Manikarnika: The Queen of Jhansi
Directed by Kangana Ranaut, Radha Krishna, and Jagarlamudi.
Release date: January 25, 2019.
Box office:  Rs 150 crore.
Manikarnika: The Queen of Jhansi is an action drama film based on the female hero Rani Lakshmi Bai, the queen of Jhansi. You will get to see the history unfold as the Queen Lakshmibai sparks the Indian rebellion in 1857 against British Raj. The leading role played by Kangana Ranaut has successfully portraited the brave, fearless female warrior and given viewers a rush of blood.
3. Thackeray
Directed by Abhijit Panse.
Release date: January 25, 2019.
Box office: Rs 31,6 crore.
Thackeray tells the story of Balasaheb Thackeray, an Indian politician who founded Shiv Sena, a right-wing party that mostly operates in Maharashtra state.
The movie has successfully shown 'The Marathi tiger.' With the perfect use of black and white color, the director creatively depicted the early day of the character as a cartoonist before jumping to the part where Thackeray becomes a Marathi leader with full color.
Actor Nawazuddin Siddiqui was the one who played Thackeray and captured his aura, personality to almost perfection.
4. Bharat
Directed by Ali Abbas Zafar.
Release date:  June 5, 2019.
Box office: Rs 325 core.
Bharat stars the famous Bollywood actor and producer Salman Khan as the main character called Bharat along with other big names such as  Katrina Kaif, Jackie Shroff, Disha Patani, Tabu,...
The movie follows Bharat, an ordinary man who is trying to survive a hard time in India after the independence period.
5. Romeo Akbar Walter
Directed by Robbie Grewal.
Release date: April 5, 2019.
Box office: Rs 53 crore.
This spy action movie follows the story of a banker who works as an undercover spy in Pakistan. But spying is not the job that anyone can handle and he will be facing lots of both physical and emotional matters. There are a lot of twists and turns in the movie that will keep you interested from the beginning till the end.
6. War
Directed by Siddharth Anand.
Release date: October 2, 2019.
Box office: Rs 475 crore.
War is one of the latest action thrillers movie of the famous actor Tiger Shroff. It tells the story of an Indian soldier who is tasked with a mission to kill his evil mentor.
The movie was well-received with non-stop actions thanks to the great performance of Roshan and Shroff. While the storyline was quite predictable but it is still a really entertaining, eye-catching 2 and a half hour for the viewers. War is one of the highest-grossing movies in this list of Bollywood action movies.
7. Uri: The Surgical Strike
Directed by Aditya Dhar.
Release date: 11 January 2019.
Box office: Rs 342 crore.
Uri: The Surgical Strike is a military action movie based on the real-life event of the 2016 terrorist attack in the Uri town in India. It recreates the heroic battle of the Indian Army led by Major Vihaan Singh Shergill in the Line of Control in Kashmir. This is an important event that every Indian should know and be proud of. With excellent visuals and songs, the movie paid homage to the fallen heroes on the battlefield.
The movie scored 8.3 on IMDb with many praises and positive reviews from critics.
8. Kesari
Directed by Anurag Singh.
Release date:  March 21, 2019.
Box office: Rs 207 crore.
Kesari is an action historic movie based on the Battle of Saragarhi event in 18997 where 21 soldiers of the 36th Sikhs of the British Indian Army fought against 10,000 Afridi and Orakzai Pashtun men. Akshay Kumar's role as Lieutenant Colonel John Haughton was played perfectly as a brave, inspirational hero.
The film is praised by critics for its patriotism, drama, and brilliant writing.
9. Badla
Directed by Sujoy Ghosh.
Release date: March 8, 2019.
Box office Rs 138 crore
Badla is a noir action thriller movie that will leave you engaged until the end where it surprises you with something you can never expect.
With only a small budget of Rs 10 crore, the movie hit Rs 138 crore in the box office thanks to its intriguing storyline between a businesswoman and a lawyer.
10. Baaghi
Directed by Sabbir Khan.
Release date: April 29, 2016.
Box office: Rs 127 crore.
Baaghi is a martial art action movie starring Tiger Shroff. While the plot is fairly predictable. Its action scenes are amazing as the main character shows off his badass moves to destroy enemies. Shroff has done his best in the shows. He is the biggest reason why this movie success and being on this list of Bollywood action films. 
Baaghi 3 is going to be released on March 6. Check out our article for more info about the movie: Baaghi 3 Trailer Has Just Turned Tiger Shroff Into Captain America Of Bollywood, Fans Quickly Make Memes About It.
List of Bollywood action movies 2020
This year is a promising year for many action movies. Here is the list of Hindi action movies you should check out this year: Tanhaji, Baaghi, Brahmāstra, Radhe, Shamshera, Toofan.