In Grand Theft Auto (GTA) Online, a variety of vehicles can be found, ranging from high-speed motorcycles to heavily-armored and weaponized cars. However, among the players, planes are particularly popular. The game currently offers a total of 38 planes, and new ones are frequently added as part of major updates. While some planes are basic and uncomplicated, others come equipped with various features.
Due to the extensive options in this category, both novice and experienced players may have difficulty determining which planes are the best. To aid them in this process, a list has been compiled ranking the top 6 planes in GTA Online after The Last Dose update.
6. Western Company Rogue
The Western Company Rogue is a trainer attack plane featured in Grand Theft Auto Online as part of the Smuggler's Run update. It has an impressive array of weaponry that can be operated by the pilot or copilot. The best part of the Rogue is probably its capability to install bombs, providing heavy firepower against ground targets. There are four different Bomb choices: Explosive, Incendiary, Gas and Cluster. If the Rogue has improved armor, it can withstand almost twice as much bullet damage as planes without armor upgrades. Destroying the aircraft would require firing around eighteen Heavy Sniper rounds.
Besides that, both its machine guns and explosive cannons are powerful, but people tend to pick the machine guns, as they are ideal for air-to-air engagements. The Rogue's missiles cannot be fired continuously, similar to the LAZER.
5. JoBuilt P-996 LAZER
GTA Online features the JoBuilt P-996 LAZER, an aircraft that is both armored and weaponized. The plane's sleek design includes an aerodynamic shape with a pointed nose featuring an air data probe. The wings of the aircraft house a variety of weapons, with dual intakes positioned below the main body. The real-life F-16 Fighting Falcon served as the primary inspiration for the P-996 LAZER. The P-996 LAZER is capable of launching multiple Homing Missiles and possesses a bulletproof rear end. Despite having a top speed of 195.00 mph or 313.82 km/h, it is slower than many other planes on the list. Additionally, the P-996 LAZER is extremely expensive, with a price tag of $6,500,000 on Warstock Cache and Carry.
4. V-65 Molotok
The V-65 Molotok is an armored and weaponized aircraft that has a vintage appearance. The plane was first introduced to the game in 2017 with the Smuggler's Run update, and it was inspired by the Mikoyan-Gurevich MiG-15/MiG-17 aircraft. Similar to the P-996 LAZER, the Molotok is equipped with Homing Missiles and has a bulletproof backside. Players can equip the aircraft with countermeasures like flares, chaff, and more. The Molotok can travel at a top speed of 334.34 km/h (207.75 mph), which is faster than the preceding aircraft. Players can acquire the jet for $4,788,000 or at a GTA Online Trade Price of $3,600,000.
3. B-11 Strikeforce
The B-11 Strikeforce in GTA Online is a weaponized aircraft with a weight of 14,000 KG and a seating capacity of only one person. Its design is influenced by several real-life planes, including the Fairchild Republic A-10 Thunderbolt II "Warthog," Northrop YA-9, and GAU-8 Avenger. Although it has the slowest maximum speed on this list, at 163.75 mph or 263.53 km/h, the B-11 Strikeforce offers many useful features.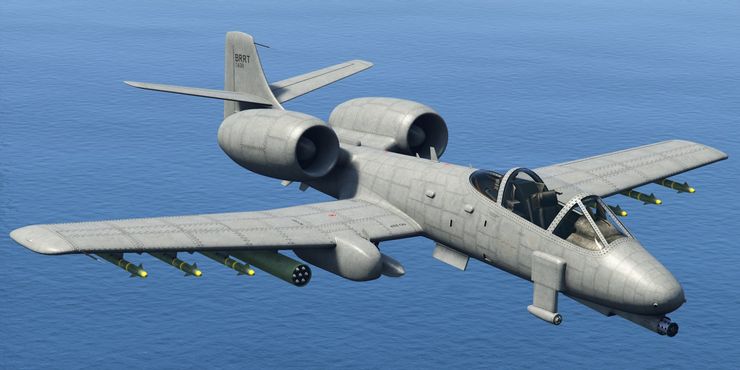 Like other weaponized planes, the B-11 Strikeforce can launch Homing Missiles and deploy countermeasures. Additionally, players can equip it with Explosive, Incendiary, Gas, or Cluster bombs. The aircraft also has a bulletproof backside and a price tag of $3,800,000.
2. Buckingham Pyro
The Buckingham Pyro in GTA Online has a bulky build that is inspired by the De Havilland Vampire's real-life design. It can accommodate up to two individuals and can reach a top speed of 222.75 mph or 358.48 km/h, making it one of the quickest planes in the game after The Last Dose update. The Pyro is not only fast but also has various features, such as Homing Missiles and countermeasures like chaff, flares, and colored smoke. Those who are interested in purchasing the aircraft can do so by paying either $4,455,500 or its Trade Price of $3,350,000.
1. Mammoth Hydra
The Mammoth Hydra is a renowned fighter aircraft that has been a popular choice in the Grand Theft Auto series since its introduction in GTA San Andreas. In GTA Online, it continues to outshine its competitors in various ways. Despite not being the fastest plane in the game with a top speed of 209.25 mph or 336.75 km/h, it compensates with its range of capabilities. In addition to having a bulletproof rear end and being able to fire Homing Missiles, the Hydra can deploy countermeasures and features an advanced Hover Mode. It is also capable of vertical take-off and landing (VTOL) and costs $3,990,000, although players can unlock a Trade Price of $3,000,000 to reduce the cost.
>>> Read more: List Of All GTA Online First And Last Dose Missions, Ranked