It has been 7 years since the release of Grand Theft Auto 5, and the game is still going strong! It's currently the latest installment in the famous game series from Rockstar. GTA 5 owns a thriving community where members constantly share knowledge with one another for the best experience. Today, we'll take a look at the best settings for GTA 5 PC, low-end systems included!
Factors Contribute to the Performance of GTA 5
The idea behind getting the GTA 5 PC settings for best performance is to get the maximum graphics and FPS (frames per second). Before we go over that, let's check out the definition of a few terms:
Graphics (how the game looks): Better graphics are cleaner and sharper and has more details, textures, realistic lighting, shadows at a higher resolution. FPS (the number of frames per second): The ideal FPS for a smooth gameplay experience is 60 FPS.
Boosting: Increase, the graphics, and FPS by tweaking the settings or using "mods" to change various aspects.
Mods: An alteration to a certain element of the game (gameplay, graphics, texture,...)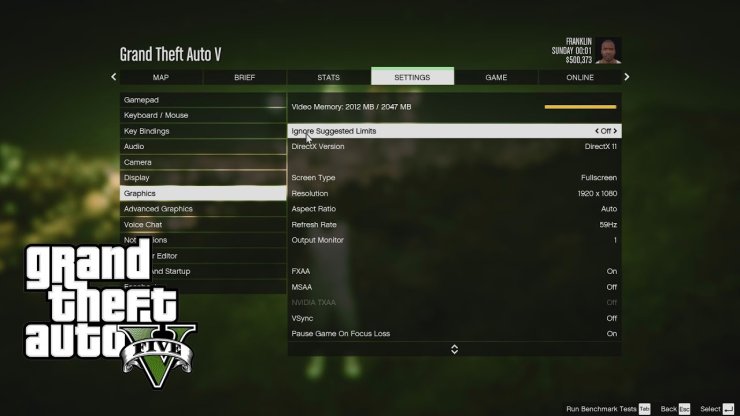 It's true that GTA 5 supports a wide range of graphical and performance optimizations. But even the latest systems may find it challenging to handle all of them. Let's agree that Graphics and FPS can't both be perfect. If you want the best possible graphics, you may have to go with a lower FPS and vice versa.
GTA 5 System Requirements
According to Rockstar Games, GTA 5 requires the following specifications to run:
OS: Windows 8.1 64 Bit, Windows 8 64 Bit, Windows 7 64 Bit Service Pack 1, Windows Vista 64 Bit Service Pack 2
Processor: Intel Core 2 Quad CPU Q6600 @ 2.40 GHz (4 CPUs) / AMD Phenom 9850 Quad-Core Processor (4 CPUs) @ 2.5 GHz
Memory: 4 GB
Video Card: NVIDIA 9800 GT 1 GB / AMD HD 4870 1 GB
Sound Card: 100% DirectX 10 compatible
Hard Drive Space: 65 GB
However, these are just the minimum requirements for the game to function. The best low settings for GTA 5 PC will be easy to achieve with a Core i3 to i7 processor. You'll also want to have at least 8 GB of RAM. High-end graphics cards, such as the 1080 Ti or 2080 Ti, can allow you to game at a 4K resolution.
How to Find the Best Settings for GTA 5 PC
In-game settings are the first thing to look at when you want to boost your graphics and FPS. And always remember that unless your gaming PC is an absolute beast, you'll need to compensate between graphics and frame speed. GTA 5 will automatically reconfigure itself to fit graphics and FPS to your hardware. You can check the Video Memory bar at the top to see exactly how demanding the game is on your graphics card. Higher settings mean cleaner graphics, at the expense of losing more memory and perhaps dropping your FPS.
Try adjusting the following elements to get the GTA 5 best graphics settings for low end PC:
Go for MSAA instead of FXAAMSAA: Multisample Anti-Aliasing usually looks a bit better than Fast Approximate Anti-Aliasing. Turn FXAA off and try MSAA at 2x or 4x.
Turning off the VSync feature removes frame rate limitation and may boost your FPS. However, you're likely to experience some screen tearing (the game displays images from multiple frames simultaneously). In that case, turn VSync back on. Turning down population density and variety will reduce the number of pedestrians and cars in your world. It will result in quite a jump in FPS, should you not mind your city feeling a bit empty.
Lowering the texture quality will boost your FPS - at the cost of less-detailed graphics.
Skip the Reflection MSAA setting may nets you a slight FPS boost without losing much in graphics quality.
If you happen to own a big Full HD or 4K screen, you may want to run GTA 5 at its native resolution. But to render 4K gameplay, you'll need a GeForce 1080 Ti or 2080 Ti graphics card. Go to the Advanced Graphics section to find High-Resolution Shadows. This setting combines with the Extended Shadows Distance will set you back 800MB of Video Memory. For top performance, keep it at a minimum.
Optimize for the Best Settings for GTA 5 Low End PC
Here are the things you should take a look at to optimize your gaming experience:
Upgrade your graphics drivers.
Disable any unneeded background activity to dedicate your CPU to GTA 5.
Defrag your disks.
Benchmark Your Current Graphics and FPS
Grand Theft Auto 5 comes with its own integrated benchmark tool that automatically identifies the best settings for your PC. Remember to use it before changing any settings, then check it again after. This way, you'll know if your changes are effective. That's everything we want to guide you through on the best settings for GTA 5 PC. We hope that you can find the best solutions to your graphics drawbacks and enjoy the game on low-end systems. For more guides, tips, and tricks on GTA 5, visit our website at GuruGamer.com.