The fantasy world of Genshin Impact is currently the center of attention in the gaming world. It features action-packed gameplay with an in-depth battle system, elemental magics, and characters. MiHoYo releases the game for Microsoft Windows, PlayStation 4, Android, and iOS on September 28, 2020. In this article, we'll dive deep into the Genshin Impact PC download to provide a detailed guide on how to do just that! About Genshin Impact
Genshin Impact is a free-to-play online action RPG developed by miHoYo, a game studio bases in Shanghai, China. The project was announced in June 2019 and followed the anime-style path as the previous 2016's Honkai Impact 3rd. However, the devs sought to create a completely different playstyle with new questlines, combat systems, events, and mode of exploration. The game's development and marketing campaign cost around $100 million.
Taking place in the fictional world of Teyvat, Genshin Impact follows the journey of the Traveler across nations, each worships a god of an element. The game received quite a positive review, praising the combat and open-world design. Most criticism points to the game's microtransaction. The Genshin Impact PC download Beta has concluded, and now the game is in full swing.
Genshin Impact Pc Download Guide
Have you fallen in love with the anime-like graphics and action-packed gameplay of Genshin Impact? Then what are you waiting for? Get this amazing free-to-play game installed on your personal computer right now and enjoy the exploration! But before hitting that download button, let's check out the system requirements of Genshin Impact first. Genshin Impact System Requirements
Being quite a graphics-heavy title, Genshin Impact requires a decent set of equipment to perform at its full potential. But weighing the quality you get out of the game, it's worth all the investment. Check out the minimum and recommended specifications to run Genshin Impact right here.
Minimum Requirements:
CPU: Intel Core i5 equivalent or higher
RAM: 8 GB
OS: Windows 7 SP1 64-bit, Windows 8.1 64-bit or Windows 10 64-bit
Graphics card: NVIDIA GeForce GT 1030 or higher
Pixel shader: 5.1
Vertex shader: 5.1
Disk space: 30 GB
Video RAM: 2 GB Recommended Requirements:
CPU: Intel Core i7 equivalent or higher
RAM: 16 GB
OS: Windows 7 SP1 64-bit, Windows 8.1 64-bit or Windows 10 64-bit
Graphics card: NVIDIA GeForce GTX 1060 6 GB or higher
Pixel shader: 5.1
Vertex shader: 5.1
Disk space: 30 GB
Video RAM: 6 GB How to Download Genshin Impact for PC?
If your system meets the requirements above, then head straight to the game's official website and get it to your PC. Here's our detailed guide on Genshin Impact PC download FREE:
#1 Visit Genshin Impact's official website, you will see the Windows download option on the main screen
#2 Click the Windows to get the game installer. It weighs about 97 MB.
#3 Run the downloaded Windows installer on your PC
#4 Check the software license agreement then select the directory to the location you want to save the game file
#5 Hit the "Install Now" button, the game should automatically download and install itself on your PC
#6 Wait for the process to finish, launch Genshin Impact, and enjoy! Regarding the Genshin Impact PC download size, it will set you back about 14 GB on your HDD. After extracting and installing all the files, the game takes up about 30 GB of space. It only stands in the average spectrum of PC games these days. That's expected with a game like Genshin Impact. Note: Please keep in mind that there is only ONE legit Genshin Impact PC download link. Get it straight from the official website to negate any medium in between. Only download games from certified sources to minimize the risks.
How to Fix Low Download Speed of Genshin Impact?
As reported by various users, the download speed of Genshin Impact can drop to the speed of a snail sometimes. The reason may be the sheer number of players trying to download the game worldwide. After all, Genshin Impact's launch was the biggest global release for a Chinese game.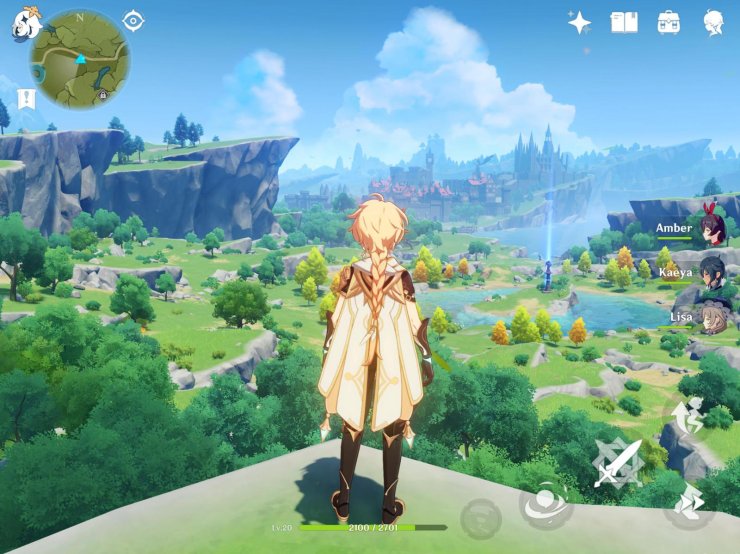 So, how do you fix it? The solution to Genshin Impact PC download slow speed is actually super straightforward. Just close the game's launcher and restart it! But this method may not work on your first try. Players have reported that the download speed restores to normal after as many as 15 attempts. Good things do take time!
What to Expect after Download Genshin Impact?
There are currently 24 unlockable characters and seven elements in Genshin Impact for players to choose from. However, you will have access to only four by playing the game: you (Traveler), Amber, Kaeya, and Lisa. Others must be obtained via "Wishes" in the gacha loot system. These starting characters aren't the strongest in the game, but with the right equipment and artifacts, they still can make an impact. Though being a free-to-play game, Genshin Impact has a plethora of optional purchases that players can get to enhance their gameplay experience. For example, the Battle Passes will unlock additional content and special missions for exclusive rewards. They go for between $9.99 and $19.99 a month but are more like a luxury.
That's everything you want to cover on the Genshin Impact PC download complete guide today. For more articles on Genshin Impact as well as tons of other game titles, visit our website at GuruGamer.com.