The Grand Theft Auto franchise needs no introduction to gamers around the world. Since its initial release in 1997, GTA has become one of the most prestigious names with genre-defining innovations. Rockstar Games does a fantastic job of living up to the insane reputation with the latest GTA V. However, it has been 7 years since the game first introduced, is it finally available for mobile users? Let's figure it out together with an in-depth look into GTA 5 Android APK + Data Download 2020! As you may already know, Grand Theft Auto V is designed specifically for PC and console players. Though Rockstar Games did release the mobile versions of previous installments, this is not one of them. GTA V is still a PC-and-console exclusive game. Hence, a third party steps in to introduce GTA 5 2020 APK - an unauthorized app. That is why you can not find it on Google Play Store or Apple App Store.
GTA 5 on Android
Rockstar Games released Grand Theft Auto 5 in 2013. 7 years later, the publisher still shows no sign of the game's moving to the mobile platform. As of December 2020, GTA 5 is currently available on PC, MacBook, PlayStation, and Xbox. And there is a good reason for it. The game weighs a massive 95 GB - a figure that even the most powerful mobile devices on the face of the Earth struggle to deal with! However, it does not necessarily mean that there is no solution to that. If the game's graphics are optimized and data is compressed, we might be able to run the game on smartphones. But that would cost a fortune, at least with the current technology that the devs have access to.
While an official version of GTA 5 for Android is a long shot, players can still have a taste of what to come. There is an optimized version of GTA 5 for Android devices, released by a third party. It has the same features and designs as the original version that players are familiar with. However, it is unauthorized by Google or Rockstar Games. Hence, you must get the GTA 5 2020 APK download to install the game.
Where is GTA 5 Android APK + Data Download 2020?
As GTA 5 for Android is an official version, you can not find it on Google App Store. In order to install the game, users need to download the APK and OBB files from outside sources. Hence, it is only available for Android devices, since Apple does not allow this feature. Follow the simple steps below to download and play GTA 5 on your Android devices: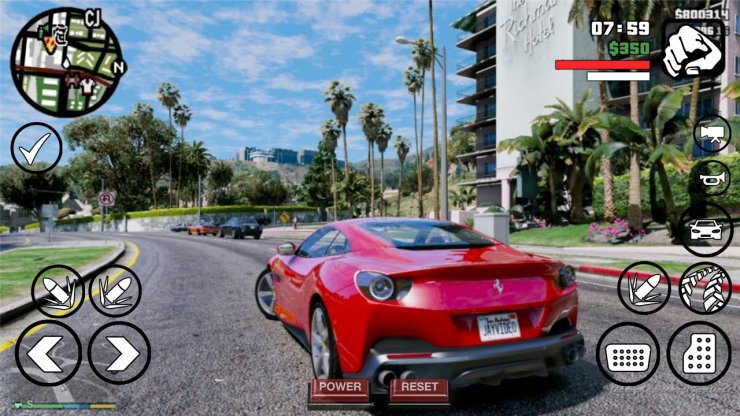 #1 Get the GTA 5 mobile APK free download 2020 for Android via Maxdroid
#2 Wait for the download to complete (Make sure your wifi connection is strong and stable)
#3 Open the Files app, go to the Downloads folder, open the APK file to initiate the installation. (Allow 'Installation from an unknown source' if necessary)
#4 When the installation finishes, do not launch the app immediately. Copy the OBB file into the system folder first. Open the Files app again, go to Androids/OBB, and paste the OBB file into the folder.
#5 You have now completed the installation of GTA 5 for Android devices via APK and OBB files. Launch the game and start building your underground empire!
What are the Risks of GTA 5 Android APK And OBB?
As we have mentioned above, GTA 5 APK is an unauthorized app published by a third party. Upon installing this app on your mobile devices, you may be facing some cybersecurity risks. There are chances that your phones are exposed to malware, spyware, or virus. Personal information and data could also be stolen by the app. On top of that, users have reported that the APK and OBB files won't start. There is no GTA 5 APK 100 working, no matter how appealing the advertising may sound. But we are sure of one thing: by downloading and using an authorized version of GTA V, you're violating the intellectual property ownership of Rockstar Games. We would advise you against this action. Yet, players can still enjoy GTA V on their mobile devices legally using the Steam Link application. Read on to find a detailed guide below.
A Step-by-step Guide On Playing GTA 5 on Android Using Steam Link
Check out the following steps to play GTA 5 on Android devices using Steam Link:
#1: Install the Steam Link application on your mobile devices. You can download it on Google Play Store.
#2: Next, pair your mobile device with the Steam app, then click 'Start Playing'. #3: Your screen should change to the Big Picture Mode, and your phone will start showing the same.
#4:Choose GTA 5 from the Steam Library and click 'Play'.
#5: Enjoy the game on your phone! No need to download GTA 5 mod APK 2020. This way, you're just using the mobile device to control your game. It's your PC that runs GTA 5, so you should experience no lags if it fits the system requirements. However, to ensure the best gaming experience, make sure your Internet connection is stable at all times. Plus, your PC or laptop must also connect to the same network. That is the end of our guide on GTA 5 Android APK + Data Download 2020. It's a plausible option, but not advisable. Players should always steer clear from using unauthorized applications for their own safety. Instead, try using the Steam Link to connect and play GTA 5 on your phone. Visit our website at GuruGamer.com for more!